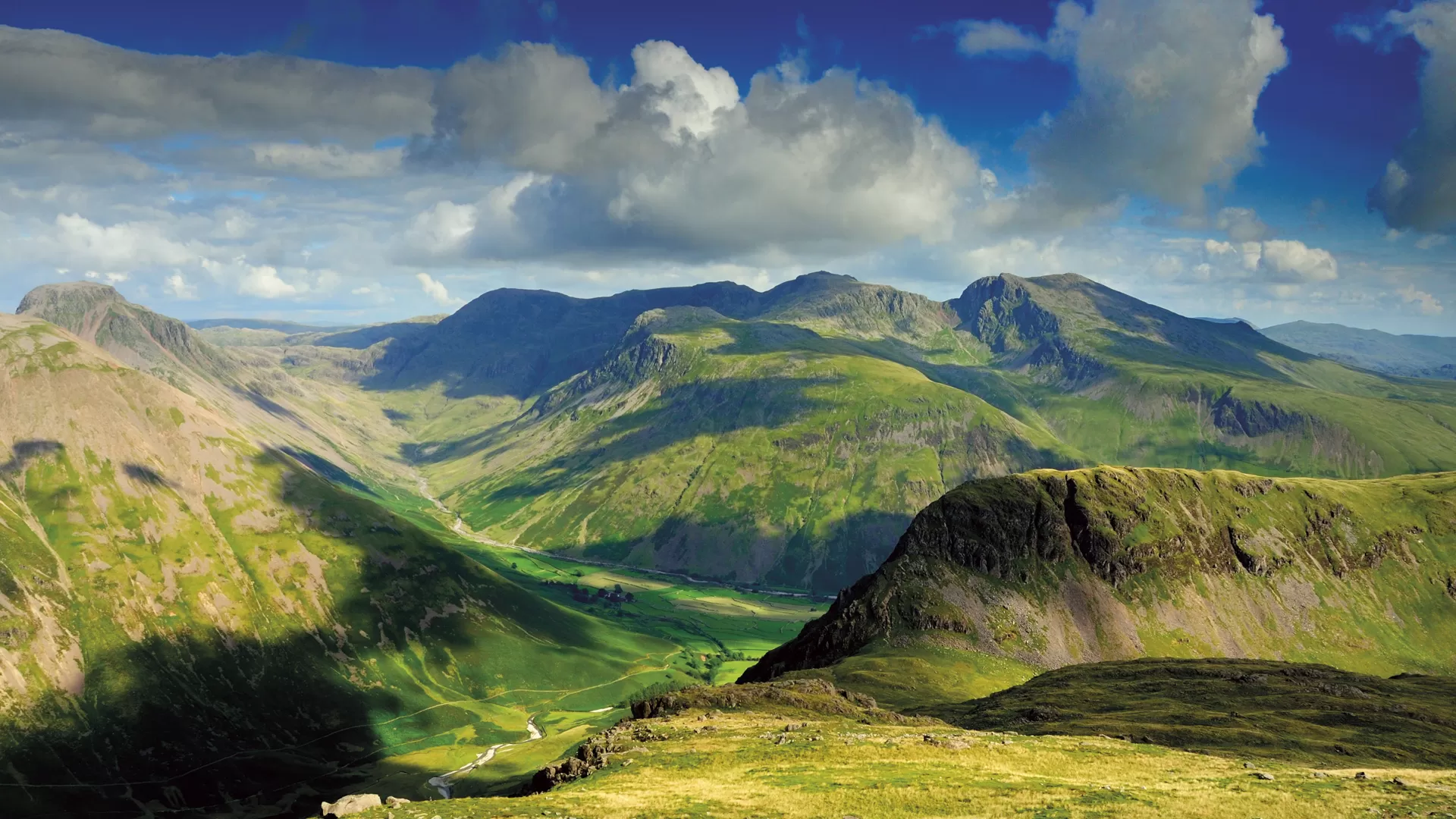 Lake District
Hidden in the heart of ancient Cumbria in North West England lies a National Park known the world over. The Lake District boasts stone circles, glacial lakes, magnificent views, and a history dating back to the Neolithic Period - all waiting for you to discover.
It's understandable that some of our most prolific literary figures should find inspiration here, such as the lyrical poet William Wordsworth and conservationist and children's author Beatrix Potter, whose time at Hill Top led her to dedicate 4,000 acres of precious land to the National Trust. From headline festivals like Kendal Calling, rolling fells to hike, amazing views to discover, and some of the best craft beers and cuisine in the UK, the Lakes inspire across the board.
At the end of a long day exploring, hiking, wining, or dining, you'll be set for a warm welcome at one of our cosy, award-winning accommodations. Come and stay at one of our eight Inns located in the midst of the Lake District's gorgeous views – from Bassenthwaite down to Bowness-on-Windermere – each one handpicked for charm, character and comfort. We'll be waiting for you!
Things to do in the Lake District
For keen walkers, there's no better place to enjoy unspoiled natural beauty than the Lake District. Its panoramic views and rugged terrain have earned it UNESCO World Heritage Status, making it an ideal pilgrimage for adventure seekers, open-water swimmers, and lovers of a starry night sky. Take a walk up The Old Man of Coniston, a fell with spectacular views across Coniston Water and beyond, or stroll along Bassenthwaite Lake. This is the largest lake out of all the District's bodies of water, undisturbed by major settlements thanks to its far-north position, making it a beautiful spot to reflect. You might even spot vendace, a rare collection of freshwater fish found only in Derwentwater!
For those looking to explore the park's rich historic history, there are a wealth of castles, iconic homes, and protected landmarks – many under the stewardship of the National Trust and English Heritage. Hill Top Farm is perfect for Peter Rabbit fans (young and old!) to discover the 17th Century Farmhouse Beatrix Potter lived in and loved. Other notable spots include William Wordsworth's home of Rydal Mount and Gardens, offering a glimpse into the attic study used when he was Poet Laureate.
On a larger scale, the Lake District also boasts stunning historical monuments, from Roman remains, industrial heritage sites, and even medieval strongholds. Lowther Castle and Gardens, Wray Castle, Muncaster Castle, and Kendal Castle offer imposing windows into the past, complete with tours and fun activities for the whole family.
Whether you're going to have a go at adventure sports or tackle tricky terrain or you find nothing better than a slice of homemade sticky toffee with afternoon tea, followed by an evening tour spent on one of the Windermere Lake Cruises, there's something to suit every pace.
Best towns in the Lakes
As well as majestic mountains and stunning views, the bustling villages and towns that dot the length of the Lake District are perfect, picturesque spots that deserve to be explored. Keswick, a gorgeous market town surrounded by rolling fells and Lake Derwentwater, is abuzz with attractions and popular activities. The ancient Castlerigg Stone Circle is worth checking out, alongside plenty of walking, biking, and climbing opportunities.
Bowness-on-Windermere is one of the most famous tourist towns, situated on the shores of Lake Windermere. This popular destination is enjoyed for sailing, watersports, and the Windermere Lake Cruises, which ferry tourists from all over the globe, or perhaps for your visit, relaxation is more your bag – in which case, be sure to get a scoop or three of Windermere's famous homemade ice cream whilst you take in the views. Grasmere is another village lifted to lofty heights thanks to its literary connection, home to Dove Cottage where William Wordsworth lived with his sister Dorothy. Kendal boasts plenty to do, with lots of shops and boutiques, pubs and beer gardens, and even two historic ruins: Sizergh Castle and Kendal Castle.
Honourable mentions include the towns and villages of Ambleside, Caldbeck, Ravenglass, Dent, and Seatoller.
Finding accommodation to suit your needs
With Inns situated across the Lake District, we have a range of accommodations to suit everyone.
Ambleside enjoys four of our award-winning locations: The Waterhead Inn, The Wateredge Inn, The Ambleside Inn and our newly renovated The Temperance Inn – an exciting addition set to open on the 17th of December 2021. All our Inns are in prime spots for those looking to explore this charming town.
In Bowness-on-Windermere, The Angel Inn is a bright and cosy retreat overlooking the beautiful Windermere and stretches of forest. It's only a short walk down to the bustling village, offering easy routes to places like Scafell Pike and attractions such as The World of Beatrix Potter.
We also have The Pheasant Inn at Bassenthwaite, a newly-refurbished 17th century coaching inn that is a stone's throw away from panoramic views across some of Cumbria's most beautiful landscapes.
For those of you looking to escape the crowds, The Coniston Inn – aptly situated on the edge of Coniston Water – has undergone a full rework and is the most recent reopening in The Inn Collection family. Previously known as The Waterhead Hotel, this striking location brings a historic setting together with modern comforts.
Up in Grasmere, you can find The Swan, located in one of the Lake District's most famous villages. Keep an eye on this one, as it is currently closed for refurbishment and set to reopen in Summer 2022.
Where to eat: the Lakes' best restaurants
The Lake District is home to some of the best cuisine in the UK, which isn't surprising, considering the majority of food and drink is sourced directly from the vast landscape it sits within. From foodie nirvana to family-friendly picks that everyone will love, there will be no rumbling bellies here!
Sometimes you need a place to warm yourself, a good meal and a beer garden with a great view. Look no further than The Pheasant Inn at Bassenthwaite, with its relaxing, traditional atmosphere and roaring log fires, you can enjoy a tipple from our stocked bar, including a wide variety of malt whiskeys – some of them aged for over 25 years As well as wines, bitters, lagers, cask and hand-pulled ales, guests can enjoy the best Cumbrian produce in delicious, home-cooked meals. With a stand-out seasonal offering packed with fresh, local ingredients, be sure to visit on a Sunday to enjoy a proper roast dinner, with all the trimmings and succulent cuts of fresh beef or pork.
For special occasions, no less than the iconic slate exterior and mountain settings of The Coniston Inn will do. A perfect place to escape the crowds, their farm-to-fork menu showcases the best of local Lakeland produce. From full and hearty Cumbrian breakfasts, bar snacks, lunches, picking plates and delicious evening meals, plus seasonal changing menus, this is the place to come and escape the rain. What's more, it's also muddy-boot friendly, making this a great spot to finish up a walk and get the whole family fed, thanks to their child-friendly choices.
The Waterhead Inn is a charismatic eatery a mere stone's throw away from the middle of Ambleside, housed in a picturesque lakeside house close to the pier. This cosy restaurant specialises in tasty dishes, packed with locally sourced ingredients that make every mouthful memorable. Simply pop in for a selection of energy-boosting breakfasts, light lunches or delicious evening meals – best enjoyed while looking out at one of the most stunning views across Lake Windermere. The sticky toffee pudding is rather good, too.
Looking for a fresh, vibrant pick? The Angel Inn Pub has sweeping, romantic views, sleek and stylish wooden settings and intimate dining spots warmed by a log fire.  Whether you cosy up inside or enjoy a cool drink on the garden terrace, these views are best matched with a bottle of wine and a plate of top-quality Cumbrian fare. There's also plenty of space for families and large parties too, with a children's menu that's sure to put a smile on little faces. To enjoy pub favourites, crowd classics and clever twists on old-school dishes, there's no need to book at The Angel Inn – simply walk in and enjoy.
What to expect at an Inn Collection Group inn
Every single one of our inns is AA three-star Gold Rated, guaranteeing clean and comfortable rooms, excellent facilities and a warm welcome all year round.
We're passionate about making our inns the best places to eat, drink, sleep and explore the very best of Cumbria from, hand-picking our locations across the Lake District to ensure you have everything you need from our doorstep.
Our food is all homemade and lovingly prepared in kitchens that maintain five-star food hygiene ratings, while our impeccable cellar management has won several awards. With our cosy interiors, friendly staff and fantastic settings, we strive to be as accommodating as possible. Whether that's for guests with extra accessibility needs or families with little ones and pushchairs, each of our inns has easy access, welcoming all.
What's more, all of our inns are pet friendly with designated rooms and areas within our dining and bar areas, so your four-legged friends can enjoy a comfortable stay too.