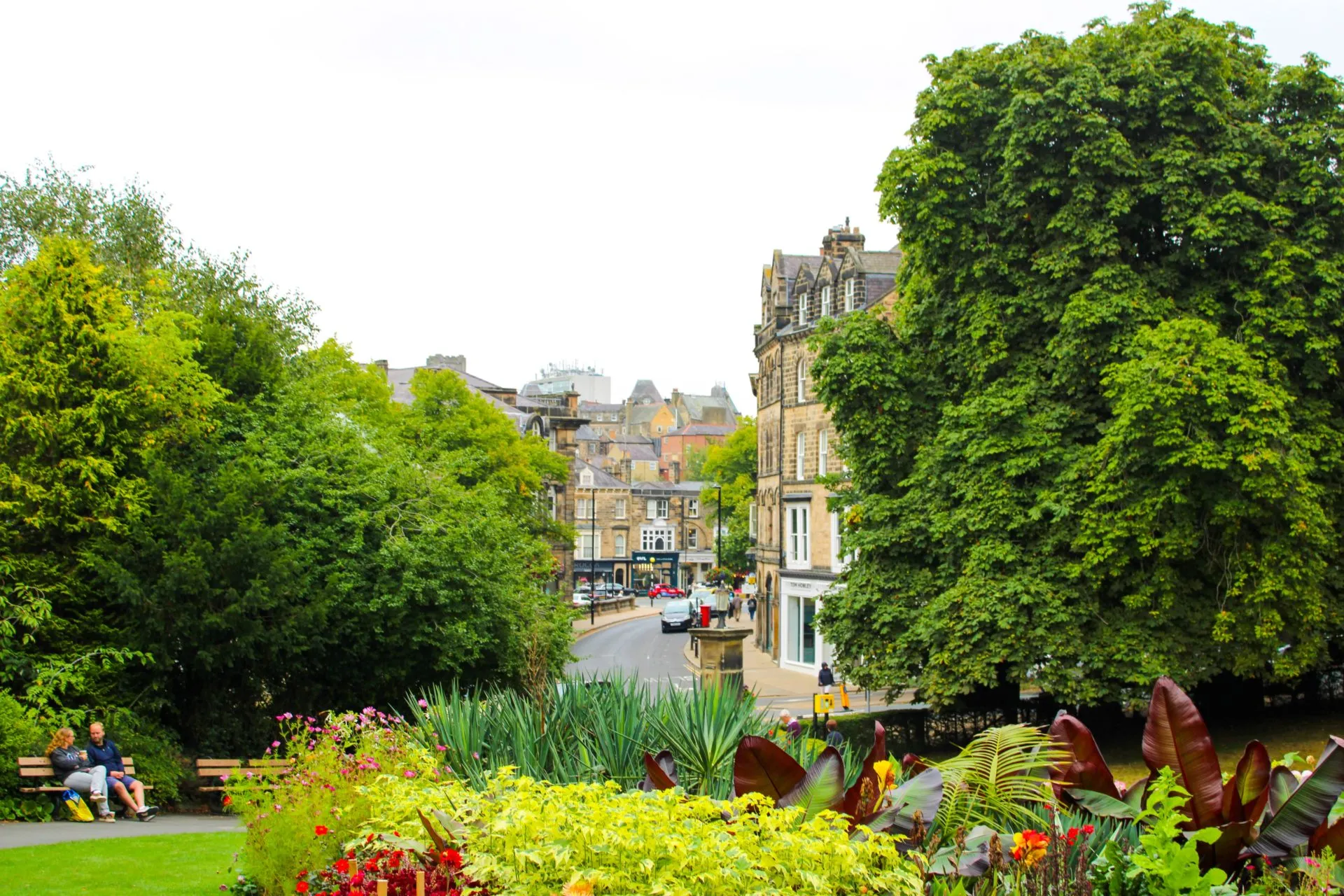 Things to Do in Harrogate
If you have found yourself in North Yorkshire, England, you certainly do not want to miss the jewel of this area, Harrogate. Now if you are wondering about the things to do in Harrogate, there are plenty!
In this guide, we will go over the top attractions, activities, and sights in this beautiful Yorkshire town that is perfect for a family day out, one with friends, your significant other, or simply as a solo trip! From restaurants and pubs to castles and museums, let's kick off our list of great things to do in Harrogate.
People rowing in a river with a large bridge going over it
Unwind in England's Classic Spa Town
Harrogate is a Victorian spa town, renowned for its spa waters that contain iron, common salt, and sulphur. The town motto is even 'Arx celebris fontibus', which is translated as 'a citadel famous for its springs'.
Its waters were discovered in the Georgian era, circa the 16th century, and have attracted the attention of the wealthy, as well as the sickly, due to the belief that Harrogate's chalybeate (containing salts of iron) waters had health benefits.
This notion was incredibly popular in the 17th and 18th centuries, boosting the wealth and growth of the town. Although this view is not as favourable in today's society, many still come to Harrogate for its spa waters, making it an ideal place for a weekend of relaxation and leisure.
A 21st-century Spa Experience
If lying back and putting your feet up sounds like the perfect trip for you, then you will certainly want to visit Harrogate's collection of idyllic spas that use the town's natural spring waters. In particular, we recommend:
Rudding Park Spa – The ultimate serene place for a holiday of peace, plus it even has rooftop spas and a nail and beauty studio
Turkish Baths – Established in 1897, it has been fully restored and offers luxury spa treatments and packages; the majestic decor is not to be missed
The Harrogate Spa – With an indoor swimming pool and thermal experiences, this spa is the place to go for absolute tranquillity
If You Fancy Something Sweet or Indulgent During the Day…
This guide would not be complete without some cafe and confectionary recommendations. In Harrogate, you will find many local tea rooms and olde shops, but here is our list of the top places to break up the day:
Bettys Cafe Tea Rooms – Enjoy afternoon tea at Bettys Cafe Tea Rooms, a stylish and luxurious cafe that offers handmade cakes and pastries
Farrah's Olde Sweet Shop – Those with a sweet tooth should not forget to pop in the Olde Sweet Shop, which supplies hundreds of old-fashioned sweets
William & Victoria – The longest-running wine bar in Harrogate with dishes made from local Yorkshire produce, situated at the heart of Harrogate
And then, of course, once you're finished exploring, you can always rely on The Inn Collection Group to welcome you home with a hearty meal. After your day of travelling and sightseeing, you'll be able to relax and unwind with some classic British pub dishes at one of our award-winning inns.
Looking,Up,At,An,Old,Building,In,Harrogate,Yorkshire,England.
History and Culture in Harrogate
Harrogate is a town rich in history and culture, so for any history lovers out there, you will want to visit Harrogate if you are in the North Yorkshire area. With humble origins, it is now considered one of the most expensive places to live in North England - however, it is still a great place to visit for a day trip for families, friends, and couples alike.
Some of the top historic structures and gardens include:
- The Royal Hall theatre (Grade II listed building)
- St Wilfrid's Church (Grade I listed building)
- The Valley Gardens (Grade II listed gardens)
These landmarks are a sight to see for those with an enthusiasm for English history and culture.
Embrace History at Ripley Castle
On the edge of the Yorkshire Dales National Park sits Ripley Castle and Gardens, around a 10 to 15-minute drive from the town centre of Harrogate. It is categorised as a Grade I listed building, meaning that it is of utmost historical importance.
It is still the house of the Ingilby family who have resided in the castle for centuries, and it is still privately owned, but it is also open to the public for guided tours.
This 14th-century structure is a sight to behold, with exquisite decor and an elegant ambience. Keep in mind that the tour is held upstairs, but there are no lifts – otherwise, you can also watch a video tour.
Don't forget to visit the gardens that are full of a variety of flora and fauna! The deer park is also not to miss.
Appreciate Artwork at the Mercer Art Gallery
One of the best things to do in Harrogate if you are one that admires talented artists is to visit the Mercer Art Gallery, which houses Harrogate's fine art collection.
Admission is free so you should certainly make space on your itinerary for this gallery. Make sure to check what exhibitions may be on during your visit to Harrogate!
Towards Pateley Bridge
In Nidderdale, an Area of Outstanding Natural Beauty (AONB), on the outskirts of Harrogate lies Pateley Bridge, the starting and finishing point of a circular route that loops around the grand scenery of the Yorkshire Dales.
Browse through the local shops here and step back into time at the Nidderdale Museum for a small but historically valuable collection of artefacts of English – primarily Yorkshire – culture.
harrow car gardens harrogate
Take in the Beauty of Harrogate's Landscaped Gardens
Looking for a peaceful getaway where you can relish in the picturesque English scenery? Look no further than Harrogate's selection of gardens that offer fantastic views of spectacular greenery. 
For those who don't mind walking, a day out strolling in gardens and admiring the Yorkshire countryside is one of the greatest things to do in Harrogate. 
Cherish the Charming Harlow Carr Gardens
As a Royal Horticultural Society (RHS) Garden, you can expect a wide range of plants, flowers, and lustrous foliage at the Harlow Carr Gardens in Harrogate.
From woodlands to meadows, a visit to this garden will surely be a memorable one for people of all ages. With more than 10 different areas to explore, the Harlow Carr Gardens can be a fun family day out or a romantic retreat with your partner.
Crocuses,On,Harrogate,Stray
Something for the Kids
Speaking of family-friendly activities in Harrogate, you should not overlook the range of attractions that are available for you and your little ones! In fact, regardless if they are 5 or 15, there are plenty of things to do in Harrogate for the entire family to enjoy.
Unleash Your Energy at Stockeld Park
Different events and activities may be open during different times of the year, so always make sure that you check what type of activity you and your children can participate in when you book tickets to Stockeld Park. This park is rich with child-friendly adventures including both indoor and outdoor fun!
If you are planning a trip to Harrogate with your little ones, you will certainly want to head to Stockeld Park so that they can unleash their energy and adventurous spirit, allowing you to lie back and relax for a bit, or join in on the fun.
Outdoor Adventure with How Stean Gorge
For families with older children in particular, partaking in the array of outdoor activities available at How Stean Gorge may be an excellent way to keep your teens (and yourselves) engaged. From caving to canoeing, a day out at How Stean Gorge will surely be an unforgettable one.
Where to stay in and around Harrogate
Now that you have some ideas about the things to do in Harrogate, it's time to start thinking about where you can rest after your adventures. The Inn Collection Group provides a selection of comfortable accommodation in Yorkshire that will make your trip to Harrogate even more memorable.
St George Hotel
Located right next to popular points of interest such as the Royal Hall, Turkish Baths, and Bettys Cafe Tea Rooms, the St George Hotel is the ideal place from which you can explore the centre of Harrogate by foot. Inside, you will also find a dog-friendly pub that offers a custom menu for your furry companions. Muddy boots and muddy paws are welcome here!
Its central location and contemporary rooms with wonderful views make the St George Hotel one of the best accommodations to stay in whenever you are in Harrogate. 
Dean Court
At the very heart of York is Dean Court, another one of the Inn Collection Group's marvellous inns. This inn is great for those who simply want to head to Harrogate for a day trip as it is only approximately 40 minutes drive away from the Harrogate town centre. Otherwise, it is also a short walk from York Railway station where you can also hop on the train to reach Harrogate.
Staying at Dean Court means that you are also able to explore York city centre, so it is a win-win situation on both ends!
The Northallerton Inn
In the market town of Northallerton is the Northallerton Inn, an alluring Georgian building that is a 50 minutes drive to Harrogate. Again, this accommodation is excellent for those who wish for a day trip to Harrogate and nearby cities such as York and Leeds.
The Northallerton Inn is a great base for exploring the surrounding areas, particularly the Yorkshire Dales and the North York Moors national parks, but also for an adventure into the bustling town of Northallerton itself.
If you do opt to stay here, don't forget to have a look around Northallerton's regular Wednesday and Saturday markets!
Explore Harrogate from The Inn Collection Group's Array of Accommodation
Harrogate is truly a spectacular area to visit for a peaceful getaway, especially if you make the most of everything this spa town has to offer by indulging yourself in the luxury spa treatments that Harrogate has to offer. As there are numerous things to do in Harrogate, we guarantee that you will not be bored whenever you visit this town.
The Inn Collection Group is an award-winning provider of affordable and comfortable accommodation across England. In particular, our lineup of inns in and around the Harrogate area are the most exceptional way to unwind after a long day touring Harrogate.
If you have any further enquiries or would like more information about our inns and services, please don't hesitate to contact our friendly team.