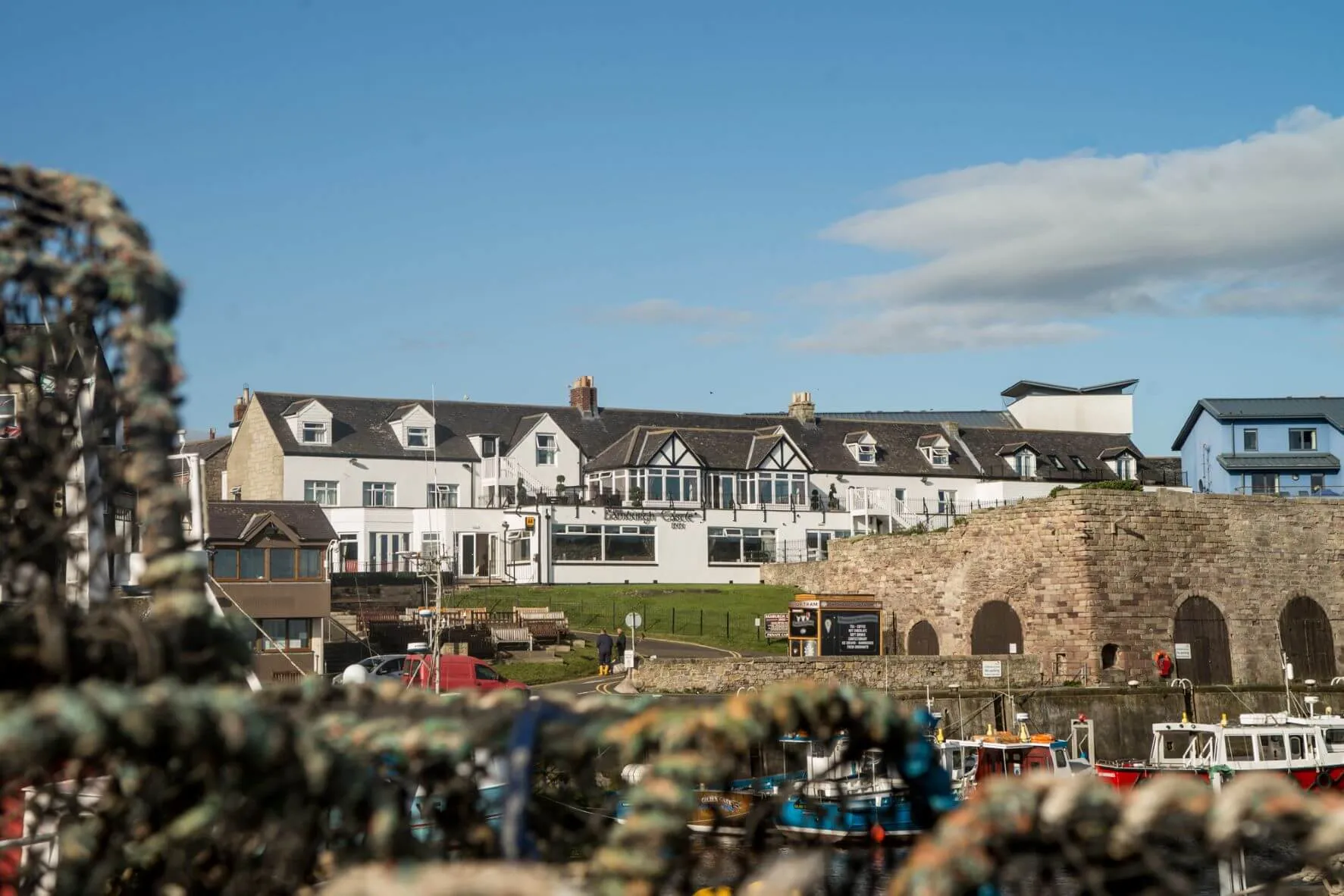 Things to Do in Seahouses
The Bamburgh Castle Inn at Seahouses
Things to do in Seahouses
Seahouses is far from just a Northumberland coastal village - it's an attractive fishing village where you can roam gorgeous beaches, observe marine life, and do a lot more besides. Below is a detailed look at many of the most enjoyable things to do in Seahouses and beyond. 
Yes, Seahouses holidays don't have to be limited to the village itself. It can, after all, make an ideal place for you to embark on trips to various other enchanting parts of Northumberland.
While in Seahouses itself, you would be able to admire the distant sight of Bamburgh Castle, a Grade I listed building where kings of ancient Northumbria have lived. Today, over 2,000 artefacts are kept within its walls.
Other Northumberland attractions visible from Seahouses include Holy Island – which, historically, has been renowned as a hub of early English Christianity. While on the island itself, you could also get a closer look at Lindisfarne Castle, which stands majestically there.
However, before you start making any trips criss-crossing Northumberland as a whole, you should keep in mind that there remain plenty of fun things to do in Seahouses alone. For this reason, you ought to seriously consider booking holiday accommodation in the village itself for the long haul.
That way, you would be able to use Seahouses as a base from which to launch day trips to other Northumberland areas and attractions.
It doesn't matter whether the Seahouses holiday you are planning is intended for a solo traveller, a loved-up couple, or a large group, there are still no shortage of different things you would have the option of including in your itinerary for this Northumberland getaway.
Family-Friendly Activities in Seahouses
One of the most family-friendly things to do in Seahouses – and in many other places, for that matter – is head to the beach.
Beaches in Seahouses
One of the local beaches you can check out is near Seahouses Harbour (or North Sunderland Harbour, to use its proper, formal name).
Seahouses North Beach is almost two kilometres long, and slopes gently – meaning that, at low tide, this sandy beach can provide you and your kids with an especially large playground.
On the other side of Seahouses, just to its south, is a beach that has been referred to as Seahouses South or Annstead. Here, you can simply relax with a good book while your children play.
Annstead Dunes Nature Reserve
Right next to this beach is Annstead Dunes Nature Reserve, which is well worth a visit in itself as it houses a range of animal species and plant life within its roughly 50 acres.
The animals you and your children can have fun trying to spot here include viviparous lizards – which, though alternatively known as common lizards, can actually be hard to see. This is because, being cold-blooded animals, they hibernate every winter.
However, as Annstead Dunes provides these lizards with the combination of grassland and sandy heath they prefer, this nature reserve always has a healthy population of these creatures.
Bird Watching on the Northumberland Coast
Bird watching is another family-friendly activity that the Northumberland coast can readily facilitate – especially if you are keen to see waders and wildfowl in particular. Grey seals are a common sight on the same coast – and, with luck, you might even spot dolphins passing by.
Alnwick Castle
If your kids are young history buffs, they could also appreciate you taking them to Alnwick. In this town only about 15 miles away from Seahouses by road, there's the 'Windsor of the North', Alnwick Castle, as well as the Bailiffgate Museum near one of the castle's entrances.
If you and your kids have an obsession with Hogwarts, you could even join an Alnwick Castle tour offering insights into where the first two Harry Potter movies were filmed.
Customers enjoy a drink with a view of Seahouses harbour at The Bamburgh Castle Inn
Explore the Natural Beauty of Seahouses
No discussion about Seahouses' rural beauty would be complete without a focus on that of the Northumberland Coast Area of Outstanding Natural Beauty (AONB), which stretches for 40 miles.
Seahouses is itself part of the Northumberland Coast AONB, as is Berwick-upon-Tweed, England's northernmost town. However, the AONB also extends as far south as Warkworth - the site of the ruined namesake castle.
Travelling across the Northumberland Coastal AONB is easily done by car, as it runs alongside the A1 road. Here are just some stops that can potentially be included on Northumberland road trips:
Alnmouth
Bamburgh
Beadnell
Craster
However, while all of these places listed just above indeed lie within the boundaries of the AONB, it remains a sparsely populated area – helping to explain why you would be able to take in many different forms of stunning rural scenery during your time there. You could, for example, see:
Sandy beaches
Rugged cliffs
Isolated islands
Beautiful, glistening sea
Of course, what exactly you do see in Northumberland will depend on where within it you go. The county has plenty of natural beauty to offer outside the AONB – as attested by Coquet Island, which has become a sanctuary for the only roseate tern breeding colonies in the UK.
However, what better place to bask in glorious organic scenery than a national park? Fortunately, there is one only about 20 miles away from Seahouses: Northumberland National Park, which comprises England's most lightly populated expanse of 400 square miles.
The park includes the Cheviot Hills, where a number of aesthetically pleasing valleys can be found. Elsewhere in the park, the Simonside Hills are popular with hikers, while the village of Bellingham is worth checking out for its lovely waterfall.
The Bamburgh Castle Inn on Seahouses harbour
Boat Trips for All Tastes
Located just off the Northumberland coast are the Farne Islands - an archipelago of 15-20 islands, with the exact number depending on the tide.
Historically, the Farne Islands were the backdrop to the heroic story of Grace Darling - who, in 1838, helped in the rescue of nine people from the wreck of the paddle steamer the Forfarshire. Grace Darling has since been remembered as a heroine in British forklore.
The archipelago is only two miles off the Seahouses coast, from which you can take boat trips to see not only the 19th-century Longstone Lighthouse – which played a key role in the Grace Darling story – but also an abundance of wildlife, including seals, dolphins and puffins.
The respected naturalist Sir David Attenborough has hailed the Farne Islands as his favourite UK place to witness nature at its best – and you can see what the fuss is about by joining one of the many Farne Island boat tours that depart from Seahouses.
The companies that provide these tours include Serenity, which does so all year round. The skippers of Serenity's boats have in-depth knowledge of the islands' geography, wildlife and history, enabling you to more easily deepen your understanding of the 15-20 Farne Islands.
Another company you could consider is Billy Shiel's Boat Trips, which offers themed options. For example, you could take a 90-minute cruise specifically to see grey seals, while another boat trip available is geared towards getting people closer to the island of Inner Farne in particular.
You might be particularly enticed by the prospect of entering Longstone Lighthouse, which Grace Darling happened to be inside when, through an upstairs window of the building, she first saw the wreck of the Forfarshire.
Could a boat company take you into the lighthouse?
The simple answer is yes, but only one: Golden Gate Farne Island Boat Trips, which is the only boat business permitted to land on Longstone Rock, the island where the lighthouse is situated. Golden Gate can also lead you around Inner Farne and Staple Island on a single tour.
4 Bamburgh Castle Inn Seahouses Sea View Bedroom
Where to Stay in Seahouses
The team at The Inn Collection Group is responsible for operating multiple properties in and near Seahouses.
The Bamburgh Castle Inn: The most obviously convenient inn for you to book ahead of your Seahouses stay is The Bamburgh Castle Inn, which overlooks the village's harbour. This particular inn also offers great views of the Farne Islands and – unsurprisingly – Bamburgh Castle.
The Lindisfarne Inn: On the other end of the AONB, we also have cosy accomodation for your trip. We run The Lindisfarne Inn – the nearest mainland inn to Holy Island.
The Hog's Head Inn: If you're looking to devote more of your attention to Alnwick Castle, a reservation at The Hog's Head Inn is the right call. It sits near Alnwick Castle, as well as an array of other local attractions. These include Northumberland National Park as well as The Alnwick Garden, which actually strings together a number of formal gardens.
The Amble Inn: If you fancy travelling the entire length of the Northumberland Coast Area of Outstanding Natural Beauty (AONB), you could make The Amble Inn your choice of holiday accommodation. This relatively new inn is in the waterfront town of Amble, just off the AONB's southern end.
Whatever choice you do make is, of course, up to you – we are only here to help. We can provide even more of that help, too, when you phone us on 0191 580 3610. There are also various other means through which you can get in touch with The Inn Collection Group.