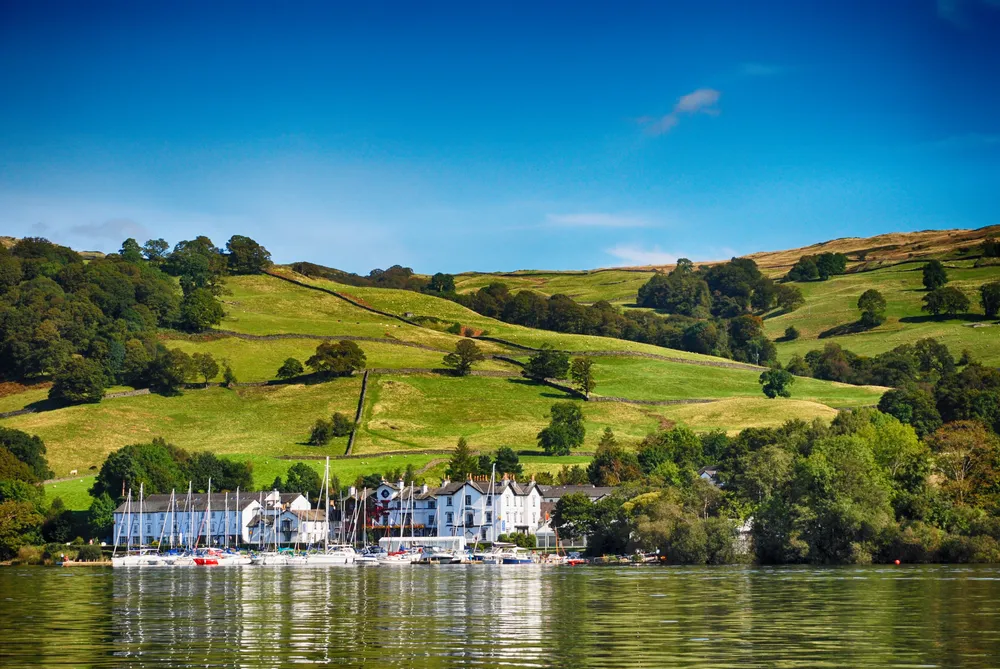 Best Boat Hire in the Lake District
Explore the great outdoors and take to the water with our guide to the best boat hire in the Lake District. Sailing boats, kayaks, rowing boats, and more.
Derwent,Water,And,Dramatic,Mountain,Backdrop,,Lake,District,,Uk.
When it comes to boat hire in the Lake District, you are certainly spoiled for choice. From unforgettable kayaking adventures to a spectacular day of sailing, be sure to squeeze a boating experience into your itinerary.
Famous for its majestic lakes and remote rivers, there's no better way to explore the stunning scenery of the Lake District than to take to the water. Whether you're a thrill-seeking fanatic or looking for a relaxing way to spend the afternoon, there's an activity for every age group and ability level. To truly make the most of this breathtaking wilderness, some centres even offer the opportunity to hire a fishing boat.
Plus, we have a range of quality accommodation conveniently located across the Lake District. From Ambleside to Bowness-on-Windermere, you're sure to find the perfect place to kickback and relax.
Explore our fantastic selection of inns now.
Keswick,,English,Lake,District
Our Top Spots for Boat Hire in the Lake District
We love the Lake District for several reasons: the fantastic hiking trails, jaw-dropping sunsets, and charming towns where you'll find plenty of local produce. If you're like us, a holiday in the country isn't complete without an outdoor adventure or two. Getting out on the water is a great way to make the most of the area's natural beauty and to keep the kids entertained.
To make the research process a little easier, we've put together a selection of some of the best places for boat hire across the Lake District.
As with all water-based activities, you will be provided with all the necessary safety equipment and trained experts will be on hand to support you in any way you need. Always try to book in advance to ensure availability.
Relax on a Rowing Boat
An activity for the whole family to enjoy, boat rowing has been a popular way to escape the crowds and soak up the sights of the Lake District since the 19th century. And with their traditional charm and relaxed feel, we can see why!
Windermere
Attracting hundreds of visitors every year, Lake Windermere is truly a wonder. Its dramatic landscape and glistening water stretch for as far as the eye can see, with plenty of picnic spots and photo opportunities along the way. As the largest lake in England, it's no surprise that this area is home to some of the best boating and water sports activities around.
Brockhole on Windermere offers a safe and enjoyable rowing boat hire experience, with competitive pricing for a range of group sizes.
Coniston Water
As far as sightseeing goes, Coniston Water is up there with one of our favourite spots in the Lake District. This calming oasis is located in the heart of the Lake District National Park, a short walk from the village and under the gaze of the Old Man of Coniston.
If you're after a classic rowing experience, Coniston Boating Centre is the place to go. With their delightful selection of wooden row boats, you can bring that romantic trip for 2 to life or take your friends on an unmissable adventure.
Ullswater
Nestled between Pooley Bridge and Glenridding, the rare jewel of Ullswater lake has well and truly won our hearts.
Unsurprisingly, this area is a hotspot for rowing and other relaxing outdoor activities. St Patrick's Boat Landing offers up to 2 hours on the water, with a range of beautiful boats that are licensed to carry up to 5 passengers. Land on the lake's various islands to uncover magical viewpoints or navigate along the shoreline, the options are endless!
Take the Wheel with Self-Drive Motor Boats
Looking to test the waters with something a little speedier? Why not uncover this landscape's hidden gems as the captain of your own motorboat…
Easy to navigate and with the ability to go at your own pace, you don't need years of experience or a sailing license to experience the thrill of self-drive boats. As a top tourist destination, busy crowds aren't uncommon. This activity offers an unparalleled level of privacy for you are free to enjoy the company of friends or family.
Hiring a motorboat doesn't have to cost the earth. There are plenty of boating centres located in the Lake District that offer exceptional experiences at reasonable prices.
Windermere
With Windermere Lake Cruises, you can easily sail solo or take a group of up to 6. As a dog-friendly watersports centre, you are even allowed to bring a furry friend along for the ride.
Derwentwater
Often referred to as 'Keswick's Lake', Derwentwater boasts some of the Lake District's most mesmerising views. With picturesque shoreside walks and the rural market town of Keswick just down the road, this lake is absolutely one for the list.
Keswick Launch Co offers cabin cruiser motor boats that can accommodate up to 8 adults. With no previous boating experience necessary, the centre caters for a range of abilities, so you can safely set sail with as much or as little support as needed.
Uncover your Inner Captain with Sailing Boats for Hire
Breathtaking views, a refreshing breeze in your hair, and a sense of adventure – nothing beats an afternoon of sailing in the Lake District. Well, potentially a hearty pub roast or light, locally-sourced lunch at one of our award-winning inns…
It doesn't matter if you have years of experience under your belt or are looking for a fun family activity, the calm waters are ideal for all ability levels. This is also a great way to meet like-minded people and feel part of a community, with hundreds of seasoned sailors and outdoor enthusiasts descending on the popular spots of Windermere and Derwentwater every year.
With miles of showstopping coastline calling your name, what are you waiting for?
Windermere
There are several sailing centres dotted around Lake Windermere, each offering a unique and memorable experience.
If you are looking for professional sailing courses, Windermere Outdoor Adventure Centre offers a variety of options that range from taster to full-day sessions, all with the guidance of a fully qualified instructor. There is even the opportunity to book private tuition.
Sailing Windermere is another popular destination. This centre provides a 2-hour sailing experience in a skippered yacht, with the ability to take on the role of captain if you're feeling up to the challenge.
With a range of boats available to hire, as well as lessons for all ages and abilities, the Royal Windermere Yacht Club offers an authentic experience in the idyllic location of Bowness Bay. Established in 1860, it is one of the oldest clubs in the country and boasts 4 impressive racing fleets.
Derwentwater
Rich in wildlife and with a scenic backdrop of majestic mountains and rolling hills, Derwentwater is an ideal sailing destination.
Located on the eastern shore of the lake, Derwent Water Marina has a variety of sailing boats available for hire, including dinghies, keelboats, and cruisers. The centre also offers lessons and guided tours.
Make a Splash with Water Sports Activities
From canoeing to kayaking and paddle boarding, this area of the country is renowned for its water sports. With other 80 lakes and a treasure trove of meres and tarns to explore, you don't want to miss out on this magical wilderness.
And with countless water-based activities on offer across the Lake District, you won't have to travel far. Immerse yourself in a 'Swallows and Amazons' style adventure or discover a new hobby that can be revisited for years to come.
The various centres allow you to explore the great outdoors safely, so you can unleash your inner daredevil without getting into any difficult situations. It's important to remember that the majority of these activities are seasonal, always double-check the centre's website for their opening information.
Windermere
Located between the busy tourist towns of Ambleside and Windermere, Low Wood Bay Watersports Centre offers an extensive selection of activities. With boat hire for everything from quality canoes and kayaks to stand-up paddle boards, wakeboards, and even kneeboards, you're sure to find your perfect match.
Ullswater
If you're based near Ullswater, then the Wake and Surf water sports centre is the place for you. With a range of boats and kayaks to hire, plus changing robes and all the equipment you could ever need, you can enjoy a relaxed and fun day of exploring this beautiful lake. If you have some Wakesurfing experience, their notorious Sunset Club is not to be missed!
Why not make the most of your boating experience on the lakes with a stay at one of our award-winning inns? Unwind after a day in the wilderness with a homemade meal and quality accommodation – it doesn't get better than that!
Are you a member of our INN club? Sign up and be the first to know about all the upcoming events and opportunities in the Lake District, as well as exclusive discounts and special treats.