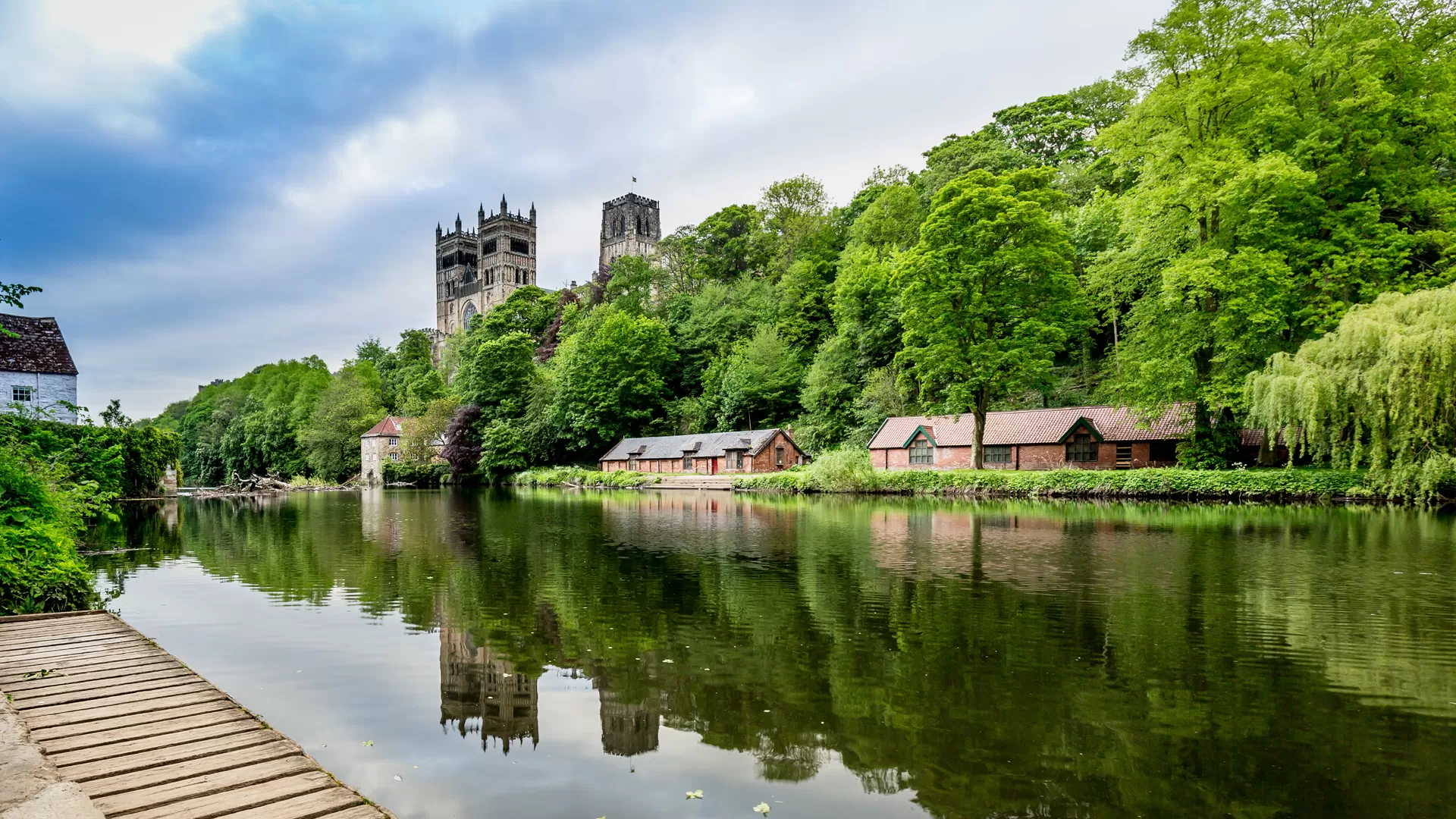 11 Things to Do in Durham
Looking for things to do in Durham? We've got you covered.
Known for its historical tourist attractions including Durham Cathedral and Durham Castle, there's no shortage of things to do when visiting this vibrant city.
In this guide, we'll be listing the top 11 attractions that'll be unmissable for your trip! And don't worry, if you're not big on cathedrals, this city's got plenty more to offer than your average walking tour.
Top 11 things to do in Durham
Whether your trip to Durham is with the family or alone, for business or pleasure, the city can be counted on for entertainment. If you're a history buff especially, you'll have a packed schedule keeping you very much entertained.
So, 'things to do in Durham?' you ask. Let's begin…
1. Visit Durham Cathedral
It wouldn't be overstating the case to suggest that Durham Cathedral is the city's most iconic attraction — especially given the way it suddenly emerges into the view of visitors who travel into Durham by train and remains clearly visible from various vantage points elsewhere in the city.
The cathedral was originally built in the years from 1093 to 1133, with further additions made until 1490. In 1986, the cathedral and the nearby Durham Castle were collectively declared a UNESCO World Heritage Site, reflecting the area's historical significance.
Durham Cathedral has an eventful history spanning a thousand years — during which time, relics including St Cuthbert of Lindisfarne's treasures, Northumbrian king Oswald's head and the remains of the Venerable Bede have all been brought and kept here.
The city itself owes its formation to the decision of monks from Lindisfarne in 995 to build a shrine to Cuthbert on a peninsula formed by a loop in the River Wear. As the cult of St Cuthbert grew, the settlement of Durham took shape and became a site of pilgrimage.
Since then, Durham and its cathedral have attracted many visitors intrigued by the area's history. Therefore, in visiting both the city and cathedral today, you would be very much following in the footsteps of visitors from across the centuries.
Though Durham Cathedral does have an ongoing events programme, you could be most enticed by the prospect of seeing artefacts that are on permanent display in the building. Good examples would include what has been referred to as the 'Treasures of St Cuthbert'.
2. Discover the Treasures of St Cuthbert
After St Cuthbert passed away in 687, his remains were placed in a coffin that has survived to this day, having been carefully looked after in Lindisfarne, later Chester-le-Street and eventually Durham.
Today, you can see the coffin for yourself at the cathedral's permanent Treasures of St Cuthbert exhibition, where the portable altar and ivory comb left in the coffin upon Cuthbert's burial in it are also on display alongside the saint's gold and garnet pectoral cross.
In 934, when Cuthbert's body and shrine were at Chester-le-Street, King Athelstan visited the site and, in the saint's honour, offered a stole and maniple — both of which are among the embroidered Anglo-Saxon vestments also visible at the Treasures of St Cuthbert exhibition.
However, it's not just the major Anglo-Saxon artefacts — fascinating though they are — at the exhibition that could easily intrigue you when you drop by to see them. That's because the pieces are displayed in a 14th century space known as the Great Kitchen.
This octagonal room's huge scale reflects the size of the community that resided in the Cathedral when this medieval monastic kitchen was built. It was last used as an actual kitchen in the mid-1940s but remains architecturally entrenched in a much earlier time than this.
This is evidenced in the room's high rib-vaulting ceiling — but there is no shortage of awe-inspiring historical decor in Durham Cathedral or, indeed, Durham more generally. It only takes a short walk from the cathedral to reach the 11th-century Durham Castle…
3. Take a trip to the spectacular Durham Castle
This Norman castle was assembled in the late 11th century at the behest of William the Conqueror, and subsequently became the seat of William Walcher, the Bishop of Durham. He was trusted with protecting England's northern frontier on the king's behalf.
The castle was inherited by successive Bishops of Durham until the early 19th century, when one incumbent, Bishop William Van Mildert, donated the castle to Durham University. Today, Durham Castle is occupied by one of the university's colleges. This helps to explain why, though members of the public are able to visit the castle, you will need to participate in one of the tours prearranged by Durham University staff if you want to have a close look at the castle's interiors in person.
The Durham University website includes details of how you can book your place on one of the guided tours regularly held at Durham Castle. Self-guided tours can also be taken in the summer.
Whether you opt for a guided or self-guided tour of the castle, you will also be able to see any exhibition being held within its walls at the time. While you will have to check the university's website to see what is coming up on the events programme, what you do see could help you to deepen your knowledge of Durham Castle's history.
As a result of the university's immense stature, this higher education institution's presence can be felt in various parts of Durham — such as its Botanic Garden…
4. Durham's Botanic Garden is perfect for a leisurely stroll
Of course, Durham isn't just a bustling urban setting; Durham is also officially the name of the green, leafy county surrounding the cathedral city. As you venture out into what is known colloquially as County Durham, you can get a sense of its abundant greenery.
However, you don't necessarily quite have to leave the city's boundaries to start getting that sense. That's because you could stop by the Botanic Garden, a 10-hectare green space situated on Durham city's southern outskirts and resplendent in a wide range of landscapes.
Though the Botanic Garden is owned by Durham University and used by it as an academic resource for teaching and research, it is also open to the public. Even if you aren't a gardening addict, a visit to the Botanic Garden could well make you one!
One major reason why is that the Botanic Garden is rich in variety — with the attractions you can wander through here including an alpine garden, a winter garden, a bamboo grove, a woodland garden, a wild flower meadow and glasshouses.
It could all be enough to unleash your inner Alan Titchmarsh or Kim Wilde and get you clueing yourself up on different types of plants. It's convenient, then, that flora and fauna in the Botanic Garden have been labelled, with each label indicating the plant's scientific name and country of origin.
As the garden is a site of scientific research, it is home to a range of rare plants. However, it's hardly the only County Durham place where you can bear witness to wonders of the natural world, as people who have explored the Durham Dales can attest.
5. Check out the natural beauty at the High Force waterfall
The Durham Dales makes up a third of County Durham and is a great place to reconnect with nature — due to its abundant mountains, hills, valleys and moorland — as well as get some exercise, as walks, hikes and bike rides are all possible along Durham Heritage Coast.
Getting to High Force would be a major trip in itself, given the waterfall's somewhat isolated location in the midst of the Durham Dales. However, it would certainly warrant the journey, given the spectacular way the water at High Force tumbles 21 metres into a plunge pool.
Before you are able to see that, though, you will need to take the gentle walk up to the waterfall — enabling you to enjoy breathtaking views of its base as well as Upper Teesdale and the North Pennines Area of Outstanding Natural Beauty.
At this point, it will also be clear to you why High Force has made its way onto the screen — such as in a 2021 episode of the popular soap Emmerdale as well as in the 1969 American Western film Mackenna's Gold, despite the events of that film occurring in the American Southwest.
Notable visitors to High Force in the past have included the painter J. M. W. Turner in 1816 and the agriculturalist Arthur Young, who arrived with his wife on horseback, in 1771.
6. Indulge in a coffee or two at Flat White Kitchen
Durham provides a great opportunity for visitors to skip through multiple centuries within a relatively short space of time. In the case of Flat White Kitchen, it's the 17th century you are getting to sample, as this coffee shop occupies a renovated townhouse from that era.
The Saddler Street location of Flat White Kitchen is just a short walk away from Durham Cathedral and allows you to take your pick from a range of baked goods and typical café fare. For an up-to-date look at the menus, just check out the Flat White Kitchen website.
Flat White Kitchen was established in 2010 and takes pride in being an independent eatery. However, while it's a great place to drop into for some succulent cake or a brunch, it could be especially worth visiting if you are a coffee lover.
Why do we say this? It's because Flat White Kitchen has been featured in the North, Midlands & North Wales edition of the Independent Coffee Guide, which specifies top-quality coffee shops and roasters recommended by regional experts in coffee.
So, with the standard of the offering at Flat White Kitchen having been backed by expert opinion, what more excuse do you need to pay a visit to 40 Saddler Street and start doing what could be one of the most effective hunger-banishing things to do in Durham?
7. Experience the River Wear by rowing boat
Durham is a city that looks great from many different angles — but you could be particularly delighted by how arresting the area looks when seen from the River Wear.
No, don't worry — you don't necessarily have to slip into some scuba diving gear. Instead, you could just book one of the traditional hand-built rowing boats available from the Durham-based company of Browns Rowing Boats, which has been around since the 1900s.
Whether you are set to visit Durham with the rest of your family or just your partner, hiring a row boat can enable you to embrace the River Wear's tranquility while hearing little other than the sound of oar blades coming in and out of the water.
You would even have the option of booking an evening cruise on the Prince Bishop River Cruiser, from which you will be able to admire exteriors of Durham Cathedral and Durham Castle as well as see some Durham bridges from a new angle.
The Prince Bishop River Cruiser dates from 1899 and, today, is fully heated with capacity for 150 passengers per cruise. Other useful features on the cruiser — on which cruises are available for twelve months of the year — include twin decks, an opening viewing deck, a bar and toilets.
It's even possible to organise bespoke party nights to be held on the Prince Bishop River Cruiser — but, whether you want a book a space on this or one of the above-mentioned rowing boats, please contact Browns Rowing Boats to enquire about availability.
8. Explore the Full Moon Market's eclectic stalls
Once a month, street food vendors from across the North East gather in Durham for the Full Moon Market. As reflected in its name, the market is held in the evening, and is usually close to the full moon cycle.
Hence, you could benefit from attending the Full Moon Market if you fancy sampling some rather unfamiliar types of food. You can rest assured that various dietary requirements are accounted for with the food options here — and you can also expect to hear live music as you browse the stalls.
Examples of quirky treats that have been available at the Full Moon Market in the past include pizza, grilled meats and kangaroo burgers — and going along to the market with foodie friends in tow can make for one of the most simultaneously fun and sociable things to do in Durham.
The Full Moon Market regularly takes place in, appropriately enough, Durham Market Place — which, though medieval in origin, has layers of history from later periods.
Once you are in Durham Market Place, you could soon spot the statue of Neptune, which was originally installed here in 1729. Meanwhile, visible on the Market Place's eastern side is the Victorian-era St Nicholas Church, the work of Darlington architect J. B. Pritchett.
The market town of Bishop Auckland, located 12 miles southwest of Durham, has its own Full Moon Market. Feel free to check out the Full Moon Market page on Facebook for more details.
9. Visit Barnard Castle
In County Durham, the name Barnard Castle is actually used for two distinct things: a ruined 12th-century castle and the market town that has grown around it. However, the town, which rests on the River Tees' south bank, is worth visiting for more than just the medieval castle.
The town is, for example, home to The Bowes Museum, which was built in the 19th century to house various artworks collected by John Bowes and his wife Joséphine Benoîte Coffin-Chevallier. Today, The Bowes Museum is one of the county's best-known cultural attractions.
Before you visit Barnard Castle, you might want to look up the event listings on The Witham (arts centre) website, which has been a major part of the town's cultural offering for over 150 years. Theatre shows, music gigs, comedy nights and art exhibitions are held here regularly.
Historically, Barnard Castle is strongly associated with Richard III, and his boar emblem can be seen in various parts of the town. As the Duke of Gloucester, Richard owned the castle of Barnard Castle, now one of the county's most hauntingly beautiful historical tourist attractions.
This 12th-century ruin is now looked after by the conservation charity English Heritage and available for members of the public to visit. You might have already had a preview of sorts, since the English Romantic painter J. M. W. Turner depicted the castle on canvas around 1825.
10. Take a trip to Crook Hall
The Grade I listed Crook Hall is essentially a patchwork of styles from different eras. For example, the building's oldest part still visible today was built in the early 14th century, while the site also includes elements of a Jacobean manor house and a Georgian townhouse.
The eclectic feel of Crook Hall reflects how it has developed over the course of its history, which has included visits from the renowned cultural figures William and Dorothy Wordsworth, Walter Scott and John Ruskin.
Towards the end of the 20th century, Crook Hall passed into the ownership of the Bell family, who opened the building and its gardens to the public and created a new entrance welcome area and café.
Eventually, the National Trust took over Crook Hall and its gardens in March 2022, and the overall site can once again be visited by members of the public. With its 10 acres of beautiful green space, Crook Hall Gardens makes for a relaxing family day out.
Your kids could particularly enjoy exploring the open-air maze, which might be one of the most surprising — and surprisingly fun — things to do in Durham.
Crook Hall Gardens is also another place in Durham that could be of particular interest to gardeners. It is easy to see the effect of the changing seasons here, as roses bloom in the summer and the maze starts sporting dark green leaves and red berries later in the year.
11. Stay with us at The Seaton Lane Inn or The Kingslodge Inn!
There is so much to enjoy in Durham and surrounding areas that it would be well-recommended for you to book a stay in local accommodation. We run two cosy inns here: The Kingslodge Inn and The Seaton Lane Inn.
We would advise that you reserve a room in the former if you anticipate much of your activity being centred around Durham city. The Kingslodge Inn is located in Durham city centre but still provides a peaceful resting place due to the surrounding woodland of Flass Vale.
It could also be a great source of comfort to you that The Kingslodge Inn triumphed at the National Pub & Bar Awards and has been hailed by The Times as one of the '20 best places to stay in the UK with a dog'.
However, for many people, key to County Durham's appeal is the area's proximity to the major population hubs of Newcastle upon Tyne and Sunderland. So, if you are one of these people, it would naturally be convenient for you to be able to sleep over somewhere near the northern edge of County Durham.
Fortunately, The Seaton Lane Inn matches this description — and is dog-friendly both as a pub and as a provider of holiday accommodation. Due to its location, The Seaton Lane Inn can also be appealing to people seeking fun family days at seaside settings along Durham Heritage Coast.
The Kingslodge Inn - Durham External
The Inn Collection Group can help you to arrange your Durham getaway
Of course, there's far more to do in Durham than could be covered here. For example, nature lovers could rejoice in visiting Wharton Park, while arty types can look forward to seeing some shows at the Gala Theatre. We hope though that this guide gave you an idea of how the city could entertain you during your stay.
You might never feel as though you have run out of things to do in Durham. However, you can still take heart that we run inns in various other parts of the North East England region, making it quick and simple for you to schedule visits to such local areas as Northumberland and Yorkshire.
Things To Do in York
Fancy booking a stay in County Durham? At The Inn Collection Group, you can always expect a warm welcome and a cosy 'home away from home' to return to. Book your stay with us online today or get in touch.