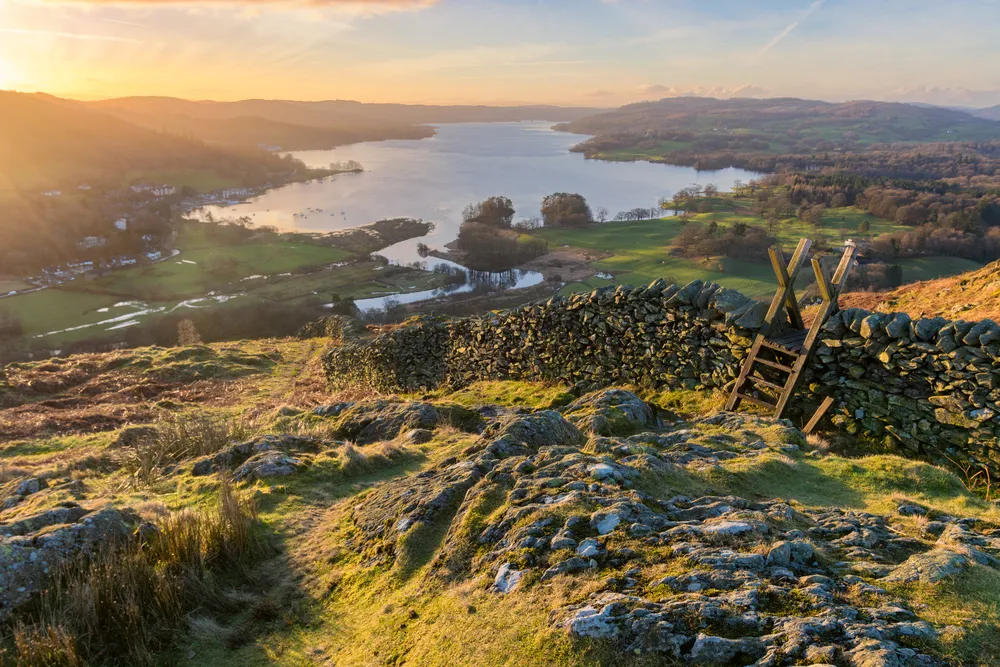 Best Hiking Trails in the Lake District
From leisurely lakeside strolls to multi-peak challenges, discover the best Lake District hikes with our handy guide.
A,Hiker,Walking,Up,A,Mountain,Ridge,,The,Edge,
Known for its crystal-clear lakes and rugged mountain peaks, the Lake District hikes boast some of the best trails in the country. From seasoned pros and avid adventurers to those looking to escape the bustling city life for a weekend, this stunning National Park attracts hundreds of holidayers every year.
What better way to enjoy the enchanting scenery of England's North West than to get out into the countryside?
Plus, we have a range of quality accommodation conveniently located across the Lake District. From Ambleside to Bowness-on-Windermere, you're sure to find the perfect place to relax after a day in the wilderness.
Explore our fantastic selection of inns now.
Fell,Walking,On,Catbells,Mountain,In,The,Lake,District
Lake District Hikes - the Ultimate Essentials Guide
It doesn't matter if you're a hiking enthusiast or a complete novice, being prepared is key. Weather can be unpredictable and having a waterproof to hand can be the difference between a pleasant experience and a soggy disaster.
We've put together a brief list of essentials to get you started:
- Waterproof coat
- Trusty backpack
- Walking trousers and/or thermal leggings
- Sturdy walking shoes or boots
- Lightweight water bottle
- Extra layers for cosiness, including hats, gloves, and quality down jacket or mid layer
- Plenty of fuel, such as trail mix or energy bars
- Suncream
- Power bank
- Head torch and cable
This is not exhaustive and, if you are taking children, be sure to account for muddy puddles and storage for treasure collected along the way. Having a few bribes up your sleeve always works a treat, so a few extra snacks won't go amiss!
Our Favourite Lake District Hikes
With a rich cultural history and breathtaking natural beauty, the Lake District's landscape is loved by ramblers and romantics alike.
One of the great things about hiking in the Lake District is the amount of choice available. There are endless different paths and views to explore. Whether you're after a mountainous expedition or a leisurely lakeside stroll, there's a wide variety of hiking trails, for all ages and ability levels.
Why not take part in a guided tour? Hiking can be a great way to discover the very best of the Lake District's spectacular scenery and meet like-minded people. Taking you from calming lakeside routes to adrenaline-boosting climbs in the clouds, there are numerous activities and events to get stuck into.

Calling all Hardcore Hikers
If you're leaning more on the adventurous side or fancy a bit of a challenge, we've put together a selection of some of the toughest and most rewarding trails to tickle your fancy:
Fairfield Horseshoe
Beginning and ending in the tourist town of Ambleside, the heart of the Lake District, this classic multi-peak trail encompasses an 8-summit circuit of steep ridges and woodland.
Although the challenging mountain terrain and 1,100m ascent can be daunting, this high skyline walk is worth it for the panoramic views of Windermere.
Distance: 10 miles
Rough time: 5.5 hours +
Difficulty level: High
Scafell Pike
Ready to tackle the highest mountain in England?
The Scafell Pike trail begins in Sty Head, taking you along the famous 'Corridor Route' before descending down Brown Tongue Path. Along this circular route, you will encounter rocky summits, rugged wilderness, and, above all else, the best views the Lake District has to offer.
Distance: 9.3 miles
Rough time: 6.5 + hours
Difficulty level: High
Great Gable
If you want to escape the crowds, the Great Gable trail via the Southern Traverse is certainly one for the bucket list.
Beginning your ascent at Seathwhite, this mountainous walk will take you along steep paths and short scrambles. Once you've reached the summit, you will then embark on a descent through the spellbinding waterfalls of Sour Milk Ghyll.
Encountering the architectural marvels of Napes Needle, the Sphinx, and Windy Gap, to name a few, this site-seeing expedition is not one to be missed. For the thrill-seekers amongst you, there's even the chance to squeeze in a spot of rock climbing.
Distance: 6.3 miles
Rough time: 4 + hours
Difficulty level: High
Complete Beginner? We've Got you Covered
You don't have to reach lofty heights to enjoy the stunning views. In fact, some of the more challenging trails aren't accessible in the winter months. The good news? Come rain or shine, the Lake District offers a number of lower-level walks that can be enjoyed in all seasons.
If scrambling up rocks isn't your thing, we've picked some of our favourite routes to get you started.
Grasmere Lake Loop
Located near Ambleside, this lake-side walk is a true gem.
An accessible route with flat terrain, it's perfect if you're looking for a light afternoon wander after a hearty pub lunch. We would recommend beginning the walk at Grasmere Gingerbread Shop for some much-needed supplies and heading along Redbank Road towards the lake.
You can even go for a dip in the crisp water – if you're feeling brave enough! Wild swimming can be a magical experience but has its risks, so always exercise caution.
Distance: 3.1 miles
Rough time: 1 + hours
Difficulty level: Low
Blea Tarn
Perfect for those with limited mobility or less advanced walkers, this gentle trail has everything from easily-accessible paths and footbridges to grand mountain views.
Nestled in the picturesque fells of the Little Langdale valley, we can see why Blea Tarn is such a popular walking destination! You can begin the walk at the conveniently located National Trust car park. From there, the circular path takes you through peaceful woodland, around a glistening lake, and along a country road.
With plenty of seating areas dotted around, why not pause for a picturesque summer picnic? Alternatively, you can power through to reach the scenery of Great Langdale – for photo opportunities galore.
Distance: 1.8 miles
Rough time: 1 + hours
Difficulty level: Low
Orrest Head
Taking you above the historic town of Windermere, this is a relatively short uphill walk with only a few rocks, slopes, and stiles to negotiate. Following in the footsteps of the Lake District's most beloved rambler, Alfred Wainwright, you will begin your journey by the railway station. You will then make your way to the summit of Orrest Head, where you can enjoy spectacular views of Lake Windermere, England's largest natural lake, and the Pennines beyond.
The trail can be slippery in wet conditions, so be sure to pack your favourite walking boots and take care on the way down.
Distance: 2.2 miles
Rough time: 1.5 + hours
Difficulty level: Medium
Lake District Hikes for the Whole Family to Enjoy
An exciting outdoor playground for children as well as adults, the Lake District is an ideal destination for family holidays. When it comes to walking, it's not always as simple as setting off down the beaten track and, with a range of needs to consider, finding the perfect spot can be a challenge.
With endless adventures at your doorstep, don't let buggies and bad weather keep you indoors. The Lake District has an amazing array of family-friendly routes on offer, even for those with little legs.
Friars Crag
If you're after an easy walk with plenty of picnic spots, the wooded valley of Derwentwater foreshore doesn't disappoint.
From Keswick town, the smooth trail takes you through the rural oasis of Crow Park, along a flat path parallel to the lake edge, and towards the viewpoint of Friars Crag. The open waterside is the perfect place for the kids to explore while remaining under your close watch. For the bird spotters among you, be sure to pack your binoculars as this area is teeming with wild species.
The paved pathway makes this route a breeze for all abilities. While the majority of the walk is accessible, we would recommend avoiding the slightly steeper sections for visitors with pushchairs.
Distance: 1.7 miles
Rough time: 40 + minutes
Difficulty level: Low
Grizedale Forest
Promising endless forest trails and unique artwork, you'll want to dedicate an entire day to exploring the delights of Grizedale forest. With several walking routes to take, this must-visit area accommodates all age groups.
The Ridding Wood trail is the most suitable for families with younger children. It offers a short, pushchair-friendly stroll through the forest, with fun activities to keep the kids entertained for hours. With magic around every corner, this interactive experience takes woodland walking to the next level – for memories to last a lifetime.
Distance: 1 mile
Rough time: 1 + hours
Difficulty level: Low
The Millwood Trail is a slightly longer loop through the Lake District's ancient woodland. This manageable trail boasts beautiful views of the valley, where you will discover some of Grizedale Forest's famous sculptures. To make the walk that little bit easier, there's even the promise of a play park at the end.
If you are concerned about pushchair accessibility, the steeper climbing sections are easily avoidable if you stick to the slightly shorter version.
Distance: 1.5 miles
Rough time: 1 + hours
Difficulty level: Low
If you're visiting the lakes to enjoy a hike or two, why not turn it into a holiday to remember at one of our inns? Located within walking distance of the area's most iconic attractions, you can recharge in the unmatched comfort of our award-winning accommodation.