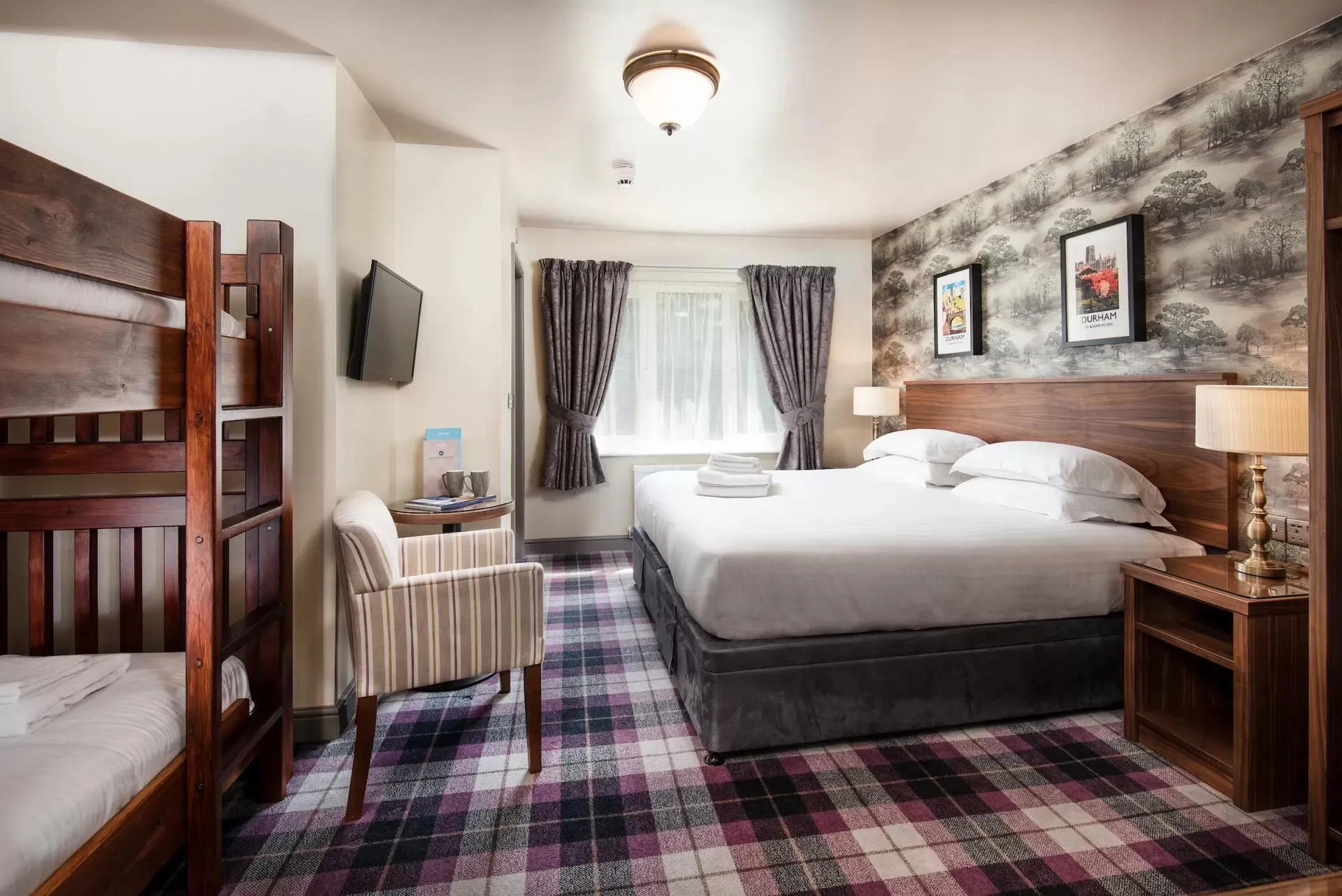 Our Inns in County Durham
Explore Our Accommodation in County Durham
With inns in handpicked coastal, country, town, and city locations, you'll find our pubs with rooms in the best places whether you're travelling for leisure or business. Our award-winning accommodation awaits.
Seaton, County Durham
Near Durham's Heritage Coast and seaside gems like Seaham, this popular inn is ideal for visiting Sunderland, Durham and Newcastle.
Find out more
Flass Vale, Durham
Enjoy the benefits of a central location in world-famous Durham city itself with all the charm of a countryside inn.
Find out more
The Coniston Inn - Complimentary sleep bags
Quality you can trust
Sleep tight knowing our inns are purposefully AA three-star Gold rated, so you can be assured of a warm welcome, clean and comfortable rooms with excellent facilities.
Enjoy homemade food prepared in five-star food hygiene rated kitchens, while we proudly hold awards for our impeccable cellar management.
More about our food & drink
Relaxing at The Ambleside Inn
A warm welcome for all
As welcoming as possible, whether for parents with pushchairs and little ones, or for guests with extra accessibility needs, find information about additional facilities on each of our inns' access statement.
We understand pets are part of the family. That's why all our inns are pet friendly with designated dog friendly rooms and areas within our dining and bar areas.
Wherever you are visiting in the North East, or County Durham, the Inn Collection Group has the perfect inns for you to lay your head, fill your boots, and benefit from some Great British refreshments.
Quality of inns from Inn Collection Group
The Inn Collection Group has a wide range of excellent pubs, restaurants, and accommodation throughout the North of England – quality guaranteed. We always stay true to the unique character of our inns, elevating them to a place where anyone can enjoy delicious food and refreshments, as well as an excellent night's sleep.
We take pride in our customer service, always going the extra mile to ensure your comfort and enjoyment. For this reason, we take customer feedback very seriously, always investing and training our staff to ensure that our environments and communities are the best possible, and up to the highest standards.
Our customers and staff are at the heart of everything that we do. Along with our rigorous quality control procedures, this ensures that every visit is satisfactory, fun, and of the highest quality. And that's The Inn Collection Group guarantee!
But you don't just have to take our word for it! We are proud partners with AA, Visit England, Visit Britain, Visit Northumberland, This is Durham, Cumbria Tourism, Welcome to Yorkshire, Cask Marque, Northumberland Coast Area of Natural Beauty, The Lake District Foundation, Discover Our Land, Explorer's Road, England's Coast and Visit North East England.
The Inn Collection Group has also won numerous awards for the quality of our inns, including the Great British Pub Awards, The Publican Awards 2020, and are rated 3 stars by both the AA and Cask Marque.
Everyone is welcome to stay
Whether you like to travel solo, are heading off for a romantic getaway, or love a good family holiday, The Inn Collection Group has something for everyone. In addition to the traditional twin and double rooms, we offer a few different options to ensure that everyone is as welcome as possible in all of our inns.
Tailored family rooms
Preparing to head away for a much-needed break can involve a lot of planning and preparation, especially when you have kids! We understand how stressful it can be to find child-friendly accommodation, but we are firm believers that it shouldn't be so difficult! This is why, at The Inn Collection Group, we have a number of tailored family rooms for your use.
Our family rooms are a fresh, new addition to The Inn Collection Group. Each room boasts a king-sized double bed and bunk beds for your little ones. Sleeping a total of 4 people, plus room for a cot when required, this is the perfect solution for family holidays up to the North of England.
Accessibility
We are committed to making sure that everyone is welcome at our inns, and so we aim to make our inns as accessible as possible. Our inns boast accessible entrances, facilities, and accommodation to ensure that we can welcome everyone to our picturesque locations.
All our accessible rooms have all the necessary adaptations that you need to ensure that your stay is as relaxing and comfortable as possible, without compromising on style. This includes an accessible ensuite shower room, complete with room for a comfortable turning circle, and grab rails for transfer.
We understand that everyone's situation is different, but this should not keep you from visiting our idyllic inns. If you would like to book our accessible accommodations or would like some more information about whether these rooms would suit all your needs and requirements, just get in touch with us today to discuss with a member of our team.
We understand that holidaying when you have additional accessibility requirements can feel daunting or stressful. That's why our team is fully trained to be able to answer all of your burning questions, and reassure you about the quality and suitability of our accessible facilities.
Dog-friendly
We are passionate about ensuring that no one is left behind – and that includes our canine family members! This is why we are proud to offer dog-friendly accommodation in our inns. Your furry friends can stay by your side, for just a small additional fee per pet, per night.
This goes for all of our pubs and restaurants too! If you are only popping in for a quick refreshment or light meal, bring your dog with you. We have dog-friendly areas in all of our inns, and some even have gorgeous beer gardens for both you and your dog to get some well-earned fresh air and bask in the sunshine.
Everyone is welcome
Everyone is welcome in an Inn Collection Group inn – and we really mean everyone! We will always go above and beyond to ensure that all your needs are met, no matter what additional requirements you may have. If you have any questions about how we might be able to assist or accommodate you, don't hesitate to get in touch to discuss your requirements with a member of the team.
Places to stay in County Durham
County Durham is the perfect base for a week away, a long weekend, or even a weekend city break. But, one thing is for sure, you have got to stay over – there is simply too much to do in one day!
So, to help you find the perfect accommodation for your trip, here are a couple of fantastic places to stay in County Durham.
The Seaton Lane Inn
The Seaton Lane Inn is nestled in Seaton, County Durham, just a 5-minute drive from the quaint seaside town of Seaham. Whether you are visiting the idyllic landscapes of County Durham, heading to the nearby Seaham golf resort, or are exploring the coastline of the North East, The Seaton Lane Inn is the perfect place to lay your head.
This inn oozes charm, through its quirky, boutique-style decor. Natural elements, lots of natural light, and greenery perfectly compliment bare brick walls and the traditional elements of the building within.
Rooms at The Seaton Lane Inn
The luxurious bedrooms continue with the quirky charm, excellently finished with soft white bed sheets. Each bedroom has all the essentials you need for your trip, including a flat-screen TV with Freeview, free WiFi, a complimentary sleeping kit, safe, tea and coffee facilities, and more!
There are king-sized, double, twin, and family rooms available, plus an accessible room for your benefit. Unless otherwise stated, these rooms come with a complimentary traditional Northumbrian breakfast. If you are taking your dogs to the beach – don't worry – The Seaton Lane Inn also has a number of dog-friendly rooms for an extra £10 per dog, per night.
Every room has its own distinct character. With such elegance and charm, you will be bound to keep coming back again and again!
The Kingslodge Inn
The Kingslodge Inn is located just a ten-minute walk from the historic city centre of Durham. Despite its proximity to the city centre, The Kingslodge Inn is surrounded by serene woodland, combining the ease of the city and the beauty of the countryside within Flass Vale. It also boasts a number of golf courses nearby, including Ramside Golf Club.
Rooms at The Kingslodge Inn
All of the comfortable bedrooms are decorated in a contemporary style, perfectly juxtaposing the historic building they are nestled within. This way, you can benefit from the beauty of natural wooden beams, original wooden features, and lashings of plaid, but with the white, crisp, soft sheets you love from a contemporary inn. The light and airy decor elevates the rooms, making them feel bright and airy.
The Kingslodge Inn boasts double, twin, single, accessible, and family rooms for you to choose from, perfect for couples and families alike. Each room comes with a complimentary Northumberland buffet breakfast (unless otherwise specified), access to the restaurant & pub, free Wi-Fi, and all the mod cons like Freeview TV and a drink-making station.
Even better, The Kingslodge Inn has dedicated dog-friendly rooms so that no member of the family gets to miss out on your holiday. For a £10 supplement charge per dog, per night, you can relax in one of the "20 best places to stay in the UK with a dog", as reported by The Times.
Things to do in County Durham
County Durham straddles the best of both worlds. With epic countryside, historic castles, architectural masterpieces, stunning coastline, quaint market towns, and a bustling city centre, there is certainly no shortage of things to do in County Durham.
With so much variety in County Durham, of course, we cannot mention everything! However, here are some of the absolute must-see attractions and activities that you need to check out when you are in County Durham.
Golf
There are a number of countryside, beachside, and championship golf courses throughout County Durham. Whether you fancy teeing off or playing 18 holes, just get in touch with the golf reception of your choice to see whether they have availability and for accurate, up-to-date prices.
Seaham Hall
If golf, or any sport for that matter, is not up your street, then don't worry! Seaham Hall is home to The Serenity Spa, which boasts a 20-metre pool, outdoor hot tubs, a hydrotherapy pool, thirteen single treatment rooms, three double treatment rooms, and a manicure and pedicure suite.
Whether you need a moment to take time and relax or need some TLC to relieve the stresses of your everyday life, a trip to the Serenity Spa will leave you feeling refreshed and rejuvenated so that you can make the most of your time away.
Beamish Museum
The Living Museum of the North, Beamish, is one of the North's most celebrated outdoor centres. This open-air living museum tells the story of life in the North East during various time periods in history, such as the 1820s, 1900s, and 1950s. Located near the town of Stanley, Beamish is easily accessible from anywhere in County Durham, and even the wider North East England.
Durham City
This historic city centre, home to Durham University, is the perfect place to spend a leisurely day exploring the architecture and historical monuments. There are also a wide variety of pubs, bars and restaurants in the city that boast fantastic views of the river and iconic castle.
Durham Castle
One of the highlights of the city of Durham is Durham Castle, a Norman fortification constructed on behalf of Waltheof, Earl of Northumbria, starting building works in around 1072.
A UNESCO World Heritage Site, the castle has since been the residence of the Bishops of Durham and has been home to University College, Durham since 1837.
Durham Cathedral
Around a 5-minute walk from the castle, you will find the iconic Cathedral Church of Christ, Blessed Mary the Virgin and St Cuthbert of Durham, otherwise known as Durham Cathedral. This cathedral boasts aspects of Romanesque, Gothic, and Norman architecture – it is also a designated UNESCO World Heritage Site.
In addition to being a working church, seat of the Bishop of Durham, you can take a tour around the church, soaking in the vibrant history of the building. The cathedral also hosts a museum inside its walls, which displays a multitude of artefacts, including one exhibition that highlights what it was like to live in Durham Cathedral as a Benedictine monk.
Durham Dales
The Durham Dales is an area of mountains, hills, valleys, dales, and moorland that spans a third of County Durham, including areas such as Teesdale and Weardale. These peaks are mainly those on the Durham side of the North Pennines. There are also a couple of market towns in the area – namely Barnard Castle, Consett, Stanhope, Bishop Auckland, Middleton-in-Teesdale, Tow Law, and Wolsingham.
There is so much opportunity to be had in the Durham Dales. For the active, why not opt for a walk, hike, or bike ride along the coast? Or, you can relax and watch the variety of nature and wildlife, soaking in the magnificent views, hills, rivers, and waterfalls throughout the area.
High Force
At the heart of the Durham Dales is the High Force waterfall. Living up to its name, High Force has a drop of 21 metres into a spectacular plunge pool. The water starts as a small spring on the top of the North Pennines, slowly moving towards the whin sill rock at Forest-in-Teesdale. Here, the River Tees gains a significant amount of speed (or force!) on its journey, before making the drop.
The walk up to the waterfall is pretty gentle, giving you great views of the base of the falls, Upper Teesdale, and the North Pennines Area of Outstanding Natural Beauty. It is certainly one of the most spectacular waterfalls in all of England.
North York Moors
The North York Moors might be situated outside of County Durham – in North Yorkshire, in fact – but we simply could not mention the Durham Moors and forget its neighbour! The North York Moors are close enough to County Durham to make this area a fantastic place for a day trip.
Similarly to the Durham Moors, there are innumerable things to do in this area. Opt for a walk, hike, bike ride, or watch the waterfalls cascade down the beauteous hills and peaks. There is also a historic steam railway and the North-East Yorkshire coastline to admire close by.
Old Durham Gardens
Old Durham Gardens is a public space, situated less than a mile from Durham city centre. The gardens play host to numerous woodland and riverside walks, as well as beautiful architectural elements, flora and fauna for you to observe.
The gardens are split up into three sections: the Lower Gardens and orchards, the Walled Garden and gazebo, and the Riverside track along the River Wear. These gardens have been around for over 350 years, so it is a must-see place to get some fresh air when in County Durham.
Raby Castle
Raby Castle is undoubtedly one of the best examples of a medieval castle in England. The area where the castle was built was originally a Viking settlement of King Cnut, who was known as Rabi – hence how the castle got its name.
The castle that we see today was built by John Nevile between 1367 and 1390, and it became home to the Barons Neville de Raby. One of the members of the Neville legacy, Cecily Neville, went on to give birth to not one, but two, kings of England – Edward IV and Richard III.
If history isn't your cup of tea, there is plenty more to do at Raby Castle, including roaming the castle grounds and gardens or even making an evening of it with a night stargazing on the grounds.
Durham Heritage Coast
Running all the way along the North East coastline, from Sunderland to Hartlepool, the Durham Heritage Coast is one of the most stunning stretches of coast in the country. There is a coastal path that runs along most of the coastline, which boasts truly unparalleled views.
Take a look at dramatic seaside views, yellow Magnesian Limestone cliffs, shallow bays, and headlands. You can either dust off your walking boots and meander your way along the coast, head off on a bike ride, or drive down, stopping at the most picturesque spots.
National Railway Museum, Shildon
The National Railway Museum is located on the old Stockton and Darlington Railway line – the world's first public railway that opened on 27th September 1825. The train that opened this railway, Locomotion No 1, is immortalised in the museum to this day.
Opened in 2004, this is the first National Railway Museum to be sited in the North East of England. Visitors can enjoy a ride on a passenger steam train and browse over 70 vehicles from the National Collection, including Timothy Hackworth's innovative 'Sans Pareil' locomotive, built in 1829.
The Bowes Museum
Settled in the heart of historic market town, Barnard Castle, The Bowes Museum boasts many exhibits of artwork, including pieces by El Greco, Canaletto, François Boucher, Francisco Goya, and Jean-Honoré.
However, the museum does not only boast fine artworks but also decorative art, ceramics, tapestries, textiles, costumes, and the early works of French glassmaker Émile Gallé – the latter of which were specially commissioned by the wife of the building's founder, Joséphine Bowes.
Wharton Park
After an investment of £3 million, Wharton Park stands as one of the hidden gems of Durham. With a summit that boasts Grade-2 listed battlements that date back to 1858, Wharton Park exhibits some of the most spectacular views over Durham. John Ruskin, a 19th-century philosopher, called this view the "Eighth Wonder of the World"
After strolling through the park and finding an idyllic spot for a picnic or to read a book, take a look at the architecture, putting green, miniature car track, outdoor gym, and junior play area that the park has to offer.
Penshaw Monument
Just 6 miles away from The Seaton Lane Inn is the Penshaw Monument, one of the most prized landmarks of Sunderland. Built in 1844, the Penshaw Monument is a half-sized exact replica of the Temple of Hephaestus, which is found in Athens, Greece.
Take a moment out of the hustle and bustle of daily life to climb to the summit of Penshaw Hill, to take in the stunning views of the surrounding countryside, and of the 70-foot high monument. You can even climb to the top of the monument via a secret spiral staircase, which is hidden inside one of the pillars of the monument.
Places to eat in County Durham
County Durham is filled to the brim with delicious local eateries, restaurants, and inns that serve fresh local produce and homemade food. When visiting the area, here are a couple of places you must eat at.
The Seaton Lane Inn
Situated close to the A19, The Seaton Lane Inn is the perfect place to stop for a bite to eat when exploring the North East coastline. The inn is only a 5-minute drive from the popular Seaham Beach – and an under 40-minute drive from Newcastle city centre, Eldon Square, Newcastle University, and Northumbria University.
The Seaton Inn boasts three unique areas for you to choose from – from the relaxed, stone-flagged bar, to the spacious dining area, to the picture-perfect, Instagram-worthy orangery. The character of each space will leave you coming back time and again to soak in the electric, quirky atmosphere.
Classic pub grub for the whole family
Food is served between 7.30am to 9.00pm inclusively, right the way through from a traditional Northumbrian breakfast spread to late-night bites. Our seasonal menu celebrates the local, seasonal produce of our surroundings, creating both Great British pub classics and innovative, modern global dishes. Everything is clean and simple – done right! Check out the daily specials board for excellent food based on the variety of local ingredients delivered that day.
And it's not just adults that get to have all the fun! We put the same effort into curating a high-quality children's menu, complete with homemade food that will satisfy even the choosiest of eaters.
In addition to our extensive food selection, The Seaton Lane Inn also boasts a wide drinks menu. With everything from brewed cask ales, local specialities, and wines from across the world, there is something that will perfectly match every dish.
Sunday roast & vegetarian options galore
Every Sunday, you can enjoy a home-cooked Sunday roast – carvery style – from 12 noon until 5pm. Choose from roast beef, roast pork and crackling, turkey and stuffing, or nut roast, and load up on all of your favourite trimmings, complete with lashings of gravy,
The Seaton Lane Inn also has a wide selection of vegetarian and vegan options, and alternatives for those following low sugar, fat, or salt diets. You can find the easy to use allergen guide online, for the dishes that are suitable for those with gluten, dairy, and soy intolerances, and more.
The Kingslodge Inn
The Kingslodge Inn is less than half a mile from Durham Train Station and only a 15-minute walk from Durham Castle and the city centre. For those who are visiting their beloved children at Durham University, you can also benefit from being a 20-minute walk or 7-minute drive from the main campus.
Dining in style with a feast of seasonal local dishes
Food is served on the premises from 7.30am to 9.00pm, right through from breakfast to dinner. Within the inn, you can opt to dine in The Kingslodge Inn bar or restaurant areas or choose to dine al fresco in the idyllic beer garden on the cusp of the Flass Vale Local Nature Reserve.
At The Kingslodge Inn, we love to celebrate local supplies, reinvent local dishes, and showcase local produce. You can find a wide range of fresh, locally sourced dishes on our seasonal menu, or take a look at our daily specials board for carefully crafted local dishes.
We put just as much time and effort into our children's menu as we do the adults. This children's menu has options that can suit even the pickiest of eaters, ensuring they get a healthy balanced diet with dishes that contain hidden veg – they will never know!
Comforting Sundays with a classic roast
On Sundays, we are proud to serve a Sunday lunch with all the trimmings. Choose from beef, turkey, home-cooked honey-roasted gammon, or nut roast, before loading your plate with your favourite accompaniments.
At The Kingslodge Inn, we cater for everyone. You can view our easy to use allergen guide for detailed allergen and nutritional information, carefully denoting which dishes can be made gluten-free, dairy-free, soy-free, and so on. We also have a wide range of plant-based meals for non-meat eaters.
Book your stay with The Inn Collection Group today
So, now that you know everything about what County Durham has to offer – from rolling hills, to historic monuments, to a breathtaking coastline, and bustling city centres – all that is left to do is book your stay with The Inn Collection Group today!
Whether you opt to stay in the coastal Seaton Lane Inn or at The Kingslodge Inn in the heart of historic Durham, you are guaranteed a restful night's sleep for as long as you choose to stay with us. With cosy beds, good food, an inviting atmosphere, and the warmest welcome, the Inn Collection Group is the perfect choice for all of your vacations in the North of England.
To book your Inn Collection Group accommodation today, either head over to your chosen inn's dedicated webpage to book directly online, or call our booking hotline to book over the phone. Our team is always on hand to give advice and assistance in any way we can – being sure to make expert recommendations on which accommodation would suit you best.
What are you waiting for? Book direct with The Inn Collection Group to ensure our lowest prices on accommodation in County Durham.