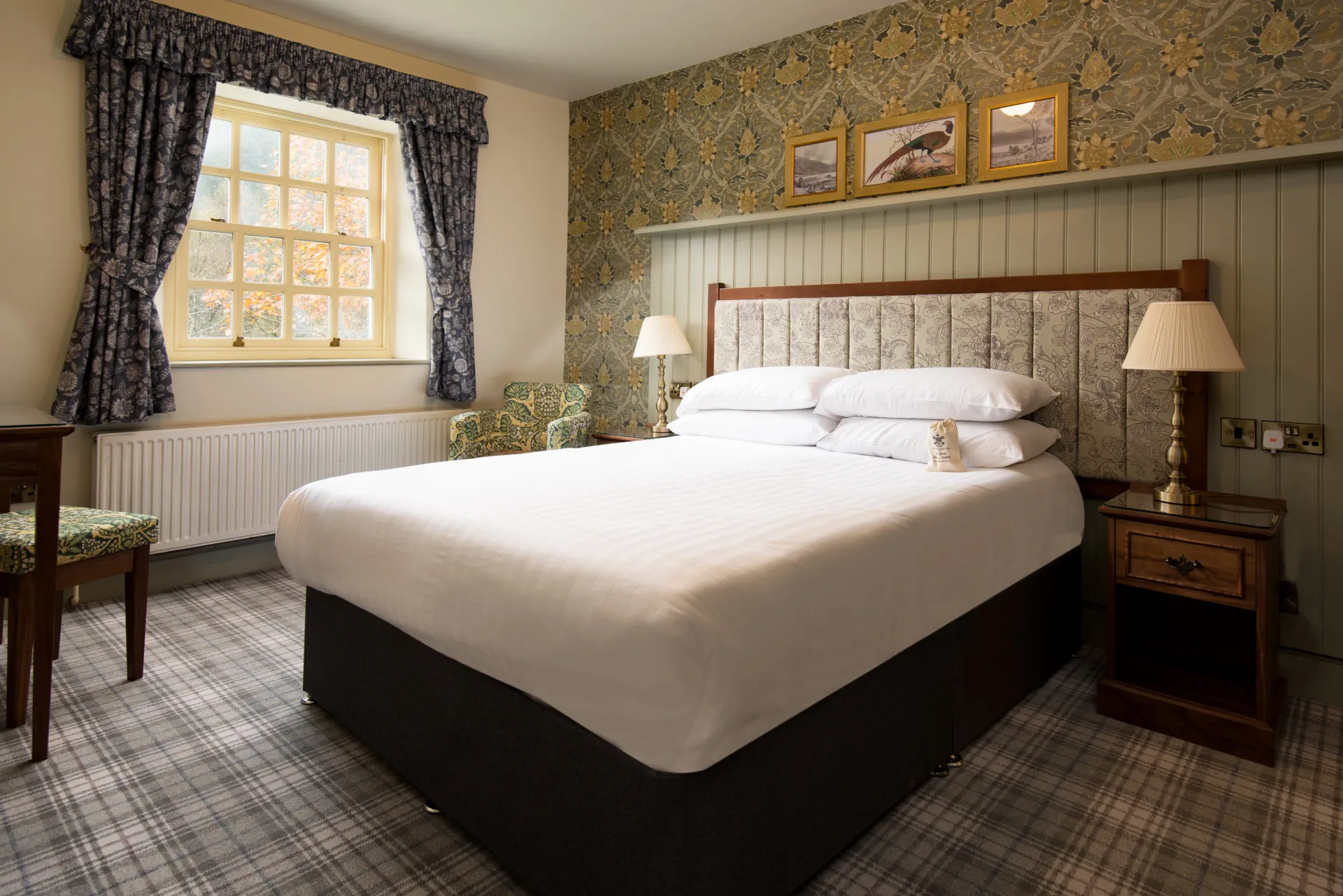 Our Inns in The Lakes
Browse our Lake District Accommodation
The Lake District is steep and rich in wonderful scenery and history. If you are looking for somewhere to escape and unwind, look no further. Visit our website for a full list of our accommodation located in the Lake District and to book your stay.
The Coniston Inn - Complimentary sleep bags
Quality you can trust
Sleep tight knowing our inns are purposefully AA three-star Gold rated, so you can be assured of a warm welcome, clean and comfortable rooms with excellent facilities.
Enjoy homemade food prepared in five-star food hygiene rated kitchens, while we proudly hold awards for our impeccable cellar management.
More about our food & drink
A warm welcome for all
As welcoming as possible, whether for parents with pushchairs and little ones, or for guests with extra accessibility needs, find information about additional facilities on each of our inns' access statement.
We understand pets are part of the family. That's why all our inns are pet friendly with designated dog friendly rooms and areas within our dining and bar areas.
Places to stay in Ambleside
The Waterhead Inn
The Waterhead Inn is a wonderful place to stay if you are looking for somewhere cosy and comfortable near the town centre, so you can explore the local shops. It is also close to The Windermere lake ferry terminal, where you can take a ferry to places such as Lakeside Pier and Brockhole Visitor Centre. Its range of rooms caters to solo travellers and families alike.
As a dog-friendly inn, at The Waterhead Inn no one in the family gets left behind – this saves you the hassle of having to make dog-sitting arrangements and having to leave them behind while you enjoy walking around the fells.
This inn is also known for its hearty, wholesome food to give you the feeling of home and is the perfect way to refuel after an active day. The warm atmosphere of the pub makes it a welcoming place to spend your evening before heading to your cosy room to chill out and unwind.
The Wateredge Inn
If a place near Windermere is what you're after, The Wateredge Inn is perfectly located and provides a flawless picturesque view while you enjoy a warm cup of hot cocoa or if you'd like something a little stronger, why not enjoy one of our wines?
The facilities include amenities such as Freeview television, free WiFi, complimentary sleep kits and a hairdryer. There is also a beer garden on-site making it the perfect place to grab a drink on a sunny day! Looking for a room with stunning views? Our balcony lake view rooms are spacious and private, perfect for a romantic getaway.
A short walk away from Wray Castle and Stock Ghyll Force, this inn is the perfect base to explore the rich history of the  Lake District. The family rooms include bunk beds and connecting rooms, meaning that you can enjoy privacy while also still remaining connected. Selected rooms are dog-friendly too so you can have your pooch with you to enjoy the outdoors!
Travelling on your own? The single rooms come with an ensuite, soft furnishings, a flat-screen TV, and tea and coffee amenities – these features make it a  wonderful place to come back to after a day of exploring. Interested in staying with us? You can check the availability of your desired room using our booking form. 
The Ambleside Inn
The Ambleside Inn is in the heart of the town making it the go-to place to eat, drink and explore from. Start your day with a warm pot of Ringtons loose leaf tea or barista coffee and end it with a hand-pulled local ale.
Looking to create memories with a friend? Our twin rooms have plenty of room, perfect for sharing and coming back to for the evening after scaling the peaks of Loughrigg Fell.
The Temperance Inn
Set right in the hustle and bustle of Ambleside, The Temperance Inn is the perfect place to eat, drink, sleep and explore this picturesque corner of the world from. This newly refurbished inn is just a stone's throw from one of a kind local stores, whilst also being a fantastic base to explore Windermere from and the surrounding fells. Find out more about The Temperance Inn here.
After a busy day out and about, pull up a chair and enjoy some delicious homecooked food. Our exciting street food menu is filled with twists on family favourites, all using locally sourced, seasonal ingredients. Feeling thirsty? Our well-stocked bar has something for everyone, with an intriguing cocktail menu as well as brilliant beers on tap, sit back and relax with your drink of choice.
What is the best accommodation near Bowness-on-Windermere?
The Angel Inn
One of the best places to stay in Bowness-on-Windermere is The Angel Inn is within walking distance, allowing you to enjoy beautiful views and breathtaking scenery from the top of the village. It is also beautifully placed to explore the literary history that the Lake District has to offer, such as The World of Beatrix Potter as well as Blackwell, an example of early 20th-century living. Created by Baillie Scott, it showcases the work of William Morris and John Ruskin as well as furniture by designers such as Stanley Webb Davies and metalwork by William Arthur Smith Benson.
The Angel Inn is dog friendly and if a great view is what you're looking for, the Annex Superior Double Lake View room is a perfect choice, and you can pick from a double or twin room. Each room includes home comforts such as tea and coffee.
Fantastic Lake District accommodation
The Coniston Inn
Another one of our popular hotels in the Lake District is The Coniston Inn, mainly because of its convenient location. A pleasant walk away from The Coniston Inn is The Ruskin Museum, where you can find out about the likes of Ruskin as well as the local history of Coniston Water and the Lake District. To plan your stay at The Coniston Inn, find more information here. 
The Swan at Grasmere
A recent addition to the National Trust is Allan Bank which is in the heart of Grasmere valley – it's understood that this was once the home of the poet William Wordsworth. Located a short walk away from The Swan (which is due to reopen in 2022) with an exterior garden and woodland, it is the perfect way to spend an afternoon before grabbing a bite to eat at the Inn's restaurant.
The Ullswater Inn
The popular Ullswater Inn (formally the Glenridding Hotel) is a fantastic base for exploring Ullswater. With the lake right on our doorstep and fells easily accessible, it is the perfect destination for those with a flair for exploring. Whether you want to soak in the sites from a boat tour or climb to the top of Helvellyn to breathe it all in, we will be ready and waiting with some delicious pub grub and a refreshing drink after your busy day. To plan your stay at The Ullswater Inn, find more information here.
Things to do during a Lake District getaway
The Lake District truly has something for everyone regardless of their hobbies. If it is an active getaway you are looking for, hikes across the Derwent Water and Tarn Hows are sites to behold, regardless of the season. Just make sure to be properly equipped during the colder months!
For history lovers, the Lake District is home to the Strickland family estate – Sizergh Castle – a medieval manor house located just outside of Kendal. Inside you will find 26 generations' worth of heirlooms and trinkets – a visit here makes a wonderful addition to a site seeing getaway.
If you fancy a getaway where you simply aim to eat and spend time in a beautiful location surrounded by wonderful scenery, why not head to The Temperance Inn on your visit?. With beautiful mountain views, this is the perfect place to kick back with a book and a bottle of wine!
If you're into gardening, a short 11-minute walk away from The Wateredge Inn is Stagshaw Gardens – these are filled with more than 300 shrubs, making it a wonderful place to discover some unusual trees and plants.
The best restaurants in the Lake District
You are truly spoiled for choice for restaurants to eat at while visiting the Lake District. If it is quality pub food you are after, we highly recommend places such as The Ambleside Inn which feature classics on their menu.  It also boasts a wonderful children's menu with British favourites such as sausage and mash, so the whole family is happy!
If a Sunday roast is just what you're craving, you truly cannot get much better than the variety of Sunday roasts we offer at The Pheasant Inn.  We take all dietary requirements into consideration ensuring there is something for meat eaters and non-meat eaters alike.
Looking for something more central in Ambleside? The Waterhead Inn is the place for a delicious feast. The menu includes hearty helpings of delicious food made by our wonderful chef.  It is also dog-friendly, making it a wonderful place to treat the whole family.
Get a real feel for the Lakes at a traditional pub
Authenticity is something we pride ourselves on at The Inn Collection Group. We use local Cumbrian produce across our Lake District pubs creating British classics such as beer-battered fish and chips. which can be found at The Pheasant Inn. We create the traditional pub atmosphere, giving you the full cosy atmosphere that you expect from a stay in the Lake District.
It is also worth noting, at The Inn Collection Group, we offer a 20% discount to NHS staff for food and drink across all of our locations including the Lake District.
Interested in visiting the Lake District? We have a range of wonderful offers, as well as competitive rates when you book your stay with us directly!