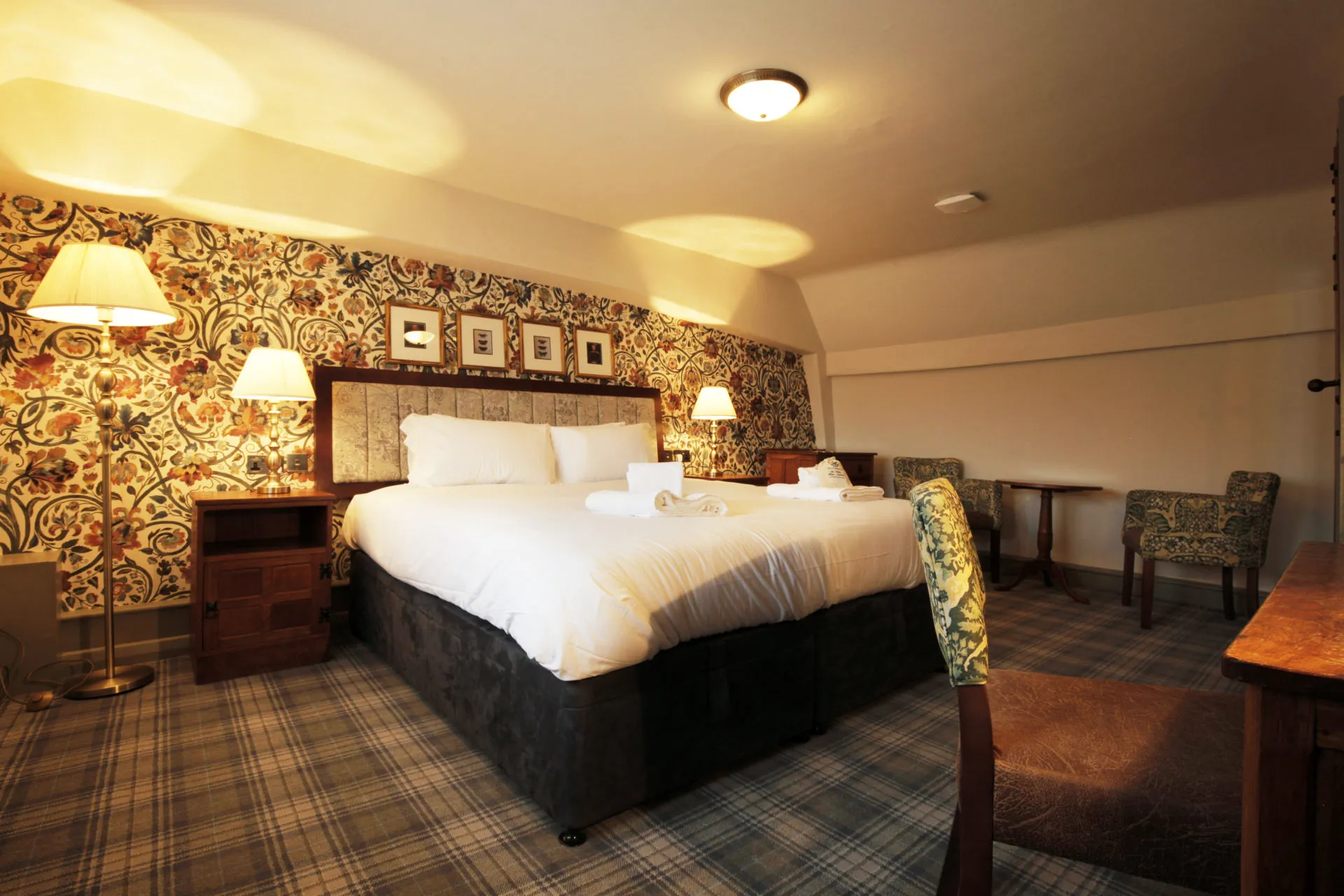 Our Inns in Yorkshire
Explore Our Yorkshire Accommodation
Oh Yorkshire! The wonderful home of some of the most famous writers, artists and creatives, such as Emily Bronte, Dame Judi Dench and Joanne Froggatt, is also known for its historic links to the Vikings and rich rustic scenic walks. This makes it the perfect location for a staycation to soak in the peaceful surroundings, either on your own or with friends and family.
The Coniston Inn - Complimentary sleep bags
Quality you can trust
Sleep tight knowing at our inns you'll enjoy a warm welcome, clean and comfortable rooms with excellent facilities.
Enjoy homemade food prepared in five-star food hygiene rated kitchens, while we proudly hold awards for our impeccable cellar management.
More about our food & drink
The Seaburn Inn Bar Tender
A warm welcome for all
As welcoming as possible, whether for parents with pushchairs and little ones, or for guests with extra accessibility needs, find information about additional facilities on each of our inns' access statement.
We understand pets are part of the family. That's why all our inns are pet friendly with designated dog friendly rooms and areas within our dining and bar areas.
Yorkshire – A rustic county bursting with character
Where should you visit on your Yorkshire trip?
It is hard to limit ourselves when it comes to places to visit in Yorkshire. From roaming the North Yorkshire Moors to 13th-century cathedrals, steeped in history and boasting some of the finest architecture,  there is a lot to uncover. Quite frankly, there is a chance you will need to make multiple trips so you do not miss out on all there is to discover.
This leads us to our first tip when planning a trip to Yorkshire: pack a bag that includes wellies and outwear. Make your trip over a weekend or even a week-long trip so you can encapsulate everything this beautiful part of the United Kingdom has to offer and make sure to include some wellies.
As to where to go and where you can stay? We've put together some helpful highlights of some of the most popular destinations.
York
If it is the city meets history vibes you are after, York is a wonderful place to start. Based in North Yorkshire, the city of York has a wealth of culture waiting to be discovered. A well-known fact about the city is its link to the Viking era, being the spot where the Vikings chose to settle following their journey through English territory. York was once known as the Viking city of Jorvik. The Jorvik Viking Centre, a popular tourist attraction, hosts events such as the Jorvik Viking festival (taking place 19th-27th February 2022) where you can learn about the Norseman and the lives of women during this time. Our Dean Court location is a short nine minute walk away and is the perfect place to either grab a bite to eat or rest your head.
Looking for something the entire family can enjoy? The National Rail Museum is the perfect place for children to live out their train-centric dreams. Filled with a mix of interactive activities and a walk-through exhibition, there is something for all ages to sink their teeth into. Plan your visit and see upcoming exhibitions and events here.
If the train museum isn't for you, or you've already ticked it off your list, the York Castle Museum is where you can uncover over 400 years of York's history. Again close to our Dean Court location, the York Castle Museum is sure to make for a great day for those looking to explore the rich history of the city.
For the foodies amongst us, a trip to York's Chocolate Story is a must, where you can look forward to a guided tour that'll take you through 3,000 years of chocolatey goodness. During your visit, you can take part in a range of chocolate-making activities. 
During your stay at our Dean Court Inn, we recommend that you explore the beautiful York Minster Cathedral, which is right next door. It is the home of exhibitions, such as 'The Heart of Yorkshire Creativity and Culture in York Ministers Collection', which is running from 11th November to the 31st March 2022.
Whitby
Not keen on city life? The delightful town of Whitby is the place for you. The Stables is a dog-friendly location in the heart of Whitby, making it the perfect location for families, walkers, and cyclists alike.
Now, you cannot mention Whitby without, of course, mentioning Whitby beach. Whitby beach is the perfect spot to rejuvenate, with many of our visitors losing no time at all before heading out to explore the gorgeous coastal views on offer there, soaking in the fresh sea air. During your stay in Whitby, it is worth bringing your car because, as you'd expect, being a coastal town, the further towards the coast you travel the more there is to do, such as learning about why Whitby was the inspiration for Bram Stoker's Dracula. What's more, while you are near the sea, why not spend the afternoon cycling along the Whitby Harbour where there is plenty to see.
A bit of trivia for you – Whitby has been home to many famous people, such as Captain James Cook, who was a British explorer and captain of the Royal navy. You can visit the Captain Cook Memorial Museum in Whitby where you can discover all about his life and many voyages.
The North York Moors run quite close to the town, allowing you to arrange an easy trip between York and Whitby. Take a scenic drive through the national park where you can explore significant monuments.
Helmsley
Helmsley is a beautiful market town in the North York Moors National Park, making it the perfect spot for a family-friendly vacation. If you enjoy live entertainment, The Helmsley Arts Centre is the place to be. You can find anything from live screenings and exhibitions to theatre productions to end a beautiful day exploring this idyllic town.
If you're a history buff, be sure to map out your trip across Yorkshire in advance, as there are certainly plenty of castles you won't want to miss out on. A must-see on this tour of castles is Helmsley Castle, where you can take a free guided tour around the grounds, during which you will be shown how the castle transformed through the ages, from a medieval fortress to an eventual, though romantic, Victorian ruin. There is also a chance to take part in a hands-on exhibition in the mansion house.
Also worth a visit is the Rievaulx Abbey where you can learn about the lives of the past monks who lived there. There is also a museum on-site where you will find various artefacts and learn more about the fall of the Cistercian Abbey while also taking in some of the stunning views the grounds have to offer.
Spending a few days in the town? The Black Swan is the perfect place to make your base while you explore Helmsley and the surrounding areas. With luxurious, warm and welcoming rooms, it is the home away from home you'll be glad to return to. During your time here, you can indulge in the chef's seasonal heart-warming meals. Book your stay via our website, email us at [email protected], or call our booking hotline on 0191 580 3610.
Newton under Roseberry
Newton under Roseberry is the place to go if you enjoy walking and are looking for an escape with little to no connection to the outside world. Its peaceful surroundings fit beautifully with the atmosphere of The King's Head Inn, which, if you're a writer, makes for the perfect place to retreat to for full immersion in a creative bubble.
Another reason to visit Newton under Roseberry is for its outdoor hiking routes. Home to Roseberry Topping, a summit that features a very distinctive half-cone shape and jagged cliff's edge – a detail that has led to it being playfully compared to the much higher Matterhorn in the Swiss Alps – you can spend hours of your afternoon exploring the many routes that'll get you to its highest point – a cool 1,049 feet.
The Roseberry Topping is also home to the Westworth Reservoir, and, while it is a slight walk (it can take around three hours if you stop and admire the scenery along the way), this gorgeous trek would make for the perfect afternoon to be finished off with, of course, a drink and hearty meal at The King's Head Inn.
Finding a place to stay that's comfortable and relaxing
Good food and great beer at our inns!
Let's be honest, good food maketh the trip. A well-prepared meal can truly make or break your visit, which is why at The Inn Collection Group, we pride ourselves on making sure each one of our establishments serves traditional British food to give you that homely feeling away from home.
Staying at any of our Inns, be it the likes of The Stables in the coastal town of Whitby to something in the city, such as Dean Court in York, you can rest assured that hungry bellies are a serious affair for our chefs! What's more, each of our restaurants has a well-stocked cellar brimming with everything from locally sourced wines to spirits to beers. Our selection deliciously complements our fresh, homemade seasonal meals, which are lovingly made by our wonderful chefs. Alcohol not for you? You can warm up after a day exploring and enjoy our Inns' signature cosy atmospheres while sipping on a freshly brewed cup of Ringtons specialty loose leaf tea or other beverage.
As mentioned, Yorkshire is a region steeped in history. A rustic county with plenty of character, we have made sure that our Inns reflect this. Our Dean Court location in the heart of York has a range of rooms to fit all groups, including a delightful, deluxe double bedroom, which has been recently refurbished with a five-foot bed as the room's centrepiece – perfect for a romantic getaway with your partner.
We also have a wonderful family room for three, which includes a double bed, a sofa bed and is dog-friendly so you can bring the entire family together to share the delights that York has to offer. With high-speed internet and a handpicked children's menu, courtesy of our restaurant chef, it is the perfect fuss-free place to make your temporary family home. Our rooms also come with an inclusive cooked breakfast so you can fuel up before starting your day.
You can opt to add to the historic, British, and rustic feel of the trip by staying at The Stables in Whitby. Taking inspiration from the Elizabethan era, you can spend the day exploring the wonderful coastal views that the town has to offer and come back to spend the evening in our truly lavish feature four-poster room.
A four-poster bed not for you, but you still want a room with some flair and character? Our feature double room with a mezzanine might just be the ticket. This comfortable double room comes with its own en-suite accommodation and offers guests all the perks of an apartment feel. It has a cosy seating area where you can watch TV with a cup of tea before a wonderful deep sleep on the luxurious double bed. Planning a weekend getaway? You are in luck as The Stables is notorious for its Sunday roasts of hand-carved meats with all the trimmings.
If a day exploring small town markets or the North Yorkshire Moors is more your vibe, it is worth visiting Helmsley and stopping by The Black Swan. Its seasonal menu includes traditional British favourites such as fish and chips and steak and ale pie. The restaurant also has a popular children's menu and is dog-friendly too, meaning the entire family can refuel after a big day outdoors. The king-sized double bedroom, which includes amenities such as freeview TV, is spacious with a good-sized bathroom perfect for a family of four. If you're a solo traveller, the single room in The Black Swan has a beautiful en-suite and has a homely feel to it, making it a great place to grab a drink, catch up on some sleep and decompress while you unwind from the marvels of Helmsley.
Looking for a mini relaxing suite perfect for two? The junior suite is warm and welcoming with a view of the church yard, located on the side of the hotel, where you can sip a cup of tea in the morning soaking in the views before heading down to breakfast in the restaurant and starting off your day. You can also book your Sunday lunch in advance so you don't miss out on the homemade Yorkshire puddings and crispy roast potatoes, which you can wash down with local ales or bottled craft beers all served from our pub restaurant.
For those of you who are looking for a more secluded break away with wonderful views, stunningly delicious meals, and snug rooms, The Kings' Head Inn will be ideal for you. Based in the heart of Newton under Roseberry, The King's Head Inn serves tasty seasonal meals with a rotation of specials that will bring you the comfort of a hearty home-cooked meal. At The King's Head Inn, our family room includes a bunk bed allowing them to have more time to enjoy the room and relax after a tiring day running around Roseberry Topping and learning about Captain James Cook.
Sans family? The premium room is perfect for those of you who like a room with a view. You can wake up in the morning and look out on Roseberry Topping, one of the many natural trusts within the region. With accessible wifi, it is the perfect place for writers to get away and be inspired by new surroundings.
All our inns are dog-friendly, which means the furry members of the family do not have to miss out on all the action! What's more, our current offers, such as a 20% discount for all NHS workers, means you may even be eligible to get your luxury trip at a bargain price.
All our inns cater to people's dietary requirements. If there is something you are not sure about and would like more information – for example, about the allergens in the dishes on our menu – please email us at [email protected] and our helpful staff will be more than happy to accommodate you when you arrive on site.
Book your room with the Inn Collection Group
Our pubs are filled with impeccable quality, locally sourced beers and lagers and each of our kitchens provides delicious seasonal British meals that'll have even your little ones clearing the plate.
Booking a room is simple and easy to do. Take a look at the rooms and offers we have available and book directly via our website. Alternatively, you can ring our room booking hotline and make a reservation by calling 0191 580 3610. We look forward to providing you with first-class service soon.