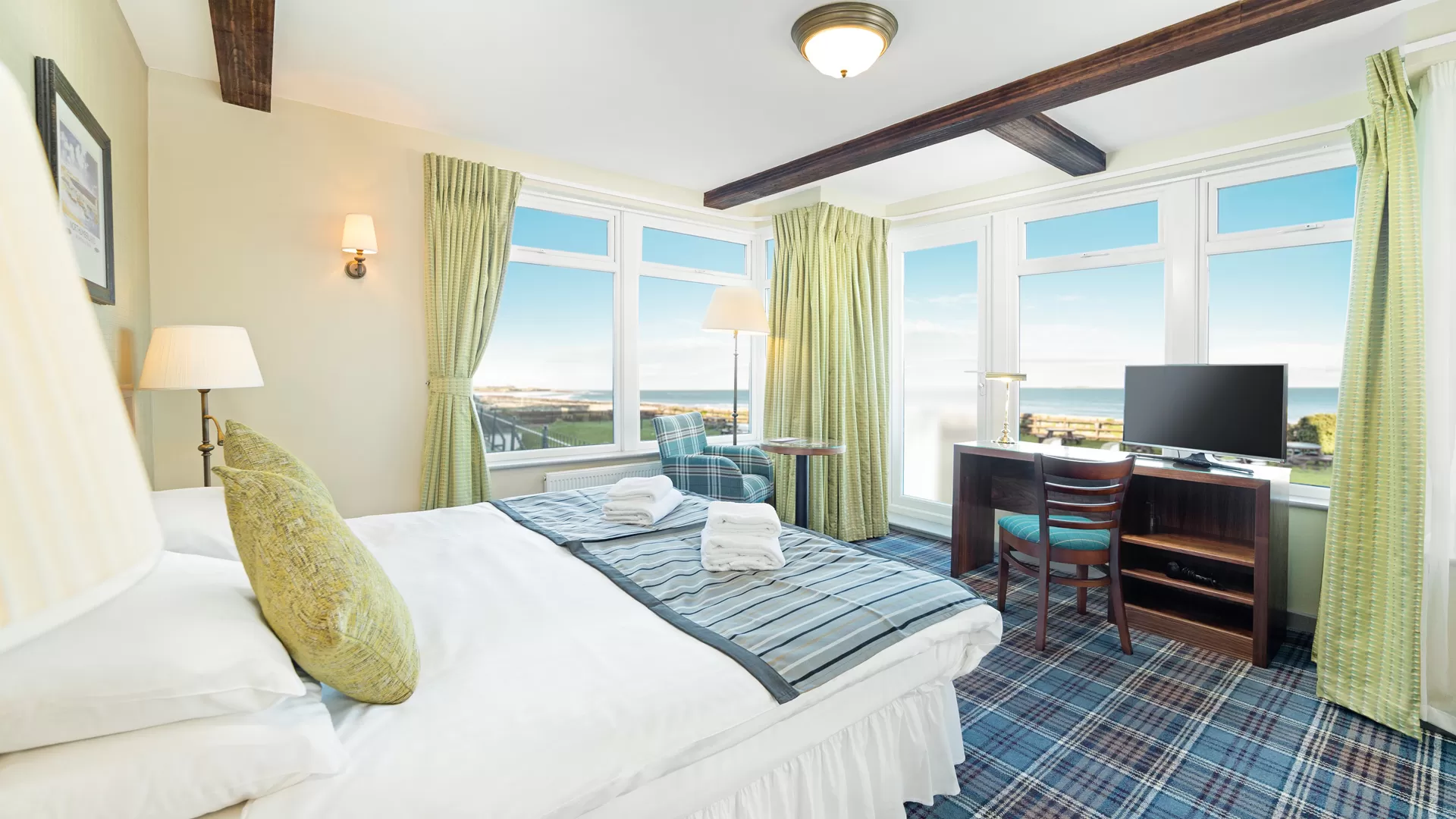 Seahouses Accommodation
Rooms at The Bamburgh Castle Inn
The peaceful, sleep-inducing sound of the sea and the flash of the famous Longstone lighthouse could be your bedfellows when you spend the night in our cosy Seahouses accommodation.
Splash out on a stay in one of our premium sea view bedrooms, complete with their own private balcony, and watch the boats going to and from the Farne Islands. If you're lucky you might glimpse dolphins, whales, or seals which are often sighted offshore.
Guests enjoy complimentary use of the award-winning Seafield Ocean Club. Just a few minutes' walk from the inn, relax and unwind in the club's thermal spa rooms, whirlpool tub and pristine 20m pool, while a state-of-the-art fitness suite means there's no need to miss a workout while you are away*.
A complimentary Northumberland buffet breakfast is included in room rates (unless when specified).
Free WiFi is available in the main bar area.
Dog-friendly rooms are available, subject to a pet supplement of £10 per dog, per night.
Guest check in is from 3pm until 11.30pm and check out is from 7.30am until 10.30am.
Please note: A non-smoking policy operates in all of our bedrooms, bar and dining area. Designated outdoor smoking areas are available.
There is limited parking available at The Bamburgh Castle Inn and it is available on a first come first served basis. Chargeable public parking is available nearby.
Click here to view our booking terms and conditions.
For other idyllic Northumberland holiday options, discover our Berwick upon Tweed accommodation, our Amble accommodation and more.
*Fitness classes and health and beauty treatments are also available for additional charges which must be pre-booked directly with the Ocean Club and are subject to availability and choice.
Please note, images showcase room types as accurately as possible, however rooms do slightly vary. Contact our central reservations team on  0191 580 3610 for more information. 
Double, twin, single, family and fully-accessible bedroom options are available with sea, garden, or standard view options.
In your room:
Freeview television with radio channels
Tea and coffee making facilities
Iron and ironing board available
Hairdryer
19 Modern contemporary bedrooms at The Bamburgh Castle Inn
Single Rooms
Here at The Bamburgh Castle Inn we have a range of rooms perfect for solo travellers! Our modern, en suite bedrooms are fully equipped with numerous facilities, you'll even have the option of a sea view!
Book Now
The Bamburgh Castle Inn - Twin Bedroom
Twin
We have a number of spacious twin rooms, perfect for sharing! With two single beds and an en suite, these rooms are the ideal place to relax after a day of exploring the idyllic village of Seahouses.
Book Now
The Bamburgh Castle Inn - Double Bedroom
Double Rooms
Our modern en suite double rooms have king size beds and a wide range of facilities, including a stylish en suite. With a range of rooms to choose from you could wake up to a sea view or even have your own private garden!
Book Now
Family Rooms
Why not make it a family trip? We have a number of family friendly rooms, offering a king size double bed and either a cosy, pull out sofa bed or a single bed. With options to sleep up to four people, these family rooms are the ideal place to rest your head after a busy day!
Book Now
19 Modern contemporary bedrooms at The Bamburgh Castle Inn
Accessible Rooms
Here at The Bamburgh Castle Inn, we have rooms with accessible showers. Please give our friendly team a call on 0191 5803610 to book an accessible room.
What to expect during your stay at The Bamburgh Castle Inn
The Bamburgh Castle Inn is the perfect choice for your coastal getaway. It gives you a comfy base to come back to after exploring Bamburgh Castle or spending the day on The Farne Islands (a short boat ride away from The Bamburgh Castle Inn). A massive hit with the tourists, the seaside village of Seahouses is the idyllic getaway for someone looking to escape the city for a few days.
We pride ourselves on the fact that we put a little bit of the village into The Bamburgh Castle Inn. From the balcony sea view rooms to rooms overlooking the enclosed garden, you can get the full Seahouses experience. Each room comes complete with a supportive bed and a bathroom you can have a relaxing bath in.
Things to do in Seahouses
Take a boat to Farne Island
A short walk away from The Bamburgh Castle Inn is the Farne Island Harbour where you can book a boat to the wonderful Farne Island. Earmarked as a must-see island by David Attenborough, the island is home to one of the UK's largest grey seal colonies. If you are visiting the island during the spring and summer, be on the lookout for puffins before they head back into the sea in August.
The island is also home to St Cuthbert's Chapel, a popular fourteenth-century monastery building.