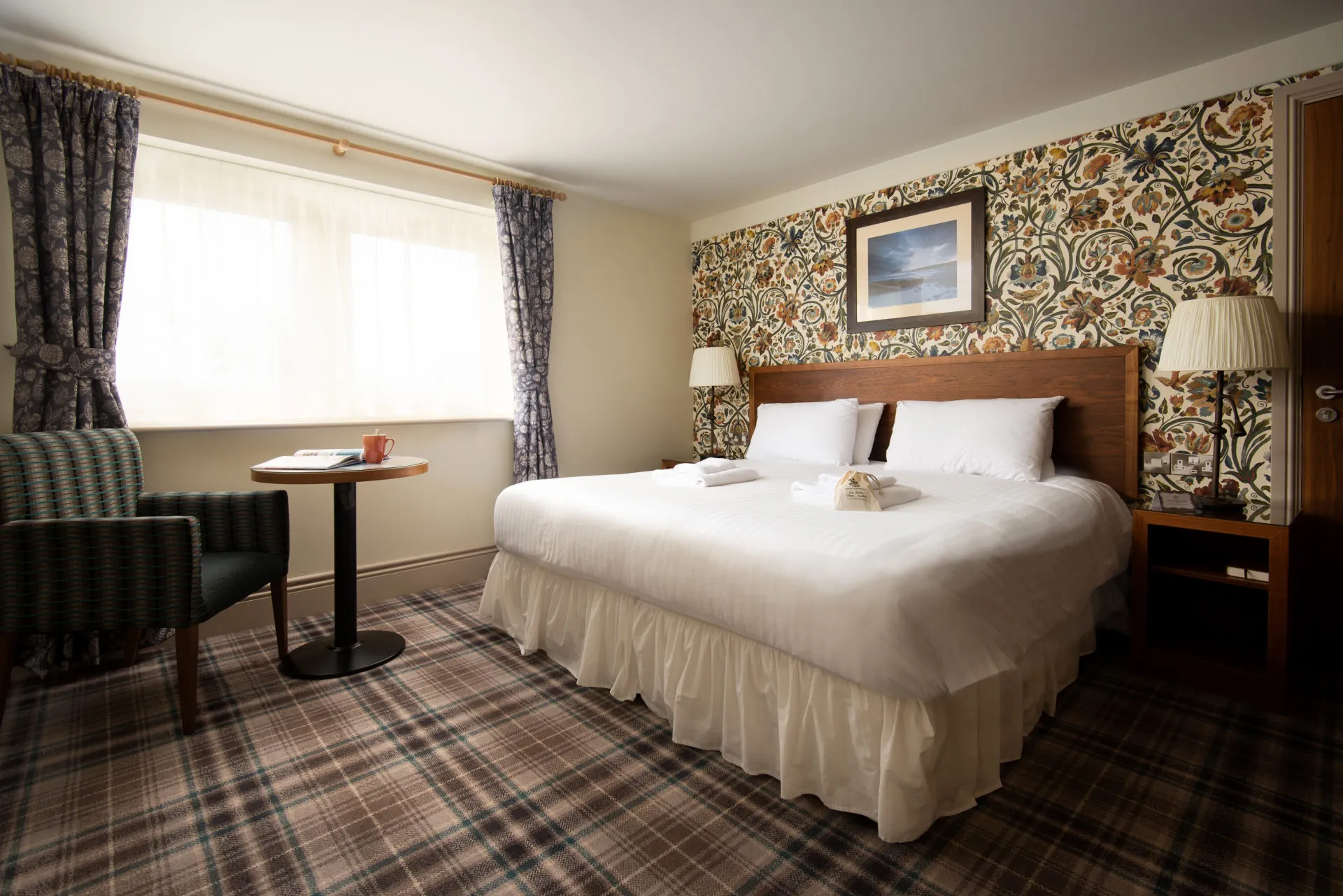 Alnwick Accommodation
Rooms at The Hog's Head Inn
Spacious contemporary rooms and easily accessible, free on-site parking make The Hog's Head Inn the ideal Alnwick accommodation. Our stylish inn is a great place to stay when you're visiting Alnwick and its many attractions.
Close to the stunning Alnwick Castle and Gardens and handily close to the A1, The Hog's Head Inn is ideally placed for exploring Northumberland.
Our 53 light and airy modern, en-suite rooms have a range of single, double, twin, and large family rooms that sleep up to six.
Dog-friendly rooms are available, subject to a pet supplement of £10 per dog, per night.
Guest check in is from 3pm until 11pm and check out is from 7.30am until 10.30am.
Please note: A non-smoking policy operates in all of our bedrooms, bar, and dining area. Designated outdoor smoking areas are available.
Click here to view our booking terms and conditions.
For more information about accommodation in Alnwick, or to view our equally idyllic Amble accommodation and Coniston accommodation options, get in touch with The Inn Collection Group today.
Please note, images showcase room types as accurately as possible, however rooms do slightly vary. Contact our central reservations team on  0191 580 3610 for more information. 
Our fully wheelchair accessible rooms have wet room or bath options. View our accessibility statement here.
In your room:
Freeview television with radio channels
Free WiFi
Tea and coffee making facilities
Iron and ironing board
Hairdryer
Safe
Welcome To Northumberland
Screenshot 2022-07-04 104611
Single Rooms
Here at The Hog's Head Inn we have a range of rooms perfect for solo travellers! Our modern, en suite bedrooms are fully equipped with numerous facilities.
Book Now
Screenshot 2022-07-04 104404
Welcome To Northumberland
Twin
Here at The Hogs Head Inn we have a number of twin rooms available. These spacious rooms are perfect to share, fitted with two single beds and offering a wide range of facilities, including an en suite!
Book Now
The Hog's Head Inn Bedroom
Double Rooms
Fitted with a luxurious king size bed and with a range of high quality facilities, including an en suite, our double rooms are the perfect place to rest your head after a long day of exploring!
Book Now
Screenshot 2022-07-04 104557
Family Rooms
Why not make it a family getaway? Our family rooms have a king sized double bed and a cosy, pull-out sofa bed, as well as a wide range of facilities, including an en suite! We even have rooms for larger families, with a double bed, twin beds and a sofa bed.
Book Now
Screenshot 2022-07-04 104331
Accessible Rooms
Here at The Hog's Head Inn, we have rooms with accessible baths and showers, as well as a lift. If you'd like to enquire about an accessible room, please ring our team on 0191 5803610 and they will be more than happy to help.
What to expect during your stay at The Hog's Head Inn
Interested in a trip away filled with rich British history? Look no further than Alnwick. With The Hog's Head Inn at the helm, you have the perfect place to set up a central base so you can explore what the town has to offer.
From the Alnwick Castle and gardens to galleries full of both classic and modern art, the picturesque market town makes for the perfect getaway. A peaceful location with breakfast accommodation, it serves as the perfect place to escape for a quiet trip.
Planning a family getaway? Our family rooms come complete with a king-sized bed, an additional cosy sofa bed and an ensuite bathroom big enough for you to enjoy.
At the Inn Collection Group, we leave no one behind. Our accessible rooms come complete with lifts and accessible baths so everyone can enjoy an independent holiday in the historic town of Alnwick.
Alnwick Garden
Created by the wonderful Jane Percy, Duchess of Northumberland is the beautiful Alnwick Garden. The award-winning garden is 12 acres of delight. During your visit, you can spot the world's largest Tai Haku Cherry Orchard. If you fancy a challenge, you can take part in the Bamboo Labyrinth or trace a serpent's tail in the Serpent Garden. If you are a fan of roses, you might want to add its gorgeous Rose Garden to your must-see spots.
Alnwick Castle
With over 950 years of history, Alnwick Castle is the second largest inhabited castle in the UK. Over the past 700 years, it has been home to the House of Percy, an English noble family, with the current residents being the 12th Duke and Duchess of Northumberland. The castle is home to many seasonal events and festivities, such as the comedy, Jested with the zooted and the story of The Medieval Alchemist.
Book your stay at The Hog's Head Inn today! 
For a home away from home, start planning your trip today and book your room at The Hog's Head Inn.