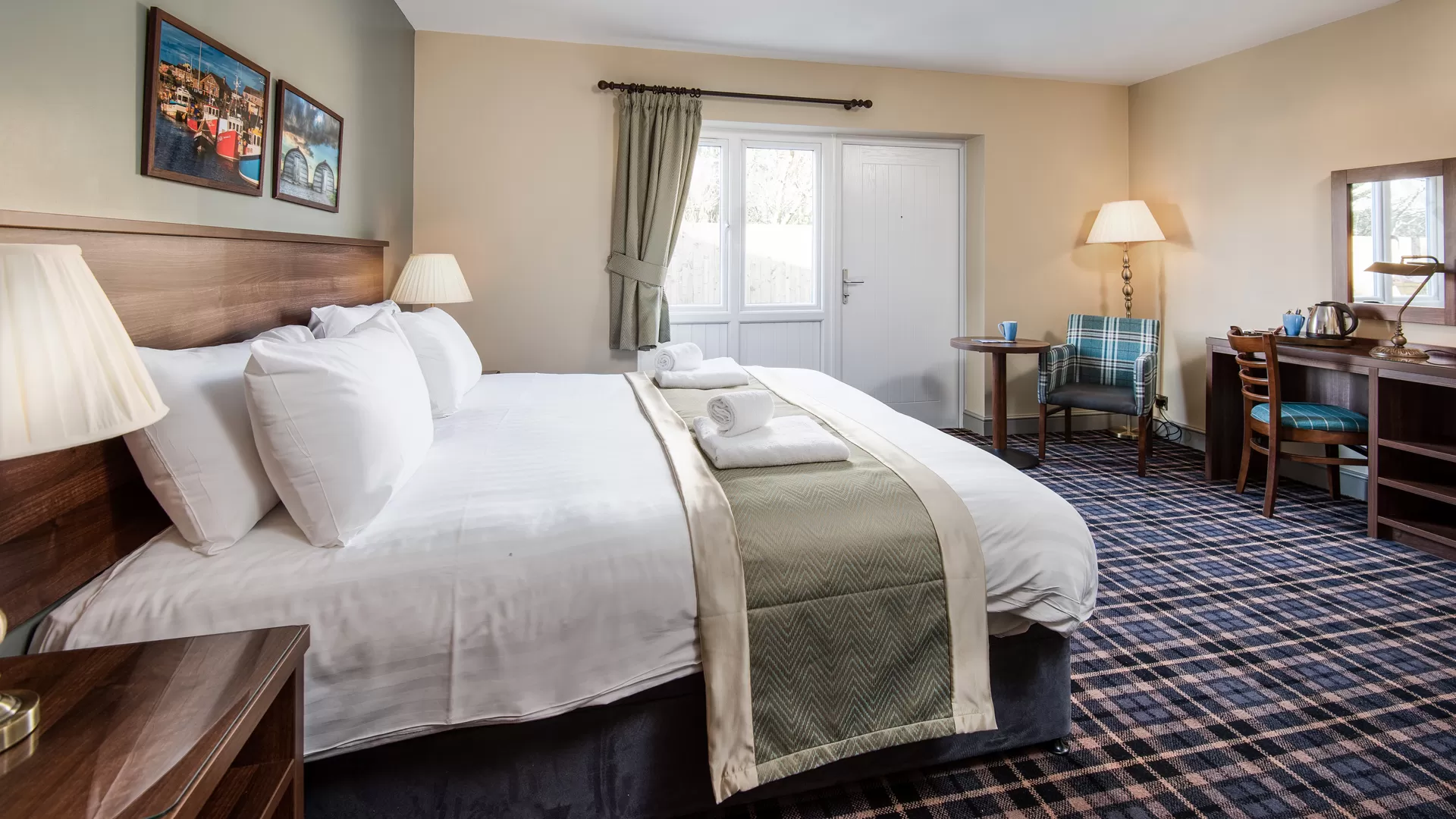 Amble Accommodation
Rooms at The Amble Inn
Perfect for single night stays or a relaxing break away, The Amble Inn is the place to stay if you're on the lookout for comfortable and spacious Amble accommodation. Whether you're travelling on business, for pleasure, or with larger groups looking to stay together under one roof, The Amble Inn will meet your needs wonderfully.
Dog-friendly rooms are available, subject to a pet supplement of £10 per dog, per night.
Guest check in is from 3pm until 11pm, and check out is 7.30am until 10.30am.
Please note: A non-smoking policy operates in all of our bedrooms, bar, and dining area. Designated outdoor smoking areas are available.
Click here to view our booking terms and conditions.
If you're looking for an idyllic getaway in a different area, The Inn Collection Group also offers luxurious Alnwick accommodation, Ambleside accommodation, and more.
Please note, images showcase room types as accurately as possible, however rooms do slightly vary. Contact our central reservations team on  0191 580 3610 for more information. 
Bed down in one of our brand new, super-comfy, and spacious en-suite bedrooms. Choose from double, twin, single, and family options as well as fully accessible bedrooms with wet room or bath facilities.
For families or larger groups, The Amble Inn also offers a number of inter-connecting rooms.
In your room:
Freeview television with radio channels
Free WiFi
Tea and coffee making facilities
Iron and ironing board available
Hairdryer
Safe
The Seaton Lane Inn - Gift Bag
Bedroom detail at The Ambleside Inn
Single Rooms
Solo travellers are welcome in our comfortable, en suite bedrooms. Enjoy a wide range of facilities, including our complimentary sleep kits, free WiFi, flat screen TV and tea & coffee making facilities.
Book Now
The Coniston Inn Single Bedroom detail
Twin
Our spacious twin rooms are perfect to share with two single beds and a wide range of facilities, including our complimentary sleep kits, free WiFi, flat screen TV and tea & coffee making facilities.
Book Now
The Amble Inn - Accommodation
Double Rooms
Book one of our comfortable en suite double rooms which come with a king size bed and a wide range of facilities as standard. You'll also receive complimentary sleep kits, free WiFi, flat screen TV and tea & coffee making facilities.
Book Now
Bedroom detail at The Ambleside Inn
Family Rooms
Bring the whole family for a getaway and stay in our spacious family rooms. You'll have a king sized double bed and a cosy, pull-out sofa bed for your little ones. Rooms also come with complimentary sleep kits, free WiFi, flat screen TV and tea & coffee making facilities.
Book Now
Bedroom detail at The Ambleside Inn
Accessible Rooms
Here at The Amble Inn, we have rooms available with both accessible baths and showers. Our inn also has a lift. To book an accessible room, please give our friendly team a call on 0191 5803610 and they will be more than happy to help!
The Amble Inn is an ideal location for those looking to explore the wider area surrounding Amble, so we've catered our rooms to ensure that you're provided with everything you need for these types of excursions. The inn has more than enough space to cater to large group bookings if you're travelling with a big party of friends, family, or colleagues, but we also have quiet rooms perfect for couples heading away on a romantic weekend away too – as we say, there's a little bit of something for everyone at The Amble Inn.
What to expect at The Amble
Northumberland is a wonderful place to spend a weekend, or longer, exploring, experiencing, and just having a great time, but at the end of the day, it's important to have a good base to travel around from and a comfy place to rest your head, which is exactly what you'll receive at The Amble Inn. The inn is ideally situated in the town of Amble, which is a picturesque seaside town in the north of England. Popular with tourists thanks to its beach, harbour, and historic buildings, the town has become something of a hotspot for people trying to escape city life for a few nights, replacing the hustle and bustle with fresh sea air and relaxing walks along the sand.
When visiting Amble, you won't find many chain hotels, nor would you want to when there are cosy, atmospheric inns such as The Amble Inn where you can experience the real side of Northumberland. The Amble Inn is a pub with rooms that prides itself on great beer, good food, and guest comfort above all else. That's why we've ensured that our rooms offer something for every type of guest that might pass through our doors. When you enter your room, you'll find a soft, supportive bed, a relaxing shower/bath unit, a flat-screen TV, and our specially made sleep kits, which include everything you'll need to get a great night of sleep. As we all know, a good night's sleep is the key to having plenty of energy the following day, and you're sure to need that energy if you're off exploring beautiful Northumberland.
Plan your trip to Amble today! 
There is plenty to get stuck into during your stay in Amble. Whether you are travelling on your own or planning a fun-filled trip for the whole family, these places make for the perfect itinerary alongside your visit to The Amble Inn.
Druridge Bay Country Park
If the seaside is your thing, the Druridge Bay County Park is the best way to spend an afternoon. With a history of coal mining, the park has everything from historical interest to stunning views. You can cycle or walk across the sandy beach. If water sports are your thing, you can take out your surfboard or go for a paddle. It is also the perfect place to do a spot of bird watching and count how many different types of birds you can discover during your trip to the park.
The best thing about it? There is no need to book. Simply turn up and enjoy the park at your leisure.
Amble Harbour
To get a taste of local life, look no further than the Amble Harbour. Just a four-minute drive from The Amble Inn, you will be in the heart of the Amble Harbour Village. Here is where you will find one-of-a-kind stores, including The Baliwood Workshop, a store full of handmade wooden animals or Edie Pebble, a shop dedicated to both vintage and homemade textile items, perfect for a quirky gift or addition to your home.
Warkworth Castle
On the hills of River Coquet lies Warkworth Castle: the home of Northumberland dukes from years past. As well as retracing the dukes' steps by taking a tour of their rooms, you also have an opportunity to visit the Great Tower. First built over 600 years ago, the Great Tower played an important part in history during the war between England and Scotland. Due to its importance in the war, it was deemed a private fortress and, in 1323, the King ordered for the castle to be defended before it was seized by Scotland in 1327.
While you are exploring the castle, take a look around and see how many lion badges you will be able to spot. The emblem represents the Percy family who owned the castle.
The castle also hosts a range of activities, including mediaeval falconry. If you are paying a visit during the school holidays, Warkworth Castle is also known for hosting a range of kid activities to keep the little ones entertained. Visit the website to keep up to date with the latest events.
Enjoy a break with The Inn Collection Group
The Inn Collection Group is a group of fantastic pubs with rooms located across the UK that aim to give guests the warmest and most welcoming experience possible each and every time they visit. With a number of popular locations such as Northumberland, the Lake District, and the Tyne and Wear region. As you can probably already tell, we love the British countryside and areas of natural beauty, and we wanted to offer our guests a traditional inn feel but with the added perks of modern design, contemporary dining options alongside the pub food, and a range of drinks that will keep you occupied for as long as you're looking to stay with us.
The options are endless with The Inn Collection group – you can choose to relax in your room and make full use of our pub facilities, or you can choose to explore the local area and learn more about some of the UK's most beautiful locations. No matter how you choose to spend your break, our pubs and rooms will give you the ideal place to unwind and relax whenever you see fit. In addition to this, The Amble Inn is also dog-friendly, meaning you'll be able to bring your pet along with you so that they can join in the fun alongside you, rather than being stuck at home with a dogsitter. Our dog-friendly rooms are available with a £10 surcharge per pet and can be booked easily using our online booking system or by getting in touch with a member of our reservations team here at the inn.
For accommodation options outside of the Northumberland region, you can check out our rooms from across the UK right here on our website – click in the links below to discover pubs, rooms, and restaurants in all of the following locations:
For any further questions or queries regarding any of The Inn Collection Group's locations, get in touch with our friendly team by following the instructions on our Contact Us page.