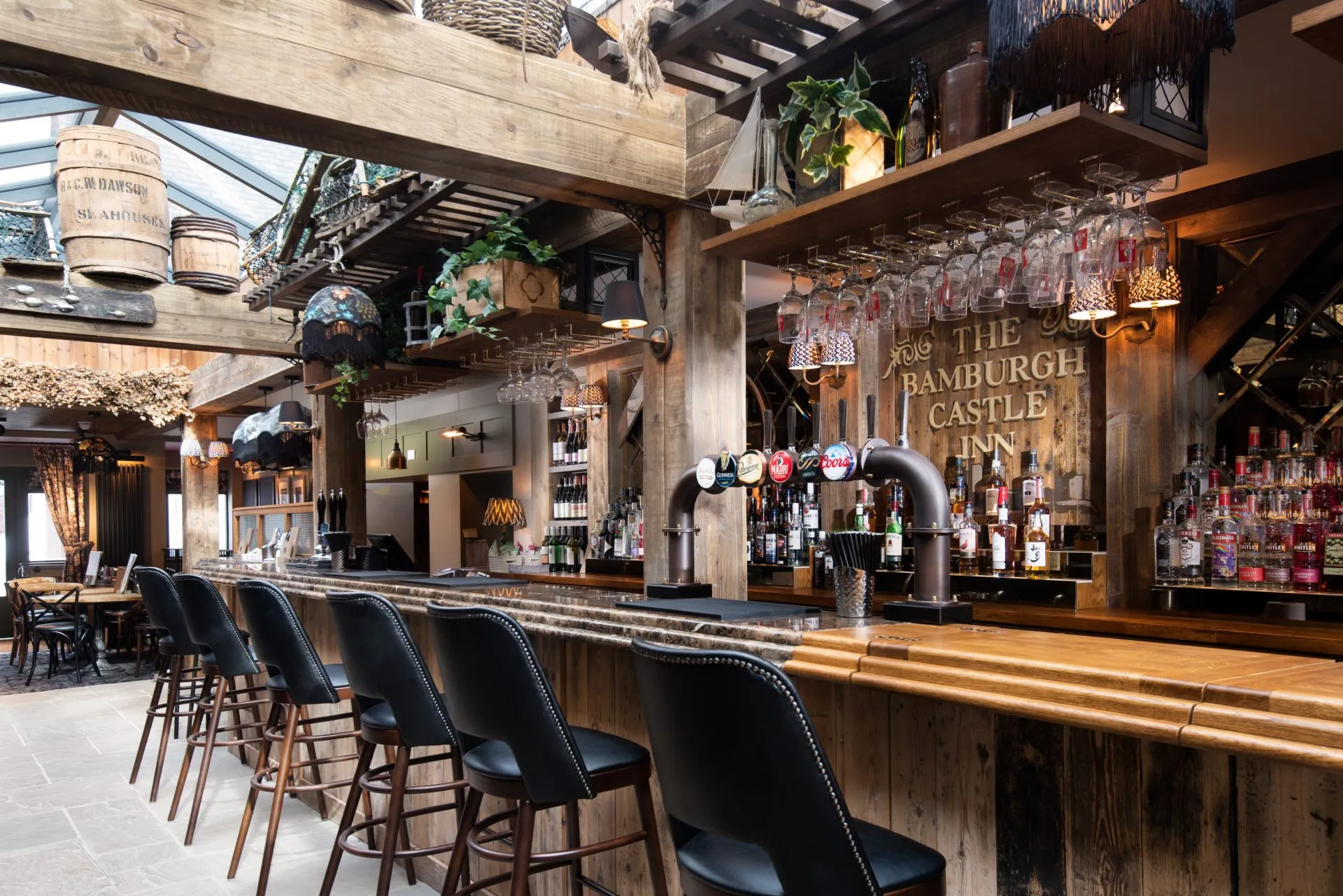 The Bamburgh Castle Inn Pub
Raise a glass to Northumberland with whatever takes your fancy, be it one of our excellent local ales, delicious wines or a speciality tea or coffee.
At The Bamburgh Castle Inn we take pride in running our bar and cellar the good, old-fashioned way. With awards for our cellar management and knowledgeable, well-trained staff you can look forward to enjoying a pint of Northumberland's finest local real ales including guest hand-pulls on rotation. Quench your thirst with our perfectly chilled ciders, continental lagers or shake things up with a cocktail or gin serve.
We've brewed a recipe for success
Our well-stocked cellar offers wines from around the world. Available by glass or by the bottle, there are wines to pair with all our dishes and to suit every taste.
We've brewed a recipe for success with our wide range of speciality loose leaf teas and aromatic coffees from renowned local company Ringtons. Perfect for enjoying at any time of day or night, why not enjoy your drink in our outstanding beer garden? Sit back, relax and take in the views towards the Farne Islands, Bamburgh Castle, Lindisfarne and of course, the stunning Northumberland coast.
> View menu
Excellent pubs with comfortable accommodation
The Bamburgh Castle Inn is the perfect spot to sit back and enjoy a fabulous holiday. Our rooms are comfortable and homely, providing visitors with a place where they can relax with a drink after a long day of exploring Bamburgh Castle or taking a stroll.
To go with our fantastic beers and ales, you can rely on us to provide you with a cheerful place to stay when you have finished exploring this coveted seaside location.
At the Inn Collection Group, we like to think of ourselves as beer aficionados. It plays an integral part in every pub we own. The Bamburgh Castle Inn pub is home to some of the most amazing locally sourced keg beers so you can get the full Seahouses seaside treatment.
Not a beer fan? Don't worry, we have a wide selection of drinks to choose from. Not much of a drinker? We serve non-alcoholic alternatives so you can still soak up the atmosphere and enjoy a drink with your loved ones.
We train each member of our staff to guarantee all our customers receive the utmost customer service. Skilled in the art of beers, if you are stuck for inspiration they can guide you in the direction of your ideal pint. If you are in the mood for an adventure and want to try something new, let them help you find your new favourite drink.
The Kingslodge Inn supports SoSAD dogs
A dog-friendly pub - Fun for all the family
If you have a well-behaved pup, why not bring them along for a dog-friendly holiday? The Bamburgh Castle Inn pub and rooms are dog-friendly. With the additional cost of just £10 per night, the entire family can enjoy a stay at the award-winning Bamburgh Castle Inn.
Book a dog-friendly room here
Book a stay with the Inn Collection Group today
Ready to take a boat tour of Farne Island or explore the castle grounds of Bamburgh Castle? Book now and reserve a room at The Bamburgh Castle Inn today. Whether you are travelling alone or with a large party, we have you covered.
A perfect blend of comfortably indulgent and affordable, we design our inns to accommodate everybody and their needs. The Bamburgh Castle Inn includes a range of accessible rooms, as well as dining experiences to make sure you are able to make the most of your trip.
You can find out more about the accessible rooms on our website or by contacting us on 01665 720 283. A member of staff will be on hand to answer any questions you have.
What are you waiting for? Book your dream trip to Seahouses today.