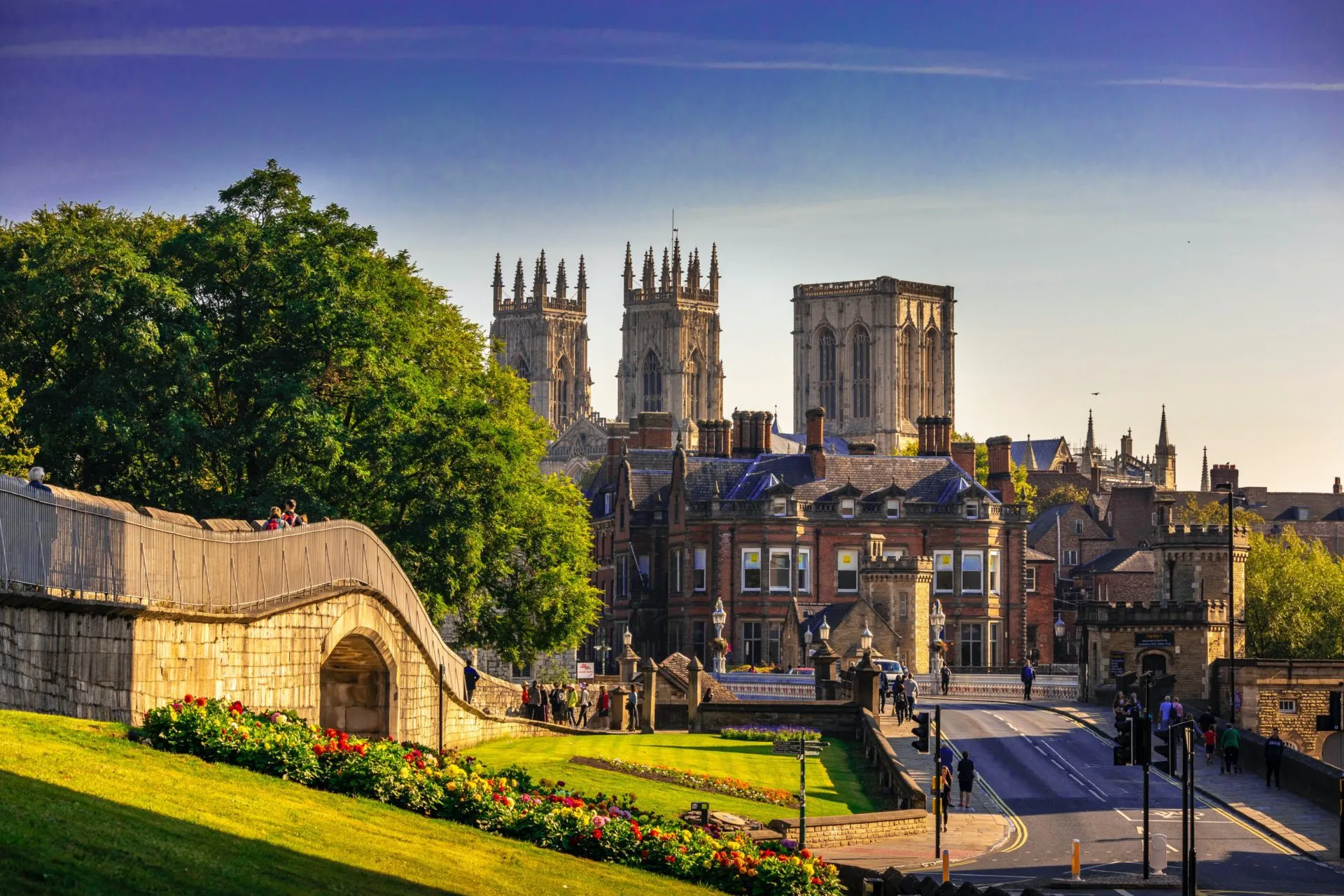 If you're hotel ready and preparing for your upcoming visit to Yorkshire, and looking for things to do in York, you've come to the right place!
From historical sights to romantic date ideas, this guide will give you a rundown of some of the most exciting things to do in York and the surrounding areas.
York Minster, York, England
Visiting Historic York
York is blessed with a rich history - and with it, plenty of options when it comes to historical things to do in York. Here are just a few of our top picks.
York Castle and Museum
York Castle was built at the behest of William the Conqueror – the now-ruined keep stands to this day, known as Clifford's Tower. Visit the York Castle Museum for a deep dive into York's history – from medieval times, to the world-renowned Victorian street Kirkgate, to the modern day.
JORVIK Viking Centre
JORVIK is an immersive experience, transporting you back in time to Viking York. Experience the sights, smells, and sounds first-hand, as well as a fascinating array of artefacts from the period.
Yorkshire Museum
The Yorkshire Museum boasts a number of permanent exhibitions and seasonal collections. It houses some of the best archaeological and geological artefacts in all of Europe.
York Minster
York Minster has attracted tourists and pilgrims alike for over a millennium. Whether you simply gaze upon the magnificent splendour or enter into its walls, the York Minster is an absolute must-see – in fact, you cannot miss it.
If you're interested in basking in the spectacular beauty of the Minster, why not stay at Deans Court, and enjoy the scenic Minster views from the comfort of our cosy inn?
Entrance to Clifford's Tower, JORVIK Viking Centre, York Castle Museum, Yorkshire Museum, and York Minster are all included in the York City Pass ticket – along with a wealth of other attractions and experiences, such as The York Dungeon, City Walls experience, York City Sightseeing Bus, Merchant Adventurers' Hall, and more.
Shambles
Just down from the Minster, traverse the cobbled street of the Shambles. The picturesque street of the Shambles was supposedly the inspiration for Diagon Alley in Harry Potter – and it's not hard to understand why.
If you love Harry Potter, why not check out Alnwick too?
Directional,Sign,At,York,City,,United,Kingdom
York Attractions for the Whole Family
In addition to all the attractions listed above, here are some of the most family-friendly things to do in York.
National Railway Museum
This museum is home to an iconic array of trains and displays of engineering history, with fun, activities, and exhibits to suit all ages.
The Web Adventure Park
With rides, numerous indoor and outdoor play areas, and an amazing animal zone, The Web is a must when travelling to York with kids.
Piglets Adventure Farm
Piglets Adventure Farm boasts a giant sand pit, go-karts, fairytale and farmyard trails, crazy golf, an assault course, a variety of animals, and an indoor play barn for your little ones to enjoy.
York's Chocolate Story
Learn about chocolate history, unwrap the secrets of your favourite chocolate brands, and indulge in a cup of hot chocolate – or a chocolate lolly or two.
For more ideas about child-friendly attractions in and around York, check out the York Mumbler – a local parenting community blog – for some insider insights.
Landscape,Of,York,By,The,Riverbank
Just The Two of Us
Spending a weekend away with your loved one is invaluable - whether you simply wish to see the sights and shop til you drop, or are looking for something more, here are some romantic things to do in York.
Romantic Cruise down the Ouse
Cruise down the Ouse (weather permitting) on one of York's cruises, and splash out on a delicious afternoon tea and prosecco whilst onboard.
Spa Day at The Grand Hotel
The Grand Hotel is a 5-star hotel and spa in the heart of York city. Spending a day in their relaxing spa before returning to your cosy room at Deans Court is a more affordable option for couples on a budget – but no less luxurious and romantic!
York's Best Restaurants, Bars, and Pubs
As such a vibrant and eclectic city steeped in history, there is no shortage of places to grab a drink or a bite to eat. Of course, mentioning them all would be impossible - so here are just a few of our favourite foodie things to do in York.
Most iconic: Betty's Cafe Tearoom
Betty's is world famous for its traditional English and Swiss-Alpine savoury dishes, afternoon teas, cakes, and patisserie selection.
Most unique: Valhalla
Ever wanted to drink mead out of a horn like a Viking? Well, now you can, thanks to Valhalla's Viking-themed bar, along with a great selection of locally brewed craft beers and ales.
Best all-rounder: Dean Court
Nestled beside York Minster, Dean Court is one of the Inn Collection Group's most popular inns. The restaurant boasts a mix of traditional Yorkshire fare and seasonal local produce, celebrating true Yorkshire cuisine and comfort foods. Dean Court serves incredible food all day long – breakfast, brunch, lunch, and dinner – as you drink in the sights of this exceptional location.
The pub is situated in a Grade II listed building, full of character and charm. Whatever your favourite beverage, you can find it at Dean Court.
And, if you need a place to lay your head after, why not make your trip into a long weekend by staying in the comfortable, stylish, rooms of this boutique inn – the optimal central location for exploring everything York has to offer?
The Black Swan Hotel in Helmsley, North Yorkshire. Photograph: Stuart Boulton.
A Short Trip from York City to Explore North Yorkshire
When discussing things to do in York, it would be remiss to not mention the wider area. The beauty of York is that it is in the perfect location to explore the wider North Yorkshire area.
The Stables Inn in Whitby, The Black Swan in Helmsley, and St George Hotel in Harrogate are all just a short journey outside of York. Each location is a nice option for day trips whilst you are in the area if you have time.
Excited? So you should be! Book your stay with the Inn Collection Group today for a cosy, welcoming base for taking advantage of all the sights, activities, and attractions that York has to offer. This way, you will have all the time you need - and the perfect location - to explore all the things to do in York.