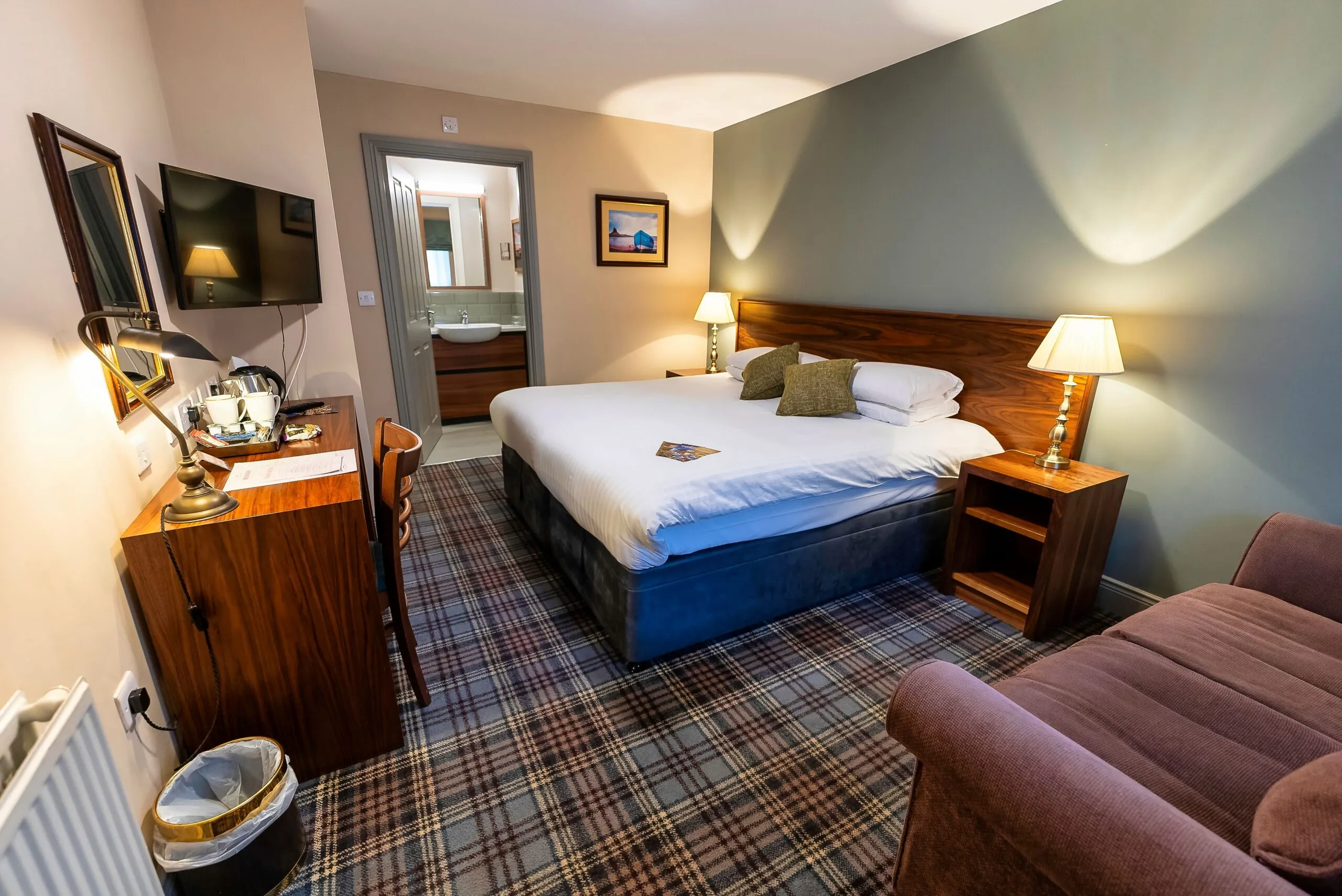 Berwick upon Tweed Accommodation
Rooms at The Lindisfarne Inn
Are you looking for cosy and picturesque Berwick-upon-Tweed accommodation? Spend the night with us in one of our 23 comfortable, en-suite bedrooms — perfect for guests to come and go as they please and ideal for dog owners, families, bird watchers, walkers, cyclists, and golfers.
The 23 rooms that we have here at The Lindisfarne Inn have been built and styled to the highest specifications, without losing that rustic style and quirky charm that attracts people in the first place. In terms of decor, all the rooms have a light, bright feel with beautiful plaid accents that really bring out the wood-panelled headboards, bathroom cupboards, and other original features. Expect nods to tradition and modern amenities, not stuffy, dark rooms that belong in a 16th-century castle.
We know that each guest is different – there could be couples looking to escape the city for a romantic northern getaway, and equally, there could be families who want to create some beautiful new memories for them and their children. Whoever arrives through our doors, and whatever room they choose, they'll be greeted with a friendly face and all the services they could ever want. So, what are you and your loved ones waiting for? A quiet location, cosy bedrooms, and a guest service team that treat you like family – The Lindisfarne Inn really has it all. End your quest for Berwick-upon-Tweed accommodation, and book a room with us today.
A complimentary full Northumberland breakfast is included in our room rates (unless when specified).
On a cycling break? You're welcome to take your bike into your room or leave it in our secure bike lock-up area.
Free WiFi access is available in the main bar area.
The arrival time for guest check-in is from 3 pm until 11 pm and checkout departure time is from 7.30 am until 10.30 am.
Click here to download our booking terms and conditions.
Please note: A non-smoking policy operates in all of our bedrooms, bar, and in our dining area. Designated outdoor smoking areas are available.
Looking for other short-stay locations in the idyllic Northumberland countryside? The Inn Collection Group also offers comfortable and stylish Alnwick accommodation, Blyth accommodation, and more.
Please note, images showcase room types as accurately as possible, however rooms do slightly vary. Contact our central reservations team on  0191 580 3610 for more information. 
Recently refurbished and all with en-suites, The Lindisfarne Inn's comfy king-size double, twin, single, and family rooms will meet all of your needs for a holiday in Berwick-upon-Tweed.
Wheelchair-accessible rooms are available with wet rooms and wider access doorways.
A number of designated pet-friendly rooms are available.
All rooms have:
Freeview television with radio channels. This is perfect if you want to escape but still keep in touch with what's happening in your world.
Excellent tea and coffee-making facilities, which are ideal for kickstarting your day before you come downstairs for a hearty breakfast, cooked by our wonderful team of chefs.
An iron and ironing board if you'd like to give your outfit a quick once over before heading out for dinner and drinks.
The Lindisfarne Inn - Double Bedroom
The Lindisfarne Inn - Guest Bathrooms
Single Rooms
Travelling solo and want a break from the hustle and bustle of the 9-5? Our cosy en-suite rooms are fitted with everything you need, including a wide range of facilities, for the perfect solo, self-care getaway! Our single rooms provide the perfect place to rest your head after a busy day exploring. We'll make sure that our stylish holiday accommodation near Berwick-upon-Tweed is the perfect companion to a few days of rest, rejuvenation, and indulgence.
Book Now
Screenshot 2021-06-08 165440
Twin
Here at The Lindisfarne Inn, we have several twin rooms that are perfect if you want a friends weekend away, or you and a mate have got your eye on one of the many golf courses or hiking routes. Fitted with two single beds and a range of facilities, these rooms are perfect to relax after a long day, and are a great spot to catch up, laugh, and make new memories!
Book Now
Double Rooms
By booking one of our comfortable double rooms, you will have a luxurious double bed and a range of facilities, including an en-suite bathroom! In the UK in particular, there are few places better than the Northumberland coast when it comes to stunning views and idyllic scenery. This swirling location, combined with our carefully restored inn, makes for a perfect romantic getaway with someone new or with your life partner.
Book Now
Screenshot 2021-06-08 165440
Family Rooms
Why not make it a family trip? With family rooms equipped with a king-sized double bed and a cosy, pull out sofa bed, these are perfect for the whole family! With a private bathroom, a great price per night, and plenty for the kids to do, The Lindisfarne Inn is the ideal place to create some fantastic, funny memories with your little ones. And it goes without saying that the guest service team will go above and beyond to spoil your children rotten!
Book Now
Accessible Rooms
Here at The Lindisfarne Inn, we have rooms with accessible showers that are perfect for a variety of people who have specialist requirements. These accessible rooms are packed with the necessary adjustments needed to ensure you have a fantastic, memorable stay. Our team is committed to giving everyone who comes through our door a wonderful, friendly experience.
For more information on the availability of these rooms, please contact a member of our friendly team on 0191 5803 610 to find out more about our accessible rooms.
Have Questions about Our En-Suite Accommodation, or Want to Book a Room at our Inn? Get in Touch!
Our team would be more than happy to answer any questions you may have about our inn, our rooms, or about what there is to see and do in the local Berwick-upon-Tweed area. Simply give us a call on 01289 381 223.
Or, if you're already planning a drive to come and stay with us at The Lindisfarne Inn, then be sure to book a room right away to avoid disappointment - we can't wait to meet you!
Book Now
Exploring Berwick Upon Tweed
Nestled in the heart of the northeast, right near the Scottish borders, and placed ideally between the North Sea beaches, Northumberland National park, and the historic town of Berwick-upon-Tweed, The Lindisfarne Inn could not be better situated. Upon your arrival, expect a charming, northern welcome from our dedicated service team before heading up to your chosen room. Once you put the key into the door of your cosy accommodation and take in the spectacular views, your holiday can really begin.
No matter what the reason is for your escape to our stunning northerly hotel holiday accommodation near Berwick-upon-Tweed, we're confident we can provide the perfect getaway. Similarly, whatever your idea of relaxation is, we're sure that the inn, and the perfect location in which it's based, will provide some much-needed R&R. Whether that's playing 18 holes on one of the many nearby golf courses, such as Goswick Golf Club or Haggerston Castle Golf Course, visiting the many delights that can be found in Berwick-upon-Tweed's town centre, or breathing in the abundance of sea air at the lovely Spittal beach.
When your day exploring Beal, the Holy Island, or Berwick Barracks is done, your return to The Lindisfarne Inn will truly feel like coming home. Let our fantastic team spoil you with delicious food and drink in our restaurant area, or, put your feet up and enjoy your favourite tipple while soaking up the charm, warmth, and friendliness of our pub, safe in the knowledge that your trip back to your room is just a minute or two away.
Things to see in Berwick-upon-Tweed
Looking for a host of activities to sink your teeth into while exploring the historic town of Berwick-upon-Tweed? With stunning views and excellent service, The Lindisfarne Inn is the perfect home away from home as you soak in the nearby sites and festivities.
Lindisfarne Castle
A short drive away across the causeway is Lindisfarne Castle. The perfect example of an Edwardian home, the castle is surrounded by a stunning walled garden designed by the gardener, Gertrude Jekyll. It is the ideal place to remember the historic town's industrial past. Converted into a holiday home by Sir Edwin Lutyens, the castle is now supported by the Arts Council England. With over 14 acres of open space to explore, it is a must-see, during a family fun-filled afternoon.
You can book tickets to Lindisfarne Castle here. As it is a tidal island, we would advise you to consider tide times when booking your visit to the castle to ensure you are safe while crossing the causeway.
Lindisfarne Priory
A historical landmark to add to your list during your visit is the Lindisfarne Priory. You will be able to go back in time and retrace the steps of the ancient monks who built the monastery 1,400 years ago. While you are there, why not explore the museum where you will find the manuscript of the Lindisfarne Gospels, as well as discover the historic Viking raids.
A fan of historical architecture? You can take a walk around the priory ruins and soak in the island views. The Lindisfarne Priory is home to the rainbow arch, a remnant of the castle that has survived despite neighbouring towers falling around it. It is one of the most dramatic parts of the ruins and demands not to be missed.
Follow in the footsteps of the monks who first came to the island back in 635 AD and enjoy one-of-a-kind coastal views. As you walk towards St Cuthbert Isle where St Cuthbert himself lived, you will be able to climb The Heugh. It is here you will get a magnificent view overlooking Bamburgh Castle and Farne Islands.
The Kingslodge Inn supports SoSAD dogs
Dogs allowed - No one gets left behind
For just £10 extra per night, you can book one of our dog-friendly rooms and enjoy a good meal at the Lindisfarne Inn restaurant with your furry friends by your side.
What are you waiting for? 
Book your stay and explore Northumberland today