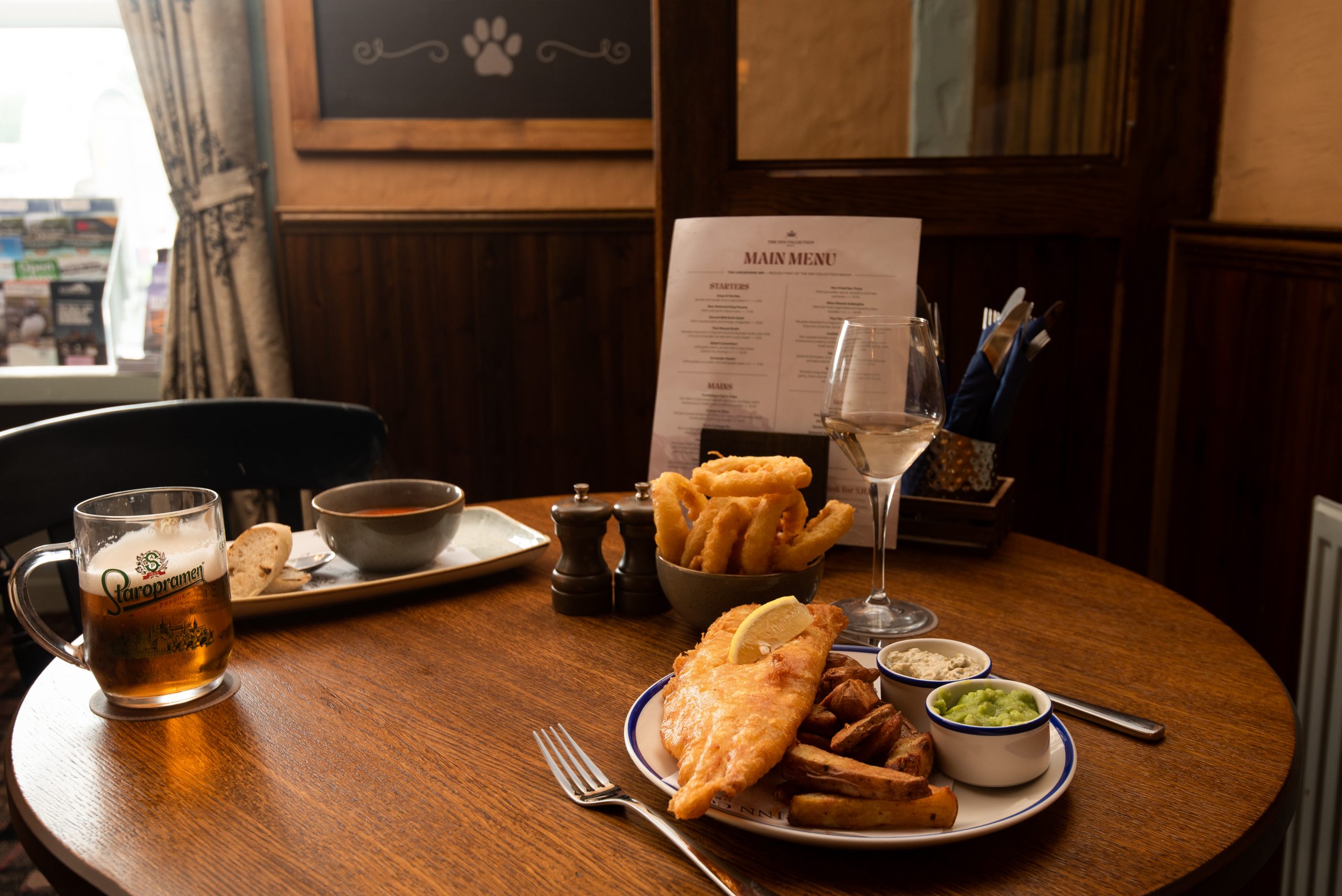 Food at The Lindisfarne Inn
Serving homemade food all day, every day, sit down to a great range of dishes that use quality, fresh ingredients from trusted suppliers.
Our Menus
Whether you're stopping by for breakfast, a mid-morning bite, a business lunch, or meeting up with friends and family for a delicious evening meal, The Lindisfarne Inn is the place to come.
Our food menu is created by our head chef and our team of cooks who have years of experience between them. They have crafted a menu packed with excellent food that is perfect for a spot of lunch in the day or in a more formal, evening restaurant setting. Operating as one of the many Berwick-upon-Tweed restaurants, we know what visitors to this beautiful, northern part of the world enjoy.
On arrival, you'll be greeted by our friendly staff who will ensure you have everything you need. Before you get comfy at your table, be sure to check out our daily specials board which rotates regularly and is always packed with flavourful dishes made from local, ethical produce. Eat in the cosy bar area with its stone-flagged floors and copper bar or soak up the sun in the beer garden while you dine al fresco. Families are welcome in the inn's dining area, where a wide range of family favourites and fantastic children's dishes will please even the fussiest of eaters.
Sundays are for cosy pubs, time with loved ones, and a proper roast. That's why, here at The Lindisfarne Inn, we have made it a priority to delight guests with cosy settings and delicious Roast Dinners. So, all you need to do is bring your loved ones! We have generous helpings of hand-carved, juicy meats with all the trimmings, as well as vegetarian and plant-based alternatives.
We're passionate about ensuring that all of our guests, be they staying with us in one of our 23 en-suite bedrooms or just popping in for a bite, are catered for. So, as well as offering classic dishes, we also have vegan dishes. These plant-based meals are made from fresh produce, and we make sure that each dish is of the highest possible standard.
After a day out exploring all of the amazing sights and sounds that Berwick-upon-Tweed has to offer, there is simply nothing better than returning to your welcoming, authentic accommodation, and heading down to our restaurant to sit back and relax with a bite to eat.
Check out our menus in more detail below, or, if you already know what you fancy, why not pop in and book a table? In fact, why not treat yourself, that special someone, or your family, and book a stay with us as well? We're a renowned inn in Berwick-upon-Tweed and have a selection of stunning single, twin, double, and family rooms available throughout the year.
Everything you need to know about our mouthwatering menu
Featuring a wide range of classic pub food and modern dishes, our menu is created using fresh, local ingredients from nearby farmers, vendors and fishmongers. Whatever catches your eye, you are guaranteed a dish of fabulous food.
From honest pub food to delicious vegan dishes, here is everything you can expect to find on the menu when you visit The Lindisfarne Inn.
Main Menu
We pride ourselves on being as sustainable as possible when it comes to creating fantastic food. Our chefs work to create seasonal dishes using fresh ingredients that are in season. They also work to infuse some local Northumberland dishes into the menu. Whether you are looking for a full three-course meal or a simple bite to eat after a long day, The Lindisfarne Inn restaurant will give you a delicious dinner to remember. From its famous fish pie to traditional fish and chips, you are guaranteed a comforting meal on your plate. Interested in a spot of lunch? We have a range of sandwiches on hand for you to choose from so you can fuel up before heading out for the day exploring Lindisfarne Castle.
> View seasonal menu (PDF)
Light Bites & Breakfast
Whether you're wanting a delicious breakfast to kick start your day, or just a bit peckish, our Light Bites & Breakfast menu is perfect.
> View menu
Coffee & Dessert
Our Coffee & Desserts menu really hits the spot. Whether it's a rich Americano, or a sweet treat, this menu is perfect for those little indulgences.
> View menu
Lindisfarne Inn - Cheesecake
Allergy Advice
Allergen advice is available for all our main menu meals, click the link below or contact us for more information. Ask our team when you visit about allergens for our daily specials.
click here
Come for dinner, stay for breakfast! Book a room today.
As well as offering up delicious food from morning to night, we also have 23, newly refurbished rooms that are just the perfect place to get away from it all. Enjoy a few nights of complete relaxation and let our team of dedicated inn staff take care of everything. We have a range of different rooms for all guests, from groups of one right the way through to families.
We pride ourselves on making our inn feel like a home away from home. With plenty of northern charm, wit, and humour, as well as traditional yet modern accommodation, our inn is the ideal place to spend a few days. Spend your time soaking up the stunning Northumberland coastline, which is a designated Area of Outstanding Natural Beauty, or visit Berwick-upon-Tweed and marvel at its city walls, which were used as the city's defence in centuries gone by.
Book Now
How to Find Great Pub Food in Berwick-upon-Tweed
So, if you're looking for country pubs in Berwick-upon-Tweed, look no further than The Lindisfarne Inn. We're located just 14 minutes from Berwick, by car, and only 11 minutes from the famous Holy Island. If you've been exploring Northumberland National Park and visiting places such as Wooler Common or Yeavering Bell Hill Fort, then don't worry, we're just a swift 25 minute or so drive from that area. Wherever you are in this area of the UK, you'll be enjoying food that's rustic, modern, and great value for money in no time.
Special deals – Grab 20% off today!
We have a wide range of offers on hand across the Inn Collection Group Inns, including The Lindisfarne Inn. As well as 20% off food and drink for our NHS workers and Blue Light Card Holders, we also have a range of special offers for those of you wanting to have a longer stay with us. You can find the right deal for you here.
So, what are you waiting for? Eat, drink, sleep and explore at The Lindisfarne Inn today.