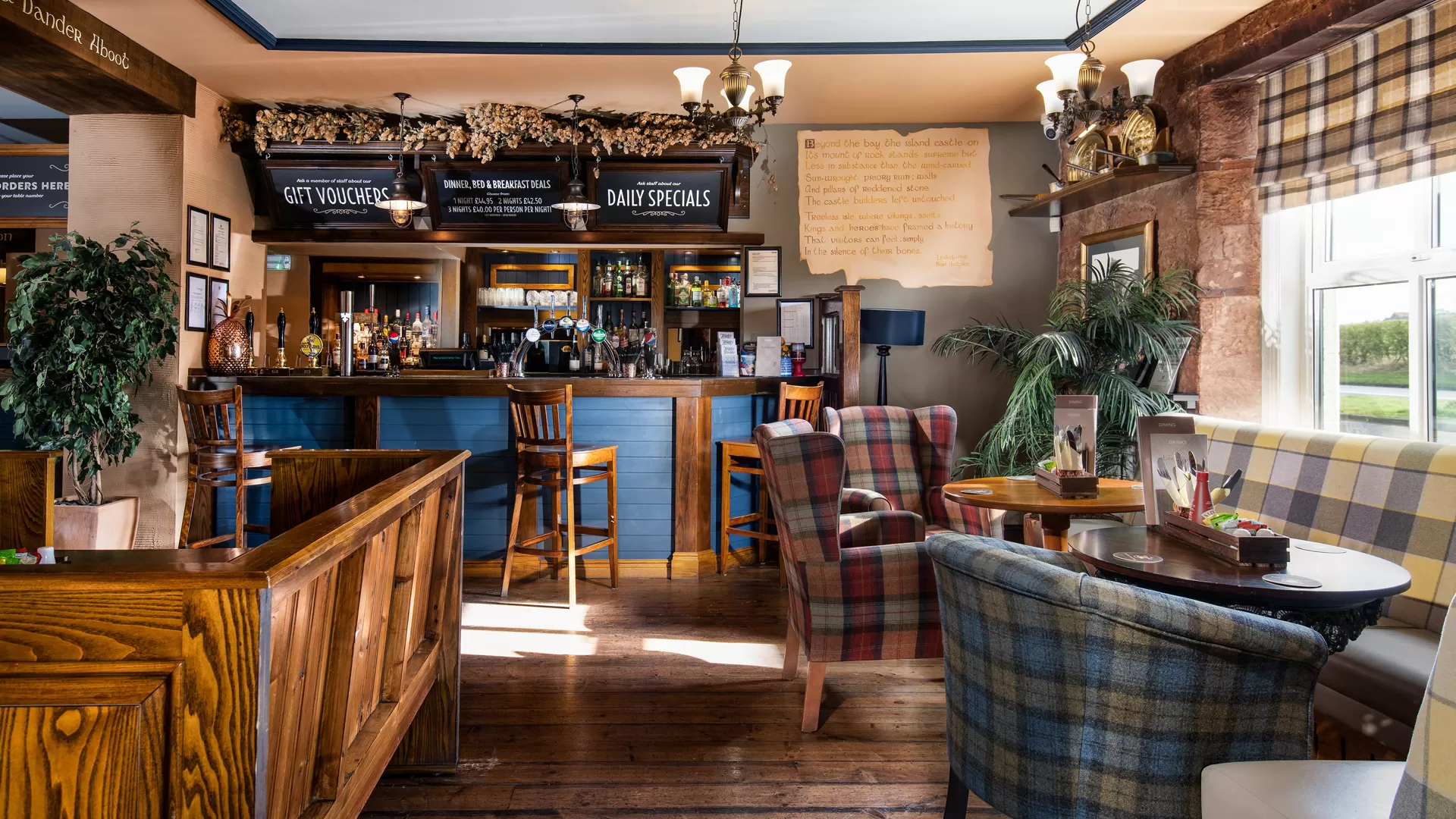 The Lindisfarne Inn Pub
Raise a glass to Northumberland with whatever takes your fancy, be it one of our excellent local ales, delicious wines or a speciality tea or coffee.
As one of several pubs in Berwick-upon-Tweed, we take pride in running our bar and cellar the proper, old-fashioned way. That means that we carefully select the finest cask ales and ensure every aspect of our pub is centred around pouring and serving you the highest quality drink.
For years, even before we were an inn, we have been a pub and a staple of the Beal and Berwick area. We're passionate about providing the best possible pub experience, from that first drink on arrival to that final nightcap. In rural areas, surrounded by stunning locations, we know the importance of having a Northumberland inn that provides a warm welcome, and a cold drink, after a busy day exploring.
With awards for our cellar management and our knowledgeable, well-trained staff, you can look forward to enjoying a pint of the northeast's finest from our selection of local real ales, including guest hand-pulls that are on rotation. Like everything about our inn, we remain committed to our history whilst not being afraid to move with the times with newer, contemporary touches. This is reflected in our drinks menu. So, quench your thirst with perfectly chilled ciders, continental lagers, sip on local gin and tonics or shake things up with a cocktail.
To learn more about the range of delicious, traditional drinks we have on offer, feel free to check out the rest of this page.
Comfortable accommodation at award-winning pubs
Our homely rooms are at the heart of all our pubs. We provide guests with a home away from home – a place that they can come back to after a day of exploring and know they will be looked after.
Our staff are routinely on hand to answer any questions you have and assist you in any way possible. Alongside our wide range of beers and ales, you also have an anchor, a place you can make your own while you explore the cobbles and castles of Berwick-upon-Tweed. 
What are you waiting for? Book your stay now.
restaurant-menu-food-drink
Delicious food + a nice cool drink = the perfect combination
No pub is complete without traditional pub grub. Thankfully, The Lindisfarne Inn is the perfect place for you to sit down with a nice drink to enjoy some of your favourites from our restaurant menu. From firm British food favourites like fish and chips to delicious desserts like sticky toffee pudding, there is something for everyone to enjoy, whether you are just grabbing a quick bite before heading back to your home or settling in for the evening.
Worried about special dietary needs? Our well-trained staff are on hand to answer any questions or concerns you have.
From soft drinks for the non-drinkers in the group to vegan options, there is something for everyone at The Lindisfarne Inn.
View our restaurant menu
Lindisfarne Inn Dog Friendly
Dogs allowed - No one gets left behind
At an additional cost of just £10 per night, you can stay in one of our dog-friendly rooms so you don't have to leave your furry friends behind. You don't have to worry about arranging a sitter for them while you are away - instead, you can bring them with you so they can soak up the unforgettable experience with you.
More info about our dog-friendly rooms