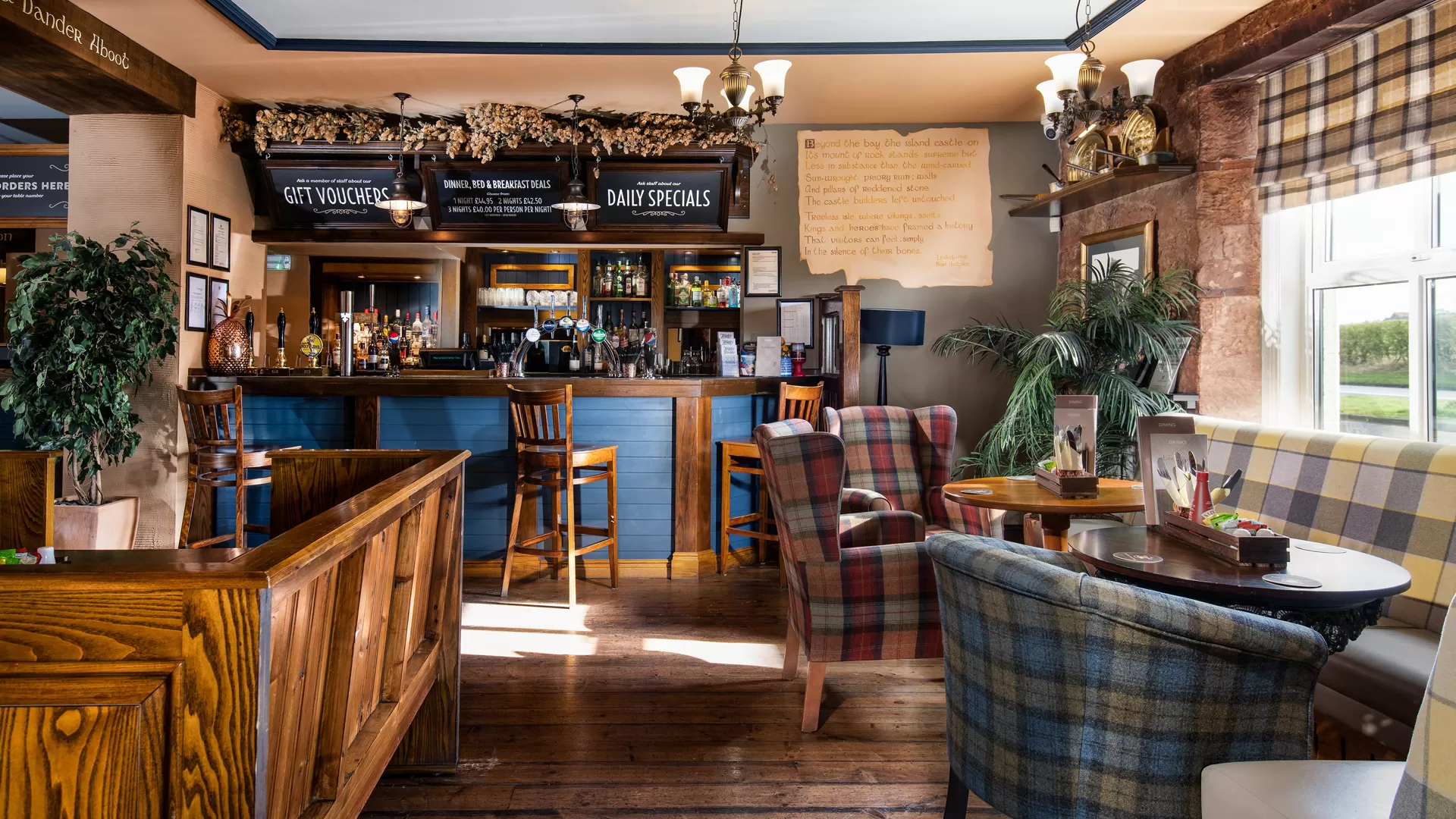 The Lindisfarne Inn Pub
Raise a glass to Northumberland with whatever takes your fancy, be it one of our excellent local ales, delicious wines or a speciality tea or coffee.
As one of several pubs in Berwick-upon-Tweed, we take pride in running our bar and cellar the proper, old-fashioned way. That means that we carefully select the finest cask ales and ensure every aspect of our pub is centred around pouring and serving you the highest quality drink.
For years, even before we were an inn, we have been a pub and a staple of the Beal and Berwick area. We're passionate about providing the best possible pub experience, from that first drink on arrival to that final nightcap. In rural areas, surrounded by stunning locations, we know the importance of having a Northumberland inn that provides a warm welcome, and a cold drink, after a busy day exploring.
With awards for our cellar management and our knowledgeable, well-trained staff, you can look forward to enjoying a pint of the northeast's finest from our selection of local real ales, including guest hand-pulls that are on rotation. Like everything about our inn, we remain committed to our history whilst not being afraid to move with the times with newer, contemporary touches. This is reflected in our drinks menu. So, quench your thirst with perfectly chilled ciders, continental lagers, sip on local gin and tonics or shake things up with a cocktail.
To learn more about the range of delicious, traditional drinks we have on offer, feel free to check out the rest of this page.
Cask Ales, Lagers, and Ciders from a Range of Breweries
As mentioned, we have a rotating selection of cask ales from renowned local breweries such as Hadrian Border Brewery that are kept in perfect cellar conditions and are waiting to be poured and enjoyed by you. And, because we like to keep things fresh, we don't have a permanent list of cask ales. We think this rotation adds to the excitement of coming to The Lindisfarne Inn. Who knows? Behind our pub door could be your new favourite drink.
As well as these local brews, we also serve Coors, Carling, Staropramen, and Guinness, and other household names, if you fancy something a little more familiar.
Enjoy a Truly Global Selection of Wines
The right wine, with the right meal, can transform a dish from a good one to a memorable one. Similarly, a great bottle of wine can be the perfect accompaniment to a special moment or announcement. We've crafted a wine selection that is packed with familiar reds, whites, and roses, and some you may not have heard of. Whichever wine, or bottle, you choose, it is sure to go perfectly with the stunning Northumberland views.
Our well-stocked cellar offers wines from around the world. Available by the glass or by the bottle, we have wines to pair with all our dishes and to suit every taste too. For a refreshing white wine, why not try a glass or bottle of Fontana Trebbiano? With a delicate bed of citrus fruit flavours, combined with notes of white melon and delicate aromas, this Italian white is perfect for a special occasion with loved ones.
Or if you fancy a brooding red with a steak, or pasta dish, our 7 Fires Malbec is the perfect selection. A mix of mulberries and blackberries, along with a herbaceous nose, make for a deep ruby appearance that does not disappoint. If neither red nor white excites, we have three different rose wines available that are perfect for a summer's day in Northumberland overlooking the stunning vistas. We think you'll love the Principato Pinot Grigio Blush, which is just the right balance between sweetness and a crisp dry finish.
Fancy Some Fizz?
Whether you're celebrating staying at The Lindisfarne Inn or you just love the sound of a cork popping - there's never a bad reason to open some fizz! Our Italian Chio Prosecco is refreshing, with just the right amount of fizz!
Classic Cocktails Galore!
Having been one of many staple pubs in Berwick-upon-Tweed for decades, we know that a classic cocktail can mark a great start, or end, to a special evening while on your holidays with us. We have specially trained staff who are capable of creating truly stunning cocktails that will be sure to make your evening a great one.
From classic pick-me-ups like the Espresso Martini which features Absolut Vanilla Vodka and Tia Maria, to summer drinks such as the Mai Tai which is packed with Malibu, Morgan's Spiced Rum, and topped off with orange juice, our cocktail menu is sure to deliver.
For those that don't drink, we have a couple of mocktails that will get you in the party mood. Give our Appletini a whirl, featuring apple juice, fresh mint, lime and soda, or try Pure Passion, a mocktail packed with passion fruit and lemonade.
We've Brewed a Recipe for Success
As anyone in the beautiful north of England will know, sometimes a good brew is all you need to feel better about the world. As proud northerners ourselves, we've taken this sentiment and ran with it.
To ensure that every hot drink you buy hits the spot, we've brewed a recipe for success with our wide range of speciality loose leaf teas and aromatic coffees from the renowned local company Ringtons. From cappuccinos to cafe lattes to Earl Grey teas, we've got it all. Our hot drinks are perfect for enjoying at any time of day or evening, especially if you're waiting for the tides to cross to Holy Island.
If you fancy a coffee with something a little stronger in there - after all, you're on your holidays! - then why not enjoy one of our liqueur coffees? Enjoy a wee dram of Jameson Whisky or a drop of Bailey's to make a classic Irish Cream.