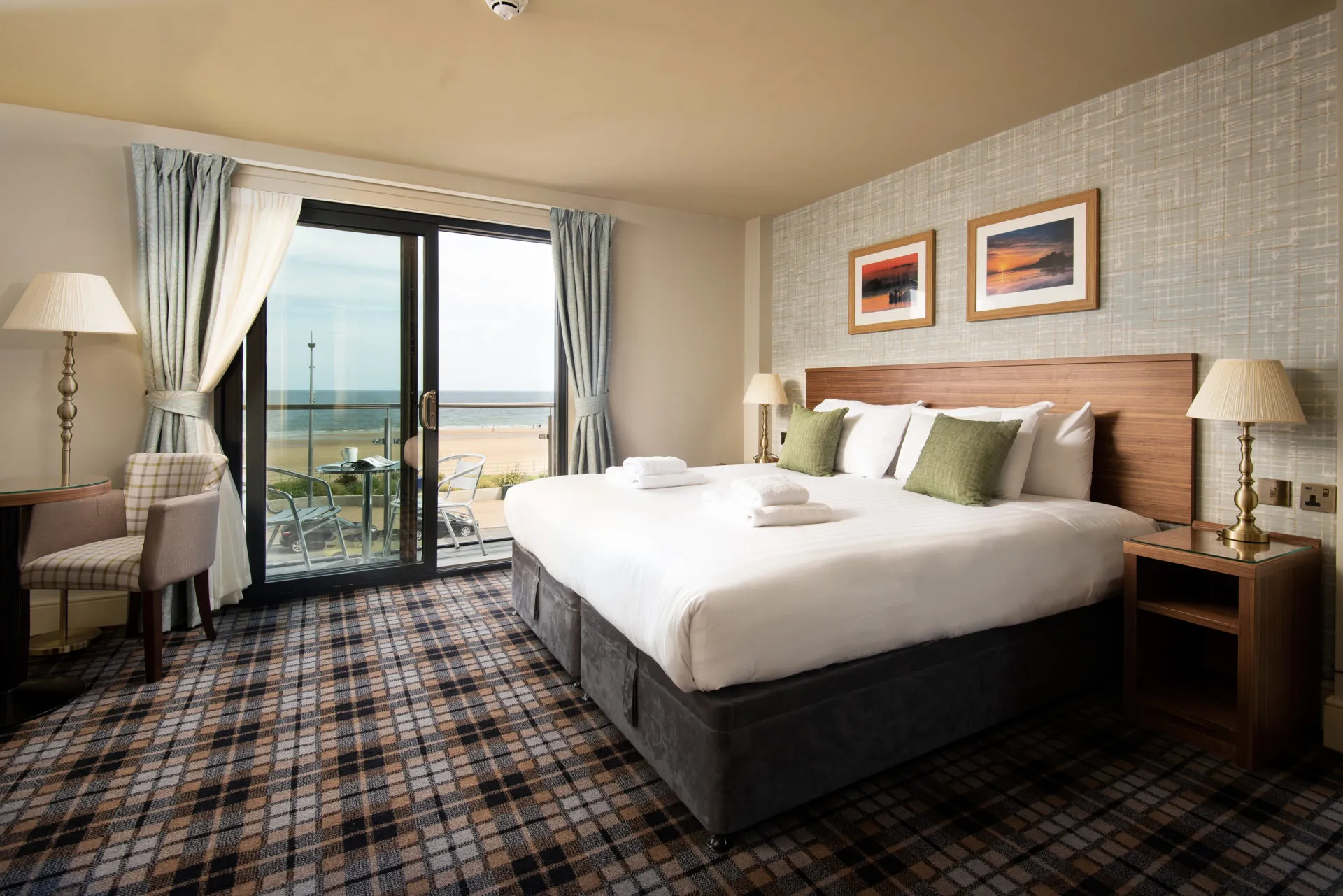 Tynemouth Accommodation
Rooms at The Tynemouth Castle Inn
Settle down for a comfortable night's sleep in one of The Tynemouth Castle Inn's 72 newly refurbished en-suite bedrooms.
Steeped in history, picturesque beaches, fantastic attractions and so much more, it's no surprise Tynemouth is one of the most popular places to visit in the North East. The Tynemouth Castle Inn boasts a number of modern en-suite bedrooms and stunning views of the North Sea that are sure to help you feel like you're in paradise, if only for a weekend. On your door step you'll also find great local shops, as well as a vibrant nightlife. If you're looking for welcoming rooms and cosy pub with unrivalled coastal vistas and in easy reach of Newcastle upon Tyne, choose The Tynemouth Castle Inn and book your stay with us now.
For parties looking for excellent value bed and breakfast accommodation in the North East for corporate or tourism groups, The Tynemouth Castle Inn will be the perfect venue. Please contact us to discuss your group travel requirements.
Enjoying commanding views over the pristine Longsands beach and Tynemouth's Grand Parade, The Tynemouth Castle Inn enjoys a history of providing rejuvenating stays on the North Sea coast for more than 90 years.
Now a warm and welcoming pub with rooms, it is the perfect alternative to hotel accommodation and with more services than self-catering.
Dog-friendly rooms are available, subject to a pet supplement of £10 per dog, per night.
Guest check in is from 3pm until 11pm and check out is from 7.30am until 10.30am.
Click here to view our booking terms and conditions
Please note: A non-smoking policy operates in all of our bedrooms, bar and dining area. Designated outdoor smoking areas are available.
A complimentary full English breakfast is included in room rates (unless specified when booking).
For an idyllic holiday option further north, discover our Berwick upon Tweed accommodation, our Amble accommodation, and more.
Please note, images showcase room types as accurately as possible, however rooms do slightly vary. Contact our central reservations team on  0191 580 3610 for more information. 
In your room:
Freeview television with radio channels
Free WiFi
Tea and coffee making facilities
Iron and ironing board
Hairdryer
Safe
Despite our modern room decor, we don't lose sight of our rustic roots, giving you the charm and warmth of a countryside inn in a prime location that's perfect for exploring the seaside. The Tynemouth Castle Inn has been built to the highest specifications, giving our visitors a light, bright room to use as their holiday base, complete with all of the modern amenities that are a joy to experience. No matter whether you're looking for a location for a quick night away or a comfortable weekend of bliss, The Tynemouth Castle Inn has everything you could need and more with our room, pub, and restaurant combination.
The Seaburn Inn looks to cater to every type of guest – from couples looking for a romantic escape in the north to families searching for a fun-filled weekend away from home, we've got rooms to suit each and every person who passes through our doors. Our seaview, balcony rooms and suites truly offer something special! To get started with booking your weekend break by the sea in Tynemouth, you can get in touch with a member of our friendly team online today to discuss options, or book a room directly through our online booking service!
What's on offer at The Tynemouth Castle Inn?
The Tynemouth Castle Inn brings everything you could possibly ask for when you're on the search for the perfect pub with a room. There are a variety of room sizes available, plenty of food options to keep you going, and we're even dog-friendly, meaning you'll be able to bring your pets along for your trip too! Here are a few of the standout features of the accommodation at The Seaburn Inn:
A top-class restaurant just downstairs! When you're feeling peckish, you'll never have to venture too far for food when you're staying here at The Tynemouth Castle Inn. Our fantastic restaurant runs a full service throughout the day, serving tasty breakfasts, exquisite lunches, and indulgent dinners from 7:30 until 21:00. Breakfast is included with most of our rooms too, ensuring that you get the most important meal of the day each morning.
Dog-friendly rooms are available at our pub! We've all been there – you're looking to book a lovely trip away for the weekend but have had to cancel as you're unable to find someone to look after your dog. It's a tough thing to manage and can often lead to us missing out on those spontaneous trips that we'd love to take. At The Tynemouth Castle Inn, that's not something you'll ever have to worry about, as our rooms are completely dog-friendly, meaning your well-behaved canines are more than welcome to join you on your stay!
Parking is free at The Tynemouth Castle Inn. One of the biggest worries that you might have when booking a weekend away is finding somewhere to park; you'll usually be travelling during a peak season, such as the spring or summer, and this can put higher demands on the available parking in your chosen destination. As a guest at The Tynemouth Castle inn, we've got you covered – we offer free parking to all of our guests in our very own guest car park just outside of the pub.
If you'd like to check out some other superb pub and accommodation locations further north, you're in luck; we've got a number of pubs with rooms across the North in locations to suit each type of domestic holidaymaker, so be sure to have a look today! If you'd like to stay in the north, why not take a look at our wonderful Berwick upon Tweed and Amble pubs and rooms; they're two of our most popular destinations and offer travellers an idyllic getaway that's just a few hours away from the major cities! Alternatively, our Lake District locations provide travellers with some of the best views and experiences that the UK countryside has to offer – if you're an avid walker or climber, there are plenty of exciting trails to trek along in the Lake District, or if you'd prefer something a little less strenuous, the pubs, such as The Ambleside Inn and The Waterhead Inn, are a joy to behold too!