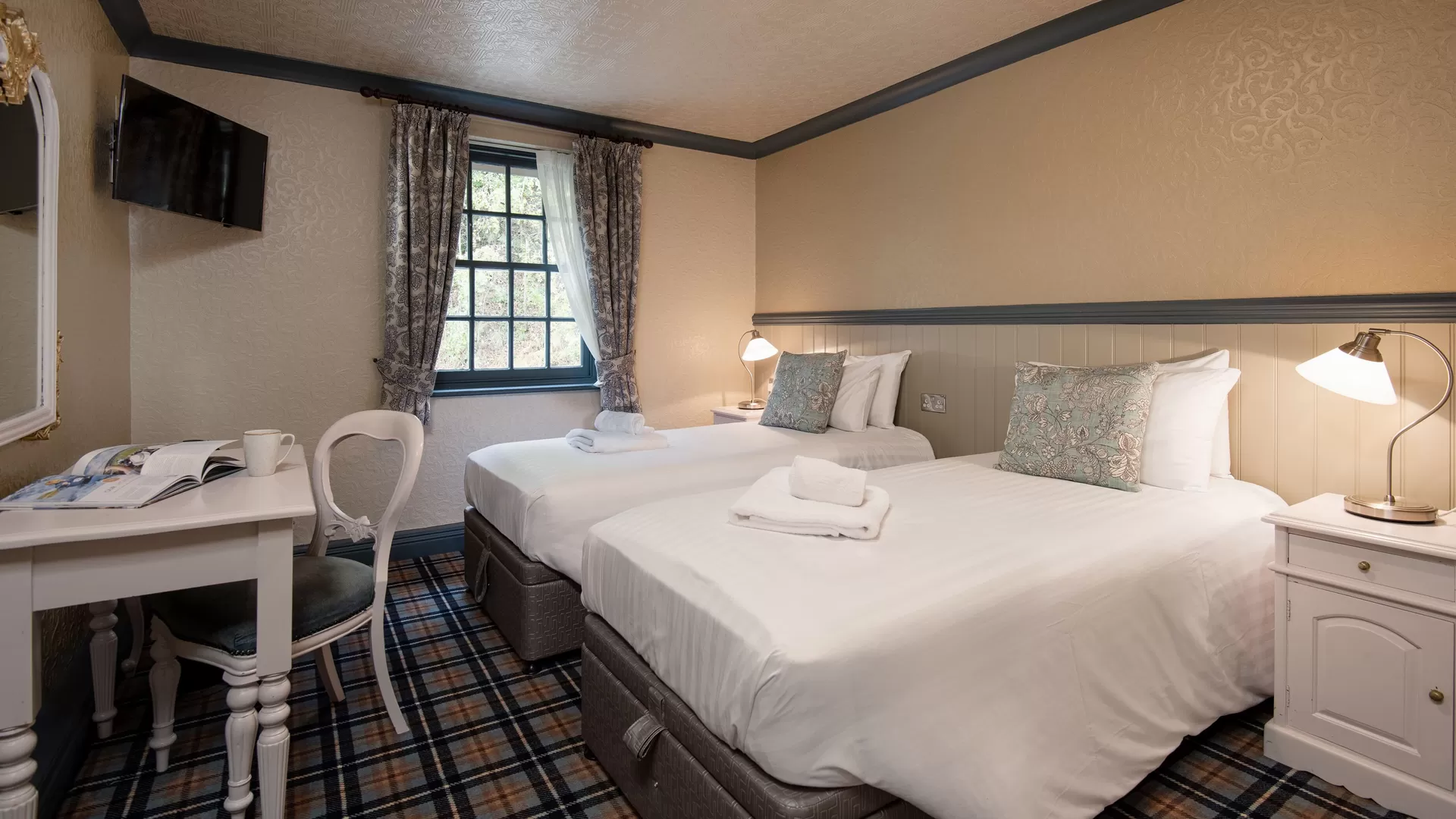 Durham Accommodation
Rooms at The Kingslodge Inn
Searching for city centre Durham accommodation to enjoy a peaceful night's sleep? It may sound like a tall order, but The Kingslodge Inn's tranquil setting and comfortable bedrooms mean you get just that.
Isn't life sweet when you don't have to compromise and can, instead, have the best of both worlds? Well, when it comes to The Kingslodge Inn, that's exactly what you can expect. Booking a room at our perfect Durham location not only means you have access to one of the northeast's finest tourist hot spots, but also you benefit from a peaceful retreat that is situated on the edge of the beautiful Flass Vale Local Nature reserve. See? It's the best of both worlds!
When you arrive and have gotten over the stunning views offered by the peaceful woodland that we like to call our back garden, you'll feel like you've arrived somewhere friendly and familiar. Our dedicated team will make sure that every minute of your stay with us is exactly what you're after – whatever your dream vacation looks like, we can accommodate.
Whichever room you choose, you can expect the same high standard of decor and contemporary style. Our building is historic and each room harks back to that with charming plaid aspects and original wooden features, ensuring the most pleasant stay for you, your loved ones, and your fellow guests in our charming accommodation.
So, be sure to book a room today and then let this bustling, vibrant city, which is the jewel of County Durham, show you exactly what it has to offer.
Conveniently close to Durham train station for car-free breaks, and a stone's throw from the UNESCO World Heritage Site of Durham Cathedral and Durham Castle, The Kingslodge Inn is an ideal location, just a few minutes' walk away from Durham city centre.
Whether you're exploring the city itself or enjoying its surrounding attractions, such as High Force and Wharton Park, take your pick of double, twin, single, accessible, or family en-suite bedrooms in one of Durham's best locations.
A complimentary Northumberland buffet breakfast is included in our room rates (unless when specified).
Dog-friendly rooms are available, subject to a pet supplement of £10 per dog, per night.
Guest check-in is from 3 pm until 11 pm, and the check out time is from 7.30 am until 10.30 am.
Please note: A non-smoking policy operates in all of our bedrooms, bar and dining area. Designated outdoor smoking areas are available.
Click here to view our booking terms and conditions.
If you're looking to connect with nature and stay somewhere out of the city, we also have many remote options for you to explore, including Coniston accommodation and Ambleside accommodation.
Please note, images showcase room types as accurately as possible, however rooms do slightly vary. Contact our central reservations team on  0191 580 3610 for more information. 
In your room:
Freeview television with radio channels so that you can keep up with current events or binge your favourite TV show during your stay.
Free WiFi to help you plan your trip around Durham and its historic buildings and attractions.
Tea and coffee-making facilities to kickstart your day before you head down to enjoy a full English breakfast created by our team of chefs.
Iron and ironing board so that your favourite shirt or dress can look its best before you head out to explore Durham's nightlife or join us for a bite to eat in our restaurant.
Hairdryers are available in the room so no need to pack your own!
Single Rooms
We have a range of recently refurbished en-suite bedrooms available that are perfect for solo travellers looking for a few days of escape from their busy day-to-day lives! With countless facilities, these rooms are the perfect place to relax and put your feet up after visiting all the fantastic things to see and do in Durham.
Book Now
The Kingslodge Inn - Twin Rooms
Twin
Our spacious twin rooms are perfect to share, equipped with two single beds and a wide range of facilities including a stylish en suite. Thanks to its bustling food and drink scene, Durham, along with the northeast in general, is the perfect place to go with a friend to blow off some steam. And, because of our quiet, just-off centre location, you can leave the bustle for gentler settings whenever you like. These rooms also provide the perfect place to rest your feet after a day of exploring!
Book Now
The Kingshead Inn, Durham City.Picture: TOM BANKS/BANKS PHOTO/07474235303
Double Rooms
We have a range of charming, en-suite double rooms that are perfect for a staycation with a loved one. Treat them to a romantic weekend away at The Kingslodge Inn and use our beautiful building as a base for you and that special someone to make new memories in a city that is believed to be founded in 995 A.D! The characterful rooms are fitted with a luxurious double bed and a wide range of facilities.
Book Now
The Kingslodge Inn - Family Rooms
The Kingshead Inn, Durham City.Picture: TOM BANKS/BANKS PHOTO/07474235303
Family Rooms
Why not make it a family trip? While this northeast city may be known for Durham University, make no mistake, this is a place for families. And, conveniently, so is our Durham accommodation! We love having little ones, as well as their mum and dads, stay with us. And, based on some anecdotal reviews, our staff spoil them rotten! Our family rooms can sleep up to four people in either a double bed and twin beds or a sofa bed.
Book Now
Light airy double bedrooms
Accessible Rooms
Here at The Kingslodge Inn, we're passionate about making sure everyone can enjoy their ideal getaway. This is why we offer several rooms with accessible baths so that those with particular needs can enjoy everything County Durham has to offer. If you'd like to enquire about our accessible rooms, please ring our friendly team on 0191 580 3610.
Book Accommodation near Durham Castle, and Other Famous Attractions, Today!
People who visit this area of the northeast never forget their time here, and we think you'll feel exactly the same when you arrive. So, don't delay anymore and book your Durham accommodation with us today to enjoy quick access to the city centre, rustic restaurant facilities, and beautifully landscaped gardens.
If you have any questions about The Kingslodge Inn then feel free to get in touch! We love to chat, just give us a call on 0191 370 9977.
Book Now
Exploring Durham
Booking a stay with us is like visiting a home away from home. We pride ourselves on offering a friendly, uniquely northern service that makes for a memorable stay in the northeast. In terms of our location, we're situated just minutes from the middle of Durham city centre, the Botanic Gardens, and the famous tourist spot of Durham Castle. Accommodation such as ours is unique in its position, heritage, beautiful gardens, and facilities.
So, when you're done visiting the grounds of Durham University, strolling along the River Wear, or enjoying one of the area's many championship golf courses, you can return to your cosy accommodation and take in the breath-taking views that County Durham has to offer. Similarly, if you've been spending the day upping your step count exploring Beamish Hall or the vast Durham Dales, our bar area is the ideal place to kick back and enjoy a pint of cask ale or choose from the lagers and ciders on tap.