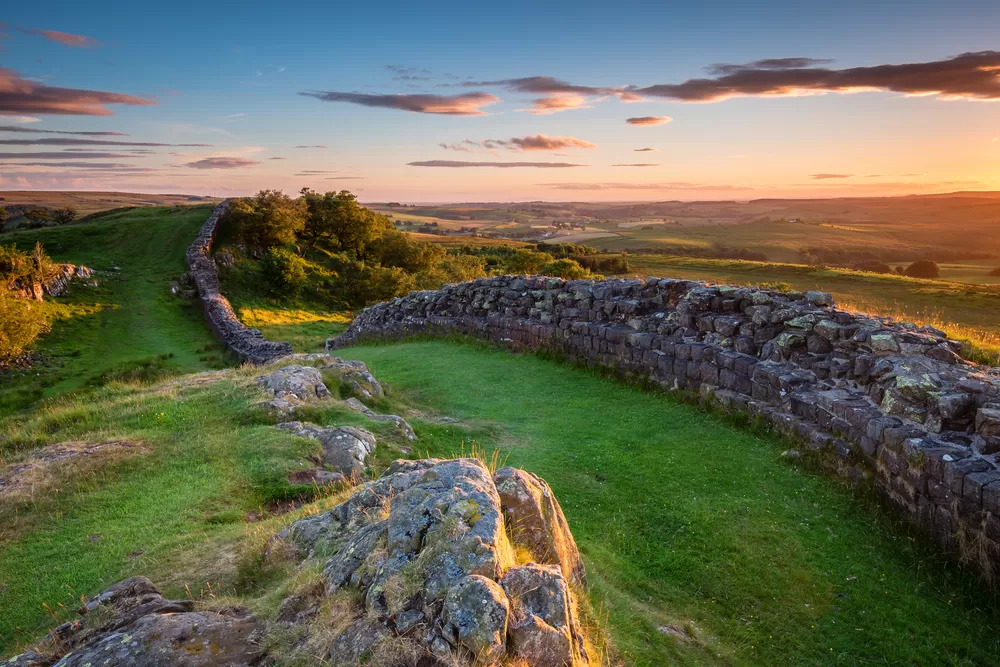 12 Things to Do in Northumberland
As one of only two English counties bordering Scotland, Northumberland has a dramatic and tumultuous history. This history has left it with castles that are now open to the public and responsible for much of the county's power as a tourist destination.
Even if you are far from enthralled by history, there remains a high number of thrilling things to do in Northumberland. You could soon find a new favourite beach here, or make blissful family memories by eating with your kids in one of the Northumberland restaurants we run.
If you're planning your stay at one of our charming countryside inns, then you'll be truly spoilt for choice of things to do during your visit.
12 Things to Do in Northumberland
Here are selected examples of attractions and activities you should consider adding to your schedule if you are currently planning a Northumberland stay.
1. Bamburgh Castle
One of Northumberland's most iconic sights, Bamburgh Castle is a Grade I listed building sitting on a coastal area near the village of Bamburgh. The core of the current castle was built by the Normans before restoration work was undertaken in the 18th and 19th centuries.
As you journey to the castle, its emergence in the distance will make for an arresting sight. Much of the castle's beauty today can be attributed to the Victorian-era industrialist William Armstrong, who bought the castle in 1894 and launched a series of extensive renovations to the building.
Though Armstrong passed away in 1900, members of the Armstrong family still own Bamburgh Castle — several areas of which, including the Great Kitchen, the King's Hall, the Captain's Lodging and the castle's nine-acre grounds — are open to the public.
The castle site is also home to two noteworthy museums: the Archaeology Museum, where an intricate gold plaque known as the Bamburgh Beast is on display, and the Armstrong & Aviation Museum, which pays tribute to William Armstrong's remarkable achievements.
Bamburgh Castle is open right throughout the year, with an ongoing programme of events.
Where to stay?
Since there is so much to explore and enjoy at the castle, it could be worthwhile for you to book overnight accommodation at our own Bamburgh Castle Inn.
From the inn, which is located in the coastal village of Seahouses, you can enjoy awe-inspiring views of Bamburgh Castle itself.
2. Visit Lindisfarne
Often, the tide separates the island of Lindisfarne — otherwise known as Holy Island — from Northumberland's coast. On other occasions, however, it's possible to safely cross a causeway linking the coast and the island — and this is a journey you would highly appreciate making.
The island may be small, but it packs a wide array of quaint attractions — including pubs, cafes and the ancient buildings of a castle and a priority. Remember to check safe crossing times before you visit, as the tide washes over the causeway twice a day.
Once you have safely made it to Holy Island, you can watch out for a National Trust flag indicating when Lindisfarne Castle is open. In its time, this 16th-century building has served as a fort as well as a holiday retreat for a wealthy Edwardian bachelor.
Then there's Lindisfarne Priory, a hub of Christianity in the Anglo-Saxon period — and the site where the illuminated manuscript gospel book, the Lindisfarne Gospels, is thought to have been produced by a monk called Eadfrith, who was Bishop of Lindisfarne in the early 8th century.
Given how regularly the causeway linking Holy Island and the Northumberland coast is made inaccessible by the tide, it would be useful for you to rent accommodation sited on the mainland — but also close to Lindisfarne — for ease when visiting.
You can check the Holy Island crossing times over on the official website!
Where to stay?
For ease, book a room at the Lindisfarne Inn if these sites are on your list of places to visit in Northumberland, as this is the nearest mainland inn to Holy Island.
3. Check out the local beaches
Many of the most peaceful and family-friendly things to do in Northumberland can be done on a string of sandy beaches along the county's coast. That's because many of these northern beaches are largely devoid of crowds – even during more summery times of the year.
As the Northumberland Coast is also officially an Area of Outstanding Natural Beauty (AONB), you don't have to look too far for beautiful beaches here. Whether you want to build sandcastles with your kids or enjoy a romantic seaside stroll with a significant other, there's a beach here to suit.
Many of Northumberland's beaches are also close to castles, not to mention resplendent with fascinating wildlife. While on the subject of animals, there's also no shortage of Northumberland beaches that are dog-friendly all year around.
You could feel particularly drawn towards Bamburgh Beach — which, in 2022, was named one of the world's most beautiful beaches. Just the year before, the consumer watchdog Which? had hailed Bamburgh Beach as the best beach in the UK.
If you are particularly craving peace and solitude, one good choice would be Ross Back Sands Beach — which, though a mile's walk away from the nearest car park, rewards visitors with a stunning beach offering great views of Holy Island and Bamburgh Castle.
4. Sample the fresh seafood
Northumberland's abundance of old fishing villages makes the county an especially good source of seafood. This is served in large quantities at restaurants throughout these villages — with tuna, salmon, lobster and good old-fashioned fish and chips among the delicacies available.
Exactly what kind of seafood you can get your mouth around, though, will depend on exactly where you go. The seaside towns where you can see and eat seafood include Seahouses, Craster, Amble and — right next to the Scottish border — Berwick-upon-Tweed.
Meanwhile, examples of the seafood eateries you could check out include fish shacks, fish-and-chip shops and Michelin-star restaurants. Nonetheless, you could find plenty of seafood even just at the same place as your holiday accommodation in Northumberland.
Where to stay?
If you are a seafood aficionado, you could particularly benefit from staying in — for example — the above-mentioned Bamburgh Castle Inn or Lindisfarne Inn. Another option would be the Amble Inn, where you can tuck into just-landed local fish and shellfish dishes.
As a general rule, as long as you stay close to the Northumberland coast, you probably won't struggle to find a range of outlets offering delicious fresh seafood.
5. Alnwick Castle
Even if you have never visited Alnwick Castle before, you might quickly recognise it. That's because it has become famed as the magical school of Hogwarts in the Harry Potter movies and also appeared in the Kevin Costner-starring 1991 film Robin Hood: Prince of Thieves.
This 11th-century — and now Grade I listed — castle has been declared the 'Windsor of the North'. Today, Alnwick Castle is England's second-largest inhabited castle, as it remains home to the Duke and Duchess of Northumberland.
Their ancestors have lived at the castle since 1309. That's when the then-Bishop of Durham, Antony Bek, sold Alnwick Castle to Henry Percy, whose previous success in battle convinced Bek that this warrior could prove instrumental in the defence of the England-Scotland border.
Subsequently, the Percy lords of Alnwick undertook rebuilding work at the castle and, in 1376, were made Earls of Northumberland by King Richard II. Many centuries later, in 1766, King George III elevated the Percy family to Dukes.
Alnwick Castle has continued to preserve a close association with royalty, with Queen Elizabeth II making an official visit in 2011. The castle is also a popular tourist attraction — especially for its surrounding grounds landscaped by Lancelot "Capability" Brown.
6. Take a hike along Hadrian's Wall
Controversy exists over exactly why the Roman emperor Hadrian opted to build a defensive fortification running all the way from the east coast to the west coast of what is now northern England. In any case, though, the remains of this defensive line now make up a cultural icon.
What is today commonly dubbed 'Hadrian's Wall' spans an overall length of 73 miles, and appears to have been built primarily with the aim of hindering any attempts at entering the Roman Empire for destructive or plundering purposes.
As the wall both kept outsiders from entering the Roman province and prevented people inside it from leaving, Hadrian's Wall would also have played a valuable role in trading and the economy. In any case, the wall is an exciting place to visit in Northumberland if you are fascinated by Roman history.
You could even opt to follow remnants of the wall by foot when you embark on what is called the Hadrian's Wall Path. This long-distance footpath covers 84 miles and starts in Wallsend, just outside Newcastle, before finishing in the Cumbrian village of Bowness-on-Solway.
You don't necessarily have to walk the entire way, and you can take comfort that the path is clearly signposted. The overall itinerary is broken into six reasonable stages from east to west, with the first of these stages ending in the Northumberland village of Heddon-on-the-Wall.
This first section is 15 miles long — but you could extend your walk by a further 15.5 miles if you opt to journey onto Chollerford – a Northumberland village roughly four miles north of Hexham.
7. Explore the local ruins
If you are a history buff, you can rest assured that Northumberland is rich in physical traces of its own history — and it's an eventful history, too. Given the lingering presence of Hadrian's Wall, it shouldn't surprise that Roman history is especially well-represented.
This is evidenced by the site of Corbridge Roman Town — which, today, is maintained by the conservation charity English Heritage and was once a bustling hive of activity for Romans and civilians alike. This remained the case until the early 5th century.
That's when the Romans finally left Britain — but, at Corbridge Roman Town, you can still see Roman armour and trinkets and get a sense of what it would have been like to walk through the streets of this ancient settlement during Roman times.
Another English Heritage attraction well worth visiting on Hadrian's Wall is Chesters Roman Fort. Today, it is Britain's most complete Roman cavalry fort — and, as a result of paying a visit to it, you can have a look around baths and a steam room that has been well-preserved in much of their original Roman glory.
If your historical tastes are more medieval, you may prefer to drop by Warkworth Hermitage, which is great for a family day out. This chapel is integrated with a cliff-face on the River Coquet's north bank and was occupied by clergy from 1489 to 1536.
Where to stay? 
This hermitage also has the advantage of being close to Warkworth Castle, a ruined building offering spectacular river and coastal views. It is also within easy travelling distance of the Hog's Head Inn in nearby Alnwick, where we can give you a comfortable place to rest your head.
8. Try some of the local ales
Fancy a tipple? You easily could do at some point when holidaying in Northumberland, as the county is home to a wide range of breweries. Here are further details about those breweries and where you would be able to pick up the drinks they offer.
The award-winning Twice Brewed Brewing Co. is situated near Hadrian's Wall and within Northumberland National Park. By dropping by the brewery itself, you can see how beers here are brewed — and even taste some in a dedicated taproom.
Another notable brewery near the Roman wall is Muckle Brewing, which favours supplying its artisan, bottle-conditioned real ale to markets and retailers in Northumberland rather than stocking these products in an online shop of its own.
One especially old brewery in Northumberland is Alnwick Brewery, which started out in the 1860s. Perhaps unsurprisingly in light of its Victorian roots, this particular brewery specialises in traditional beer styles sold in bottles around the local area.
Of course, if you are an ale connoisseur, it would be convenient for you to book Northumberland accommodation close to a major metropolitan area like Newcastle upon Tyne, where there would hardly be a shortage of drinking establishments for you to peruse.
Where to stay?
So, a good option for this accommodation could be The Commissioners Quay Inn, which not only serves local hand-pulled ales in its Blyth pub but is also near enough to Newcastle to let you easily make room in your schedule for an occasional trip there.
9. Stroll around Berwick-upon-Tweed
In its lengthy history, the town of Berwick-upon-Tweed has often been fought over by both English and Scottish forces. As a result, it has often technically been part of Scotland but has remained English since Richard of Gloucester, the future King Richard III, recaptured it in 1482.
Today, Berwick has an array of fascinating architectural features, including the Georgian-era Berwick Town Hall and Berwick Barracks. However, the relatively small size of the town also makes it fairly easy to traverse by foot — especially if you know exactly where you are going.
A good starting point would be walking around Berwick's Elizabethan walls, which run for just over a mile and allow you to take in jaw-dropping views over Berwick. Wandering around these walls can take you just 45 minutes.
If you fancy a slightly more ambitious walk, though, you could embark on what has been referred to as The Lowry Trail. This is so-called as it enables you to readily see much of what the esteemed Manchester artist L.S. Lowry also saw on his frequent holidays in Berwick-upon-Tweed.
Lowry was known to be fond of Berwick, largely because of its proximity to the sea. On this trail, you can enjoy a good look at various sites depicted in Lowry paintings and drawings — and your total walking time on the trail should be approximately three hours.
10. Kielder Water & Forest Park
Befitting its name, the site of Kielder Water & Forest Park consists of two particularly noteworthy Northumberland attractions. One of those is the Kielder Water reservoir, which is the largest man-made lake in Northern Europe and owned by the water company Northumbrian Water.
The other major component of Kielder Water & Forest Park is Kielder Forest. Most of this forest — the largest forest in England — lies within the park, though Wark Forest, the southern tip of Kielder Forest, is located in Northumberland National Park.
If you love the great outdoors, a trip to Kielder Water & Forest Park can help you to embrace the open-air lifestyle even more. You can do that by walking or cycling through the sumptuous rural scenery or instead simply wandering around it to catch sight of enchanting wildlife.
Something else you can enjoy catching sight of is the unique collection of visual art and architecture on display at Kielder Water & Forest Park. Artworks can be found at various sites around the lake as well as amidst the woodland.
11. Stargazing at Northumberland International Dark Sky Park
If you are keen on astronomy, Northumberland International Dark Sky Park, located in the Kielder area, is a great place for you to indulge this passion. One reason why is that the star-studded skies above Kielder Water & Forest Park have a strong claim to be the darkest in England.
In December 2013, the International Dark Skies Association (IDA) granted Gold Tier Dark Sky Park status to Northumberland International Dark Sky Park, making it the first park in England — and one of the world's largest — to hold this particular accolade.
This status means that the night skies of the almost-580-square-metre dark sky zone of Northumberland International Dark Sky Park will be kept free of light pollution.
Astronomy enthusiasts can also rejoice in the programme of astronomical events held at Kielder Observatory, and so have especially good reason to eagerly anticipate having plenty of exciting things to do in Northumberland.
As the autumn and winter months are particularly promising times for stargazing, astronomers — amateur and professional alike — can plan accordingly. You could do so yourself by reserving a room where you would stay at one of our inns dotted around Northumberland.
12. Rock pooling at Rumbling Kern and Cresswell
If you are fascinated by marine life, you could easily rejoice in rock pooling. This traditional summertime seaside activity involves visiting rocky shorelines and searching, in small pools of water there, for a huge range of sea creatures.
Beneath the surface of the oceans are varied landscapes of cliffs, caves, dunes and plains populated by amazing wildlife. However, before getting to scrutinise any of this wildlife yourself, you may need to wait until the waves have subsided and the tide is low.
Certain coastal areas are much better than others as a backdrop for rock pooling. However, some of the 'good' areas can be horrendously tricky to find — with the rather obscure and hidden cove of Rumbling Kern being one good case in point.
Don't be surprised if your sat nav doesn't recognise Rumbling Kern. Though this beach is sited south of Craster and near Howick, you might find it best to follow these instructions for getting to Rumbling Kern and uncovering its secrets.
An alternative area for rock pooling is Cresswell Beach, a stunning stretch of unspoilt sand north of Newbiggin-by-the-Sea and south of Druridge Bay Country Park which, with its nature reserves, itself offers animal lovers a good number of enticing things to do in Northumberland.
Another good Northumberland place for spotting wildlife is the archipelago of the Farne Islands, which respected naturalist Sir David Attenborough has hailed as his favourite UK place to see nature at its best. You can travel to the islands by taking a boat trip from Seahouses.
Welcome To Northumberland
Exploring Northumberland? Choose the Inn Collection Group
We could still touch upon various other Northumberland attractions not covered earlier in this article. These include the former 19th-century coal mine of Woodhorn Museum, the clay pigeon shooting site of Bywell Shooting Ground and the medieval castle of Chillingham Castle.
Northumberland deserves acclaim for the sheer variety of its attractions. Just consider how bookworms can browse Europe's largest second-hand bookstore Barter Books, while more athletic types can partake in a range of Northumberland sporting activities.
However, wherever you go in this rural corner of England, you can trust that we will be running an inn, pub or restaurant not too far away — making it easier for you to rest and replenish during your Northumberland stay.
If you have any questions regarding Northumberland's many sites or would like to book your stay at The Inn Collection Group today, do get in touch. We'd love to hear from you!