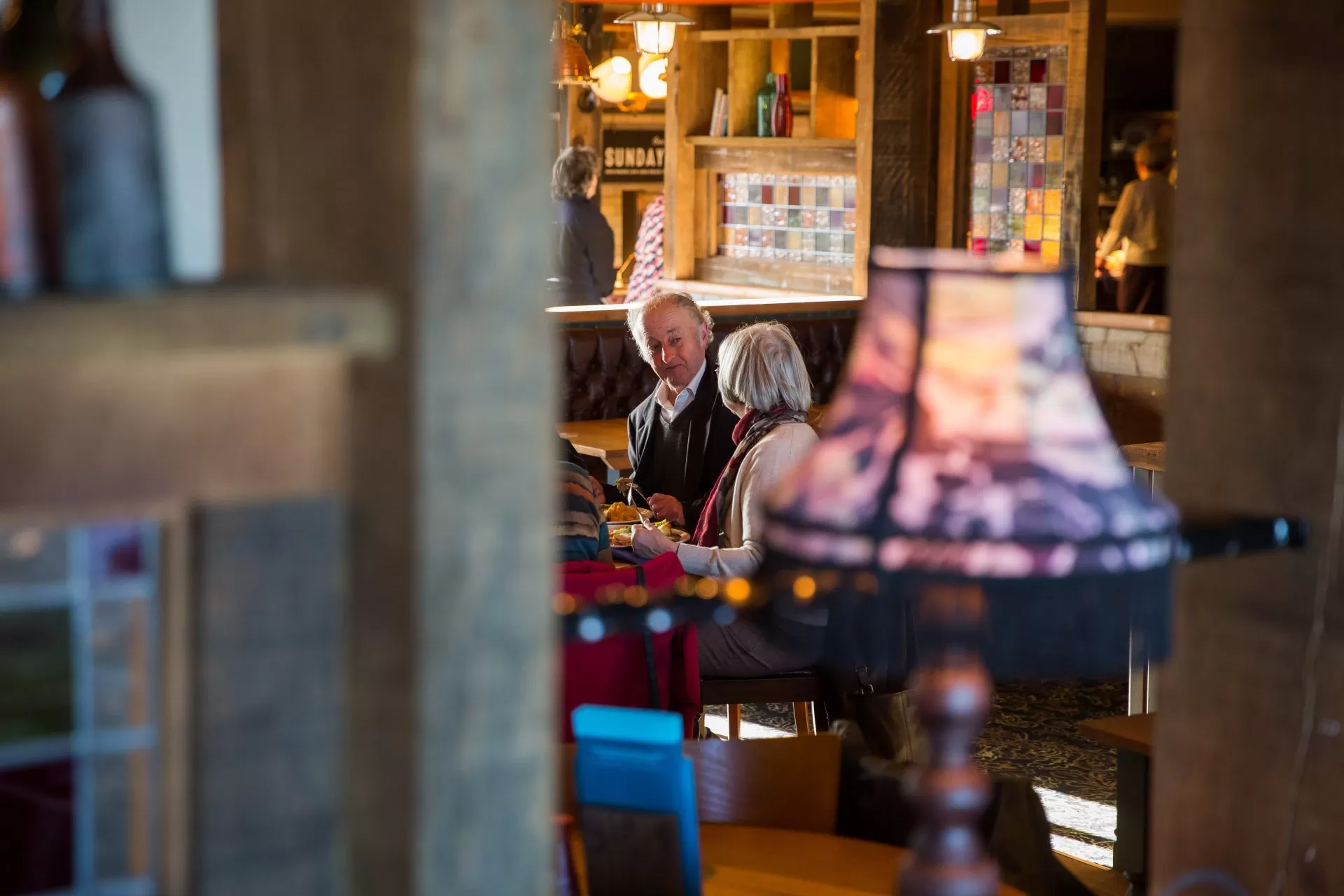 About Us
What makes the perfect pub? Great ales, good food, an inviting atmosphere and the warmest of welcomes.
Our story
At The Inn Collection Group, we proudly stay true to our pub roots, creating inns where everyone would like to eat, drink, sleep, and explore from. Our customers are at the heart of everything we do, along with investments and training in our staff, our environments, and the communities around our inns while making sure we are the best we can be.
Our people are the key to the success of the group. These are exciting times for The Inn Collection Group as we evolve and grow. Our team provides us with proven expertise and stability while delivering outstanding customer service and experience.
Sean Donkin, managing director of The Inn Collection Group
Sean Donkin — Managing Director
With more than 19 years in the hospitality sector, Sean has an outstanding track record. As well as maintaining the high-quality service and facilities that mark out The Inn Collection Group, Sean's focus is leading the growth and expansion of the company, both within and further afield from its North East heartland.
He is also responsible for the ongoing operations and investment of the group's units via the Board. Sean joined the business as general manager of the group's top-performing unit, The Bamburgh Castle Inn in Seahouses in 2008.
A former swimmer, sporting enthusiast Sean enjoys rugby and shooting.
Paul Edwards
CFO
Paul joined the group from local bus operator Go North East where he led the finance function, focussed on business partnering with operational, commercial and engineering teams to influence decision making, drive contract wins, review fare strategy, challenge process efficiency and deliver underlying profitability.
Outside of work he is an active member of his local community, is a keen cyclist, competes in the occasional half marathon and spends a lot of time with his wife Helen walking their two dogs.
Kate Bentley
Rooms Director
Kate started her career in creative Marketing Agencies before moving into the world of hospitality revenue management. She co-founded a Revenue Management Consultancy 12 years ago and worked with hotels and inns nationwide to yield manage their rooms and drive profitability .After 2 years working with us on a consultancy basis, she finally came on board full time to head up Marketing, Reservations and Revenue.
Spreadsheets aside she enjoys time spent with family, friends and her dog. She occasionally breaks into a run but says her marathon days are behind her.
Louise Stewart
Property Director
Louise joins the team with experience and knowledge in abundance, having worked for over 20 years in the commercial property industry, as well as being a Chartered Building Surveyor with a Masters in Construction Project Management.
Louise has vast experience in project managing multi-million-pound refurbishments of commercial property and new-build developments, as well as pre-acquisition surveys and feasibility studies.
Outside of work she enjoys spending time with her family tackling various walks in the Lake District.
Liz Robertson
People Director
Liz joins us with a wealth of experience, starting her HR career in hospitality working for the De Vere group before moving to Fenwick Ltd, where she spent 14 years working in various different roles including Head of HR and Training for Fenwick Newcastle, eventually heading up the centralisation of a HR function for the entire Fenwick group.
Liz has two boys and a dog called Rufus, so weekends involve being out and about, mainly at the beach or up a hill somewhere. When she can squeeze in some exercise she will go for a swim or a run but she loves nothing more than cosying up on the sofa with her family, a good movie and a glass of Malbec!
Charlotte Turner
Office Manager & PA to MD
Charlotte joined the group in 2008 as part of the award-winning Bamburgh Castle Inn's front of house team. Her diverse sets of skills were soon spotted and she went on to be assistant manager at Bamburgh Castle Inn and The Hog's Head Inn. Combining a positive, proactive attitude with friendly, professional service, Charlotte oversees the day-to-day smooth running of the office. As well as being the first point of contact for the Group, Charlotte is PA to Sean Donkin.
Charlotte loves spending quality time with her family, taking the dogs for walks along the beach together, and indulging in a couple of the group's legendary Gin Serves.
Gary Turner
Commercial Manager
Result orientated, Gary has an enviable understanding of the leisure and tourism industry born out of 17 years' experience working in the sector. He joined The Inn Collection Group in 2013 as general manager of the group's 53-bedroom The Hog's Head Inn. Driven by delivering on customer expectations, Gary excels in building strong, cross-functional teams and helping develop their skills, encouragement, and support to be productive and reach their goals.
A talented amateur photographer, Gary enjoys spending time with his family, walking their dogs on the beach and can frequently be in search of 'the one that got away' out fishing.
Chris Sheldon
Financial Controller
Playing an integral role in the Group's growth and development, Chris is responsible for the day-to-day operations and management of the Finance Department.
A certified accountant for over 15 years, he has worked in multiple national and international business sectors, from fast-moving consumer goods businesses to mass participation events, including Nova International (the company behind The Great North Run).
When he's not crunching numbers, Chris enjoys cycling, open water swimming, and even entering the occasional triathlon. A self-confessed car enthusiast, Chris has swapped his sports wheels for a family estate to ferry his twins around.
Paul Brown
Operations Manager
Paul started his career in the leisure sector with Shearings Holidays before joining J D Wetherspoon plc in Scotland. He went on to head up F&B outlets across Tyne and Wear before joining The Inn Collection Group as general manager of The King's Head Inn in 2014. Paul firmly believes in developing and nurturing people to support their own personal development and performance with training and mentoring.
Outside the office, family man Paul enjoys spending time with his wife and daughters and walking the family dog, Buster. He's a keen sports enthusiast watching football and rugby and enjoying a well-earned pint in one of the Group's inns.
Chris Moor
Operations Manager
More than 20 years' experience covering every position on the trade ladder, from cellar management and front of house to general manager, has paved the way for Chris's enviable breadth of knowledge in the sector. Chris's portfolio includes management titles at 42nd Street Bars, Greene King, Sir John Fitzgerald, and advancing through The Inn Collection Group tiers. A keen walker and outdoors enthusiast, putting his best foot forward led Chris to formulate the Group's ever-popular Walk Inn package breaks.
A family man, Chris likes spending time with his wife and three children and adventuring outdoors to make memories.
Zoe Cooper
Marketing Manager
Zoe brings with her a wealth of experience and knowledge of marketing within the hospitality industry, previously working for a digital marketing agency, focussing in hospitality. With a Master's in Public Relations and a passion for driving sales through innovative, original marketing ideas, Zoe will play a key role in The Inn Collection Group's aims of systematic growth.
Away from the office, Zoe is a keen netballer, enjoys taking her Cocker Spaniel Dexter on long walks and making her way slightly south to watch her favourite football team, Leeds United.
Cath Bellhouse
Recruitment Manager
Cath first joined the group back when we had 6 inns to open our seventh site - the Commissioner's Quay in Blyth. Prior to that Cath had worked for chained restaurant brands such as Pizza Express and Bella Italia, International hotel groups such as Hilton and Millennium and Copthorne as well as independent businesses.
Realising that recruiting top hospitality talent was something she loved, Cath recently took a sideways step from operational roles to a recruitment role, returning to the group in early 2021 as Recruitment Manager, taking on the task of keeping our rapidly growing portfolio fully staffed with top-notch team members.
Chris Taylor
Compliance Manager
Joining the group at The Lindisfarne Inn as a chef in 2007, Chris has been a part of The Inn Collection Group since it began and has worked his way up the company to now be heading up the Compliance department. With 20 years in the hospitality industry, Chris has a firm knowledge and understanding of how everything works and the key to success.
In his spare time, Chris enjoys dining out and trying exciting new foods, as well as spending quality time with his family exploring Northumberland.
Hannah Walpole
Senior Group Stocktaker
Taking stock of The Inn Collection Group's wet and dry bar products is Senior Group Stocktaker Hannah. Hannah's roots with the group go back to its formation 13 years ago when she first started completing stock checks for the company with CRA. Armed with in-depth product knowledge and a bulging black book of trade experience from 18 years working in hospitality venues such as Newcastle United FC, Café 21 and Bar Luga, analyst queen Hannah has worked directly for The Inn Collection Group since 2019.
Hannah loves nothing better than researching drinks on city and ski breaks with her husband and long walks with their dog, Boston Terrier Frank.
Daniel Patterson
Reservations Manager
Daniel joined the group in 2012 at The Lindisfarne Inn and has never looked back. Working his way up the ranks at numerous sites, Daniel became integral in the training and development of teams, before joining Central Reservations in 2020. Daniel now manages a team of 9 who work tirelessly going above and beyond to ensure all our guests' needs are met.
In his spare time, Daniel enjoys exploring the beautiful spots in Northumberland, as well as heading out into the North Sea for a spot of paddleboarding.