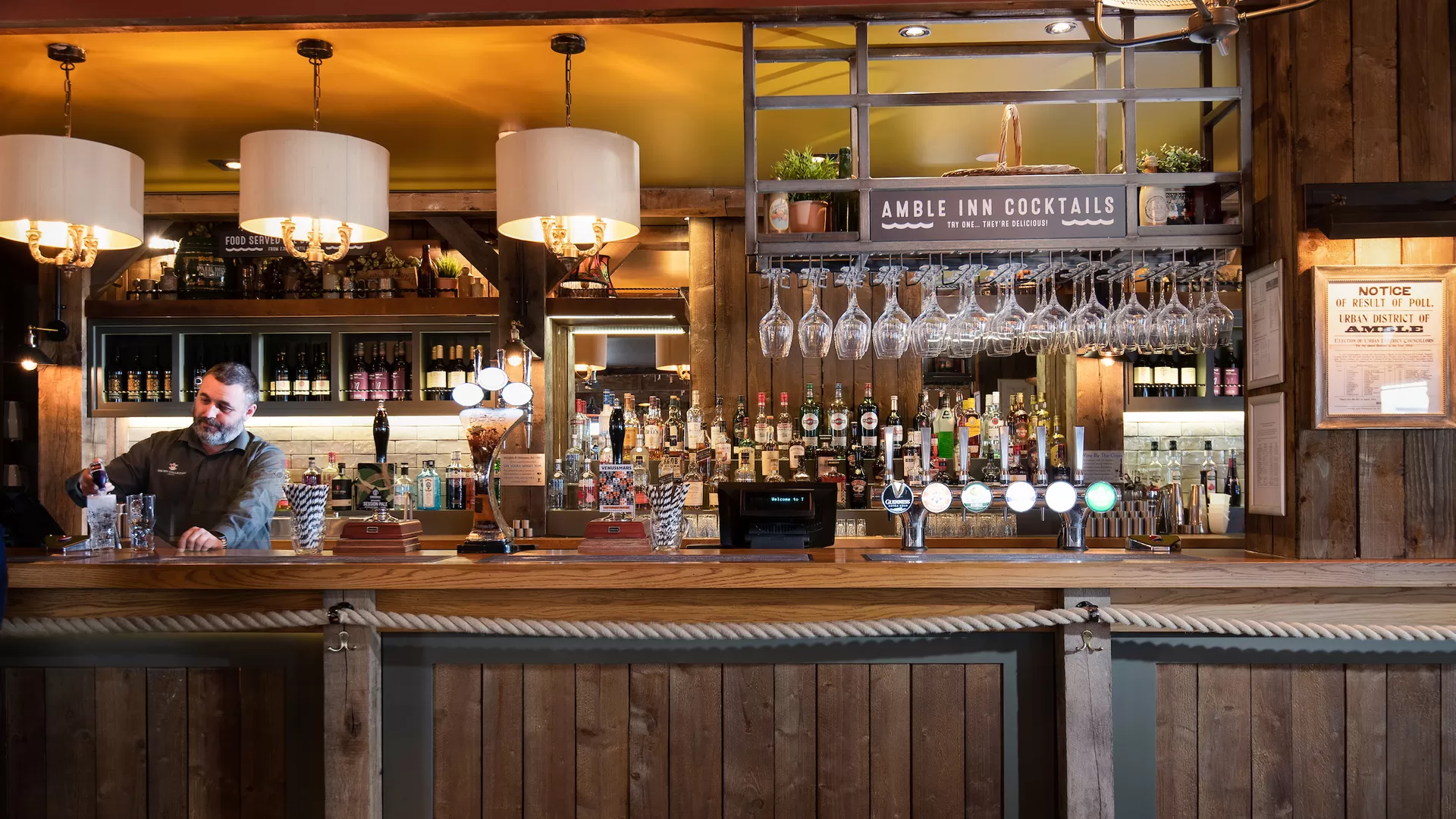 The Amble Inn Pub
Settle down on a quirky armchair by our real log fire or gather around the table and enjoy a drink or few in Northumberland's newest pub.
As well as cosy corners for two, we've plenty of step-free space inside and out. Perfect if you're coming with children, you're a wheelchair user, or bringing the dog. A passion for excellent cellar management paired with knowledgeable, friendly staff makes for a perfect pint of the North East's finest. Lift a glass of local real ale from the guest hand pulls, quench your thirst with refreshing lagers and scrumptious ciders or shake things up with a cocktail or delicious gin serve.
We've brewed a recipe for success
We have great wines aplenty from around the globe. Sold by the glass or bottle, we've wines to pair with every dish, taste and budget.
Fancy a brew? Try our fabulously different Ringtons speciality loose-leaf teas or a freshly ground coffee from our Barista selection.
> View menu
If there's one thing that the UK is great at, it's pubs. Heading to the pub to unwind with your mates or your loved ones is a tradition as old as time and it's lasted this long for good reason: it's great fun and a fantastic way to make a few memories too! Here at The Inn Collection Group, we've got a passion for pubs that's simply unrivalled – we think they're a place made for socialising, relaxing, and simply enjoying your time, which is why we've tried to maintain that classic 'pub' atmosphere at all of our locations across the country. Weekend breaks with The Inn Collection Group aren't like those with big hotel chains or contemporary B&Bs; instead, we focus on creating an atmosphere that feels comfortable, homely, and distinctly local, which maintains the rich heritage of our locations and gives our guests a real feel for the regions that they visit.
restaurant-pub-drinks-food
Delicious food + a nice cool drink = the perfect combination
Every pub needs some delicious food you can sink your teeth into. The Amble Inn is no different. Based in the seaside town of Amble, you can expect delights such as fish and chips to accompany a nice cold drink after a long day on the beach.
Worried about dietary needs? Have no fear. Our expert staff are on hand to answer any questions you have. From vegan wines to gluten-free drinks, and soft drinks to a comforting cup of tea, there is a wide drinks selection to choose from at The Amble Inn.
The Amble Inn is one of our most beautiful locations, situated in the postcard picture town of Amble in Northumberland. From its quaint beachfront to the historic buildings and cobblestone streets, Amble is the ideal escape from the city and has become a popular destination for weekend breaks. When you're staying at The Amble Inn, there are three things that you can count on:
Great rooms
Exquisite beer
Proper pub food
What more could you ask for?
If you want to learn more about our pub or rooms here at The Amble Inn, you're in luck! You can read on below to find all the information you might need before making the trip to see us, or alternatively, you can head over to our handy bookings page to secure your room at the best rates.
Special offers – 20% off on food and drink!
Is there anyone who doesn't love a bargain? Why not take advantage of the many special offers at The Inn Collection where you can enjoy the selection of beers we have available, regardless of your budget.
The Amble Inn offers 20% off all food and drinks to the beloved members of the NHS. If you are a member of the emergency services and are a Blue Light Card holder, simply show your card when you are ready to pay and receive 20% off food and drink during your stay at The Amble Inn. With our wide variety of seasonal dishes, from our delicious menu and selection of local ales, you will be spoilt for choice on what to eat and drink during your trip.
Creating the perfect home away from home courtesy of The Amble Inn? Take advantage of our Walk-Inn break offer, two night breaks with loads of additional extras thrown in!
Throughout the year, we update our special offers so keep up to date and view our latest ones here.
Excellent pubs with comfortable accommodation
In essence, this is exactly what we're about here at The Inn Collection Group – serving fantastic beers and ales, whilst providing comfortable and convenient accommodation in some of the UK's most beautiful places. In that regard, The Amble Inn is one of our most prized locations; it's the perfect combination of charm, sophistication, and tradition, and the local beers on offer are second to none too! The pub at The Amble Inn is much like you'd expect from a traditional British pub: there are cosy corners for intriguing conversations, larger tables for bigger groups to enjoy a few laughs, giggles, and pints, and there are even a few premium spirits and speciality cocktails on the menu too for those that are feeling a little more adventurous! Of course, the focal point at our pubs is the ale, which we take great pride in serving to the people of Amble on a daily basis. Our taps are regularly frequented by beers from local breweries and beerhouses, and the knowledge of our staff when it comes to pulling and pairing those gorgeous pints is unrivalled, so if you fancy trying something new on your visit, we'd highly recommend having a chat with our incredibly friendly and experienced bar staff team.
The Amble Inn is one of our many Cask Marque accredited pubs, meaning we are certified and renowned for the quality of the beer that we serve, ticking all of the boxes in terms of temperature, aroma, aesthetic and, most importantly, taste. You probably don't need us to tell you, but there are a million miles of differences between a good pint of ale and a poor-quality pint, but with our top-tier bar staff and rigorous standards, that's not something you'll have to worry about when you take your seat at The Amble Inn.
Dog friendly room at The Ambleside Inn
Dogs allowed - No one gets left behind
For just £10 extra a night, why not make sure the entire family can enjoy the picturesque village of Amble and stay in one of our dog-friendly rooms. The Amble Inn pub is dog friendly too, so you don't need to leave them in the room while you enjoy a quiet drink with the rest of the troops.
Say goodbye to the hassle of having to find a dog sitter!
Find out more
Booking a stay with The Inn Collection Group
If you're ready to organise your trip to Northumberland and the wonderful town of Amble, all that's left is to book your room at The Amble Inn and we'll arrange the rest for your arrival! For smaller parties, our double and twin rooms are a great choice, striking the perfect balance between ample space and affordability, or if you're travelling with larger groups or children, our rooms with sofabeds will be the best option. For those with extra accessibility needs, we have a specially designed suite of accessible rooms purpose-built to make life easier and more enjoyable. You can book our accessible accommodation here on our website, or you can contact a member of our team to discuss any specific requests or requirements that we may be able to assist you with during your stay.
If you're a dog-owner with a well-behaved pet, you'll be able to bring your dog along for your stay too. There's a £10 fee per pet, but it's all worth it once you see their smiling faces and wagging tails running along the Northumberland coastline, free from the restraints that city life can have on an active dog's lifestyle. To arrange to stay in our dog-friendly rooms, give us a call and we'll let you know our availability!
The Inn Collection Group is proud to present traditional inns, pubs, rooms, and restaurants across the UK, with a number of fantastic locations to choose from when booking your next domestic trip. You can learn more about our other pubs with rooms by clicking on the links to their dedicated pages below:
Plan your visit to Amble
From spending a morning exploring the Druridge Bay Country Park to an afternoon shopping at the Amble Harbour, there is something for everyone visiting the Northumberland coastal town of Amble.
Soak up the spectacular sea views and plan your visit to Amble and Northumberland today.