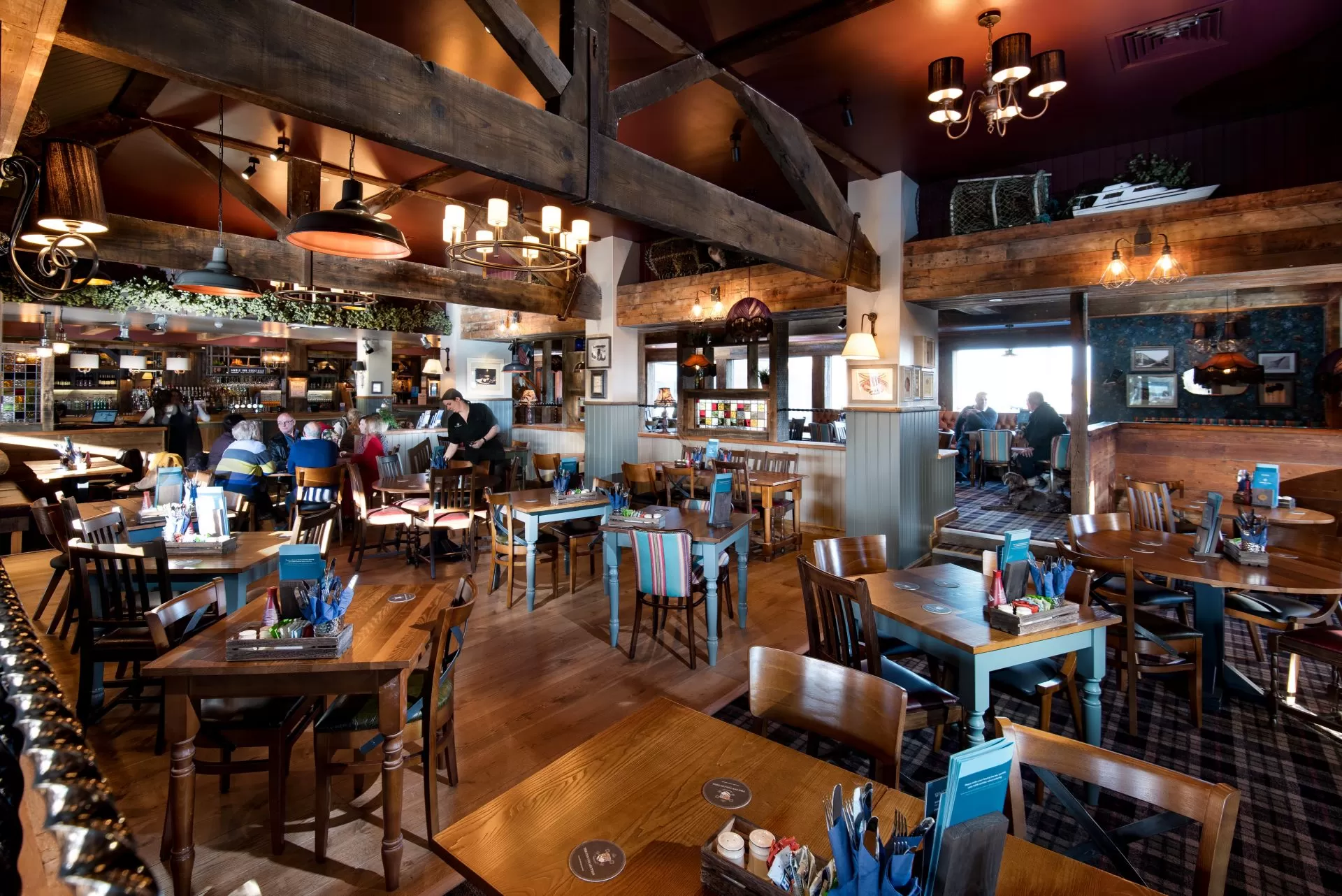 Food at The Amble Inn
Our delicious homemade food is freshly cooked to order and served all day, every day from 7.30am until 9.00pm.
Our Menus
Whether for a hearty breakfast to set you up for the day ahead, a quick snack to keep you going, or an evening meal to enjoy, The Amble Inn is the place to come.
As you'd expect from a seaside restaurant in Northumberland, we've cast out the net when it comes to delicious seafood, with plenty of just-landed, local fish and shellfish dishes. Don't feel like cooking Sunday Lunch? Our superb Sunday Carvery is not to be missed. There are generous helpings of hand-cut beef, pork or turkey with crispy roast potatoes, towering Yorkshire puddings and all the trimmings.
We all love a weekend getaway to the seaside – it's a staple British holiday, and it's the best way to get away for a couple of days without having to deal with long periods of travelling, expensive costs, and a whole lot of hassle. With a weekend break to the seaside, you simply need to book your room, pack your bags, and jump in the car – it really is that simple! Here at The Inn Collection Group, we're passionate about traditional weekend getaways, and we believe that the best way to get the full experience is with a classic inn – the ideal combination of pub, restaurant, and room! Each of our fantastic locations follows this layout, and we think that our guests absolutely love it – there's somewhere to eat good food, there's a pub on hand for a couple of drinks, and there's a comfortable place to rest your head.
If you'd like to learn a little bit more about our Amble location, the aptly named The Amble Inn, just keep on reading below – you'll be able to find details relating to the pub, restaurant, and rooms, including what you can expect to find on our expertly crafted menus too! To book a room with us at The Amble Inn, simply head over to our online booking page where you'll be able to enter your desired dates, check room availability, and book your room in just a matter of minutes.
Allergy Advice
Allergen advice is available for all our main menu meals, click the link below or contact us for more information. Ask our team when you visit about allergens for our daily specials.
Click here
What's on the menu at our pub and restaurant?
At The Amble Inn, proper pub food is one of our top priorities, but we know that it isn't for everyone, so we've ensured that our menu covers all the bases and offers something for everyone, including vegetarian and vegan options! Here's a rundown of our different menus and what you can expect to find on your visit to the inn:
Seasonal
Our first menu is our seasonal menu – this is our main menu and is available every day of the week, providing delicious fresh meals of all shapes, sizes, and cuisines to cater to every person's tastes and preferences. Our seasonal menu is crafted by our expert restaurant teams and looks to incorporate as many seasonal vegetables and meats as possible, whilst also featuring lots of local delicacies and the region's most popular dishes. On our seasonal menu, you can expect to find hearty, warming dishes in the winter, fresh, lighter dishes in the summer, and a number of fresh vegetable and fish dishes using produce from local farmers and fishermen.
Sunday Roast
Everybody loves a Sunday roast – it's probably the nation's favourite dish and we couldn't imagine life without it, it really is that good. Of course, it can be tough to find a good Sunday roast when you're not at your own home, but we think we've found the perfect solution. Every Sunday our kitchen team puts on a stunning roast dinner option, with the option of roast beef, roast turkey, or roast pork, complete with all of the trimmings including homemade Yorkshire puddings. With food this good, why would you ever want to make your own roast dinner ever again?
Children's dishes
Feeding the kids whilst you're away on holiday can often be something of a pain point for many parents – lots of kids tend to be a little bit fussier with the foods they'll eat and large adult portions are usually way too much food for them, leaving them over faced with lots of food going to waste. To help solve this issue, we've put together a fantastic selection of children's menu items, designed with the help of parents themselves, helping us to ensure that these dishes don't just sound good to us, they sound good to parents and their children too! Kids eating at The Amble Inn will be able to choose from a range of different items, each of which is tasty, nutritional and balanced, giving your little ones the fuel they need to grow and enjoy themselves in equal measures.
These food options have been chosen by parents because they're simple, familiar, and incredibly tasty, making mealtimes with the kids something that you'll be able to savour rather than something that'll fill you with dread.
If you'd like to check out some of our other UK locations, you can head over to our dedicated regions pages, where we've broken down our inn collection into area-specific sections to help you plan your trip with greater ease – our most popular regions are:
Dog friendly room at The Ambleside Inn
Get all the family involved - Dogs included! 
We understand the frustration of sometimes needing to leave your furry friends behind while you are soaking in the stunning views of a town like Amble. This is why, not just at The Amble Inn but across all the inns within the Inn Collection Group, at just £10 extra a night,  you can request a dog-friendly room for the duration of your stay, so you can bring them with you to enjoy your trip. You won't have to worry about feeding them as they can sit with you while you enjoy the tasty food from the delicious menus at The Amble Inn restaurant. 
As a harbour town, there are many spectacular sea views you can explore, perfect for an afternoon walking the dog, before heading back to some homemade food.
Find Out More
Special deals – Grab 20% off today!
There are a number of special offers available across the Inn Collection Group's inns, and The Amble Inn is no exception. A member of the NHS? You can enjoy 20% off some of our delicious food (including our seafood dishes) and a magnificent range of drinks.
If you are planning a stay, be it a couple of days or a week – soak up the welcoming atmosphere and use our Walk-Inn break offer where you will have the chance to sample a complimentary drink when you arrive along with a walking pack and other added extras.
As a thank you to the emergency services, we also have 20% across our fabulous restaurants and pubs, so you can enjoy some money off your drink and food after a day exploring the delights of Bamburgh Castle.
Why not use the special offers to fuel up for an afternoon at Amble Harbour where you will find one-off shops filled with vintage trinkets and one-of-a-kind delights you can take home with you.
Discover more at the Inn Collection Group today!
Based in the wonderful coastal town of Amble, The Amble Inn is the go-to place to enjoy a delicious meal. With a delicious selection of traditional British food and a cosy atmosphere, it is truly a home away from home. Whether you are travelling solo or looking for a bite to eat with the family, there is something for everyone. There is no need to make a reservation – just turn up and make your wonderful trip even better.
Travelling across the country? In addition to the other inns we have across Northumberland, we also have restaurants and inns in North Yorkshire, the Lake District, County Durham and Tyne and Wear.