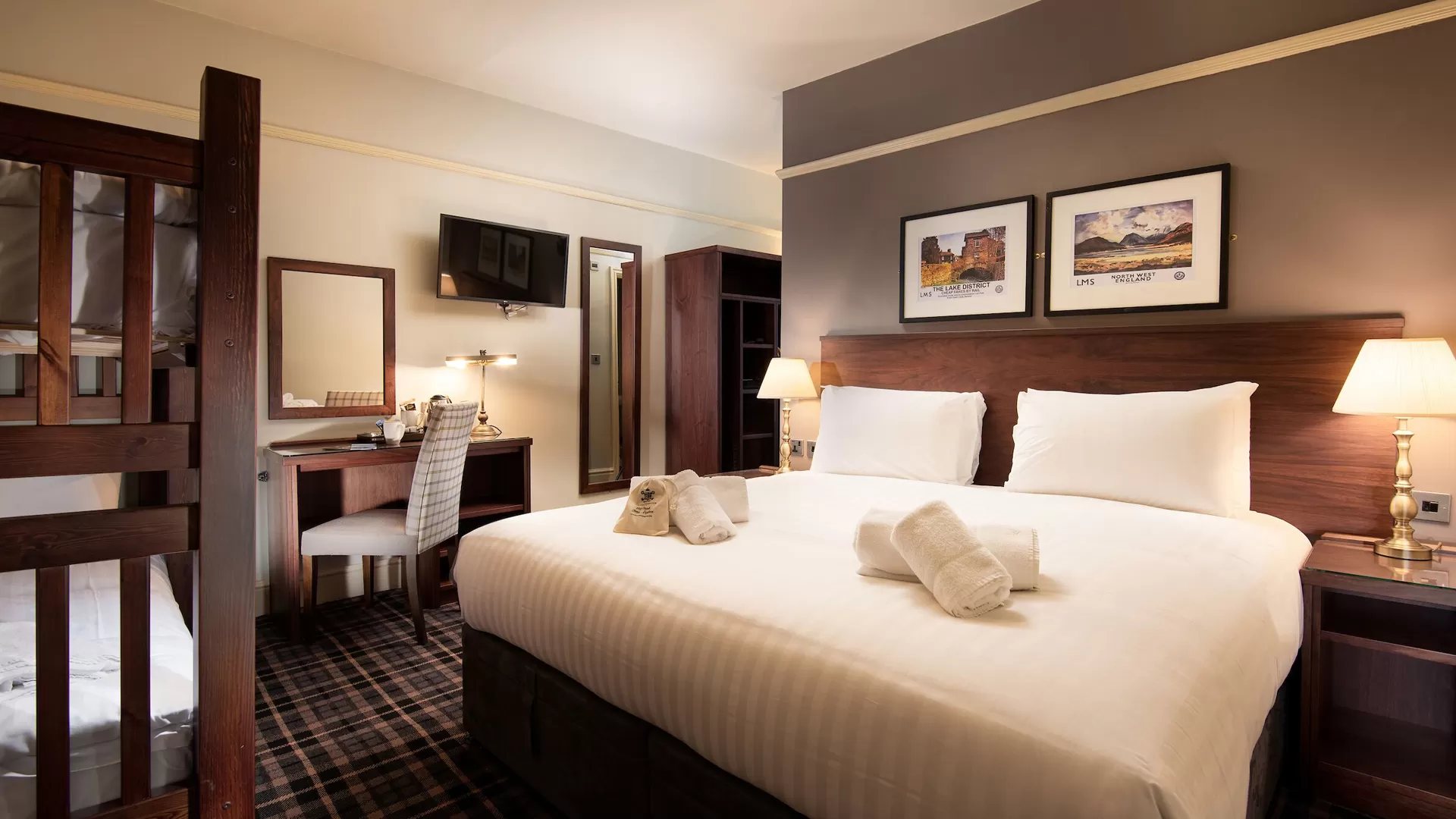 Ambleside Inn Accommodation
Rooms at The Ambleside Inn
For central Ambleside accommodation, in the heart of the stunning lakeside town, book a stay at The Ambleside Inn. With Lake Windermere, Grasmere, Keswick nearby, the Ambleside Inn is surrounded by incredible fell views, and beautiful walking routes. Our accommodation in Ambleside is there perfect place to spend a Lakes break away.
The Lake District is one of the most popular UK holiday destinations thanks to its picturesque settings, an abundance of activities, and showstopping views and nature – it really is the perfect way to escape city life, even if it is just for the weekend. When you're staying in the lakes, you want it to feel authentic; huge chain hotels can feel lifeless and cold, but our fantastic rooms here at The Ambleside Inn are filled with character and warmth, adding to the overall experience of your weekend breaks in the UK. The Inn Collection Group is a wonderful collection of pubs, rooms, and restaurants spanning across the north of England, specialising in great beer, proper food, and comfortable rooms in equal quantities to ensure that you've got everything you could ever wish for in one cosy location.
Settle down for a comfortable night's sleep in one of The Ambleside Inn's 30 newly refurbished en-suite bedrooms with superior rooms boasting outstanding views of the fells.
The perfect alternative to hotel accommodation in the Lake District and with more services than self-catering, the beautifully renovated The Ambleside Inn is a relaxing place to stay to visit the magnificent Lake District.
Please note: A non-smoking policy operates in all of our bedrooms, bar and dining area. Designated outdoor smoking areas are available.
Guest check in is from 3pm until 11pm and check out is from 7.30am until 10.30am.
Click here to view our booking terms and conditions.
While we are committed to being as accessible as possible for our guests, the nature of our building means that we do not have a customer lift and rooms are accessed by stairs only. For fully accessible bedrooms in the Lake District browse our sister inn The Coniston Inn.
All rooms have a plastic tray for muddy boots, while we will always do our best to help dry soggy clothes and store equipment.
For parties looking for excellent value bed and breakfast accommodation in the Lake District for corporate or tourism groups, The Ambleside Inn will be the perfect venue. Please contact us to discuss your group travel requirements.
Parking is available in Ambleside's public car parks which are located nearby.
If you're looking for welcoming rooms and cosy pubs in Ambleside, the Lake District, choose The Ambleside Inn. Book your stay with us now.
A complimentary full English breakfast is included in room rates (unless specified when booking).
Dog-friendly rooms are available, subject to a pet supplement of £10 per dog, per night.
Please note, images showcase room types as accurately as possible, however rooms do slightly vary. Contact our central reservations team on  0191 580 3610 for more information. 
Choose from king size double, twin, family and single room options, with designated dog friendly rooms also available.
In your room:
Freeview television with radio channels
Free WiFi
Tea and coffee making facilities
Iron and ironing board
Hairdryer
Safe
Things to do in Ambleside
If you're someone who likes to take part in lots of fun activities whilst you're away, you're going to love the Lake District; there are lots of things to do, ranging from exhilarating hikes and adventurous boat trips across the lakes to brilliant restaurants and traditional pubs that'll have you feeling right at home from the moment you step through their doors. If you're struggling to plan the ideal break to the lakes, don't worry – you can find our best things to do in Ambleside just below, so be sure to check those out to ensure that you're not missing out on the best attractions and experiences in the region!
Visit the Bridge House
One of the most popular attractions for tourists in the Lake District is the Bridge House, which sits in an eye-catching location above Stock Beck, just off of Rydal Road. The building has become a landmark since its construction due to its unique structure and strange location, sitting suspended above the water on a purpose-built bridge. The Bridge House dates all the way back to the 17th century and has had a variety of different inhabitants over the years; the building was originally an orchard storehouse, but since then has seen its purpose change from a chair maker's workshop, a cobbler's shop, a tearoom, and even a family home that once housed 8 people! Once you visit the Bridge House and see just how small the interior is, you're sure to be left wondering how on Earth  8 people managed to fit into the building at one time!
Due to the special place that the Bridge House has in Lake District folklore, the building is now owned by the National Trust after it was bought and donated by a group of local Ambleside residents.
Take a steamer boat trip on Windermere
When you're in the Lake District, there's one thing that you simply have to experience; a trip out onto one of the lakes! Luckily, it's really easy to find an operator offering trips across the water, with boats ranging from speedy smaller boats to the iconic steamers with their large chimney and traditional appearance. With a boat cruise across the water, you're able to see the lakes from a completely unseen perspective that's unlike anything you can find on solid ground. If you're staying in Ambleside, Windermere is your closest lake – this is great as it's the largest lake and has the most regular attraction schedule in the district. Whilst sailing across the water, you'll be able to catch views of the surrounding fells, Belle Isle, and the lakeside house surrounding the lake, without even having to get up out of your seat! To find the schedule for launches on Windermere, you can head to Ambleside Pier in Waterhead – in the summer, this timetable is a little busier to handle the increased demand.
Scale the peaks at Loughrigg Fell
Provided the weather is on your side, walks in the Lake District can transport you to a completely new world, filled with fresh air, natural scenery, and truly stunning views. One of Ambleside's most popular walks is the hiking trail leading to the peak of Loughrigg Fell, which is the highest fell in Ambleside, standing at 335 metres. Unlike many of the other towns in the Lakes, Ambleside is not surrounded by a high number of peaks – the town sits in a depression known as Red Bank, which gives Loughrigg Fell a much more dominating appearance in this area of the skyline. With no other peaks hindering the views around Ambleside and Windermere, Loughrigg Fell offers wonderful panoramic views of the UK's largest lake – it's ideal for a photo opportunity if you've got the right skills!
Stay with us at The Ambleside Inn
If you're looking for comfortable accommodation in Ambleside, you've got to check out our rooms here at The Ambleside Inn – we've got rooms in a range of different sizes to cater to your party size, as well as your pets in our dog-friendly rooms! When you're staying at the inn, there are a couple of things that are guaranteed – fantastic beer including guest tap takeovers from local breweries, tasty, locally sourced food, and a welcoming atmosphere that'll have you desperate for another trip in the near future. For more information about our pub and restaurant here at The Ambleside Inn, check out their dedicated pages or get in touch with a member of The Inn Collection Group team to discuss any of your requirements or queries.