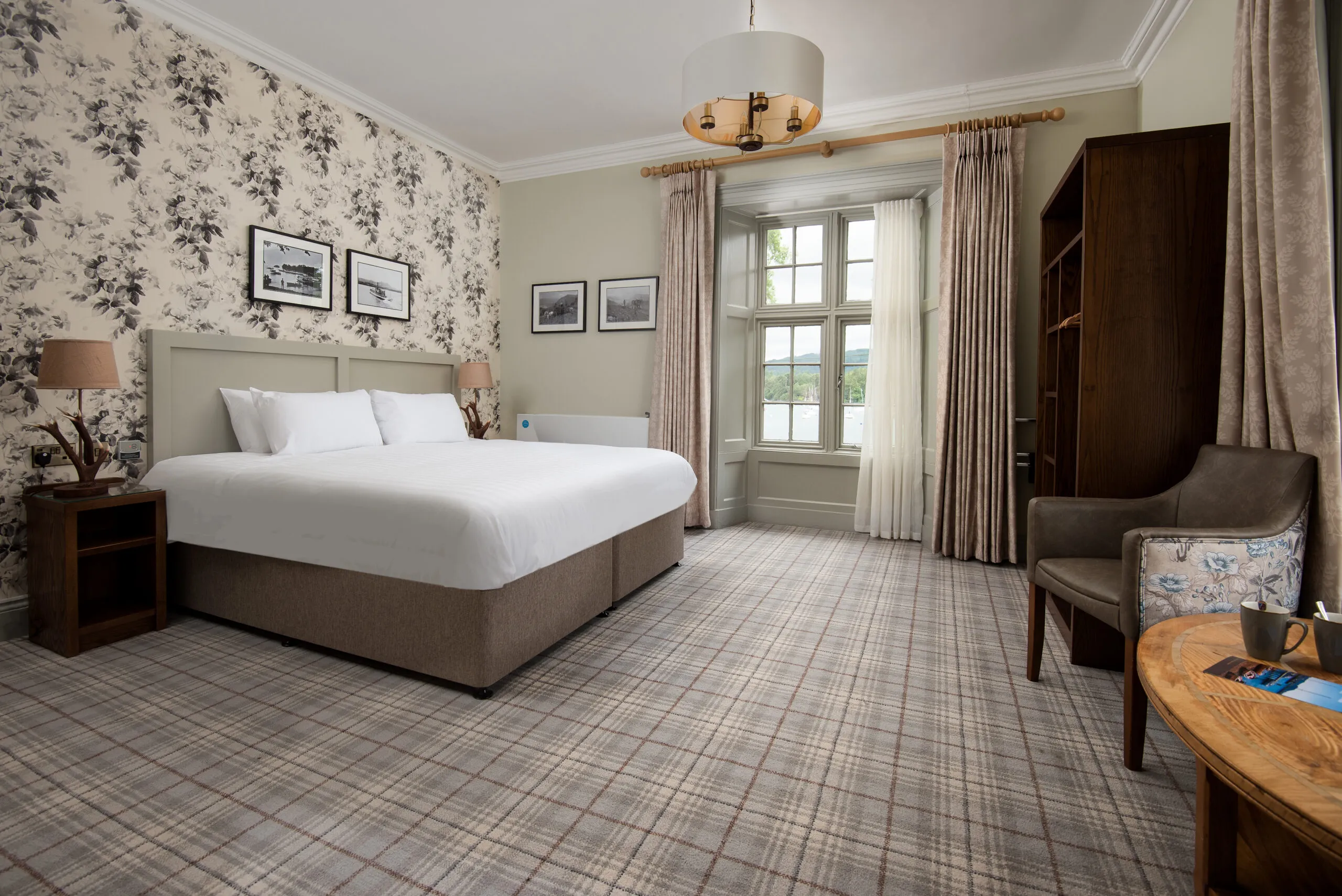 Ambleside Accommodation
Rooms at The Waterhead Inn
The Waterhead Inn is the perfect place to return to after a long day's walking or exploring.
The Inn Collection Group aims to combine real beer, great food, and comfortable rooms within each of its venues across the north of England, which is why we put such a focus on combining all three at our establishments. Our experience suggests that the best way to relax and unwind is to stay at a convenient inn where you can eat, drink, and sleep without having to travel to and from different places; everything you need is in one convenient location, so travelling is minimised and your enjoyment is maximised. This popular country inn sits just off of Windermere, the UK's largest lake, which makes for the ideal place to soak in some natural scenery and relax, unwind, and forget about your busy life back in the city for the weekend.
The Waterhead Inn is the perfect place to return to after a long day's walking or exploring. Visitors staying in superior rooms can look out over stunning views of England's largest lake, Windermere.
This inn offers rooms at The Waterhead Inn, as well as at the Lake House which is located just across the road from The Waterhead Inn in a magnificent building overlooking Windermere. Guests will still enjoy all the amenities of The Waterhead Inn when staying with us.
With its unrivalled location alongside Windermere Lake, must-visit gems including Grasmere, Keswick, Ullswater and Hawkshead are within easy reach making The Waterhead Inn just the place for a Lake District getaway.
Please note: A non-smoking policy operates in all of our bedrooms, bar and dining area. Designated outdoor smoking areas are available.
Guest check in is from 3pm until 11pm and check out is from 7.30am until 10.30am.
Click here to view our booking terms and conditions.
All rooms have a plastic tray for muddy boots, while we will always do our best to help dry soggy clothes and store equipment.
For parties looking for excellent value bed and breakfast accommodation in the Lake District for corporate or tourism groups, The Waterhead Inn will be the perfect venue. Please contact us to discuss your group travel requirements.
Please note, images showcase room types as accurately as possible, however rooms do slightly vary. Contact our central reservations team on  0191 580 3610 for more information. 
The Waterhead Inn has flexible accommodation options with spacious ensuite rooms available as king size double, twin and single room options, with family suites and designated dog friendly room options.
In your room:
Freeview television with radio channels
Free WiFi
Tea and coffee making facilities
Hairdryer
A complimentary full Cumbrian breakfast is included in room rates (unless specified when booking).
There is limited parking available on-site – vehicles are left at the discretion of guests.
Dog-friendly rooms are available, subject to a pet supplement of £10 per dog, per night.
Double rooms
Whether you choose a house double, classic double or accessible double our spacious rooms are perfect for solo travellers or couples who are looking to rest their head.
Book now
Twin rooms
Here at The Waterhead Inn we offer a range of spacious twin rooms which are perfect to share! The rooms are fitted with two single beds and a wide range of facilities, including a luxurious en suite.
Book now
Family rooms
For families, we offer fantastic double rooms with additional beds available, or a junior suite boasting a luxurious bedroom with stunning lake views and a separate seating area to relax in, along with an en-suite bathroom.
Book now
What to expect at The Waterhead Inn
We have a variety of different rooms to cater to your party size – and our dog-friendly rooms are perfect for your four-legged friends! If you're looking for comfortable accommodation in Ambleside, we've got you covered. You can expect to enjoy fabulous beer during your stay at the inn, including guest tap takeovers from local breweries, as well as locally sourced food and an atmosphere that will have you longing for your next visit. Check out the dedicated pages for the restaurant and pub here at The Waterhead Inn or contact a member of The Inn Collection Group team to discuss any queries or requirements you may have.
In addition to our pub and restaurant, our team works around the clock to ensure that every room at The Waterhead Inn is up to our incredibly high standards in terms of comfort, supplies, and cleanliness. With regular cleaning taking place across the inn, you can be sure that we've taken all the necessary precautions to keep you, your fellow guests, and our staff safe. We offer a range of different room sizes from twin to family rooms, but you'll want to book your room early if you want to secure your stay and avoid disappointment at a later date! You can book a room right here on our website using our online booking system – it's fast, easy, and you'll have your room booked in minutes, eliminating any stress so that you can start to get excited for your trip to the Lake District! If you're looking for a dog-friendly room at The Waterhead Inn, just let us know in advance and we'll ensure that you and your pet have everything you need for a comfortable, relaxing, and enjoyable stay.
Things to do on your visit to the Lakes
There is so much to do in the Lake District, and if you are just here for a weekend break, you won't be able to see everything you want to. We have compiled a few suggestions of things to do in the Lakes if you are still in the process of planning your trip – check them out below!
There are many tourist attractions in the Lake District, but Bridge House is one of the most popular. It is located above Stock Beck, just off Rydal Road. Because of its unusual structure and strange location, suspended above the water on a bridge, the building has become a landmark since its construction. The Bridge House was first built in the 17th century as an orchard storehouse, and over the years has been many different things, including a chair maker's shop, a cobbler's shop, a tea room, and once even a home for eight people! Once you've seen how small the interior of the Bridge House is, you'll wonder how eight people could possibly fit inside at one time!
A group of residents of Ambleside bought and donated the Bridge House to the National Trust as a symbol of the building's special place in Lake District folklore.
A climb of Loughrigg Fell
Walking in the Lake District – provided the weather is okay – can transport you to a completely new world filled with fresh air, wonderful views, and a sense of peace and tranquility. Loughrigg Fell is the highest peak in Ambleside, a 335 metre topographical feature that is one of Ambleside's most popular walks. Ambleside isn't surrounded by many peaks like many other towns in the Lake District. It's actually situated in a depression called Red Bank, which makes Loughrigg Fell stand out significantly more in this part of the skyline. Loughrigg Fell has spectacular views of Windermere and Ambleside, because other peaks do not block your view. If you have the right skills, it makes a great photo opportunity!