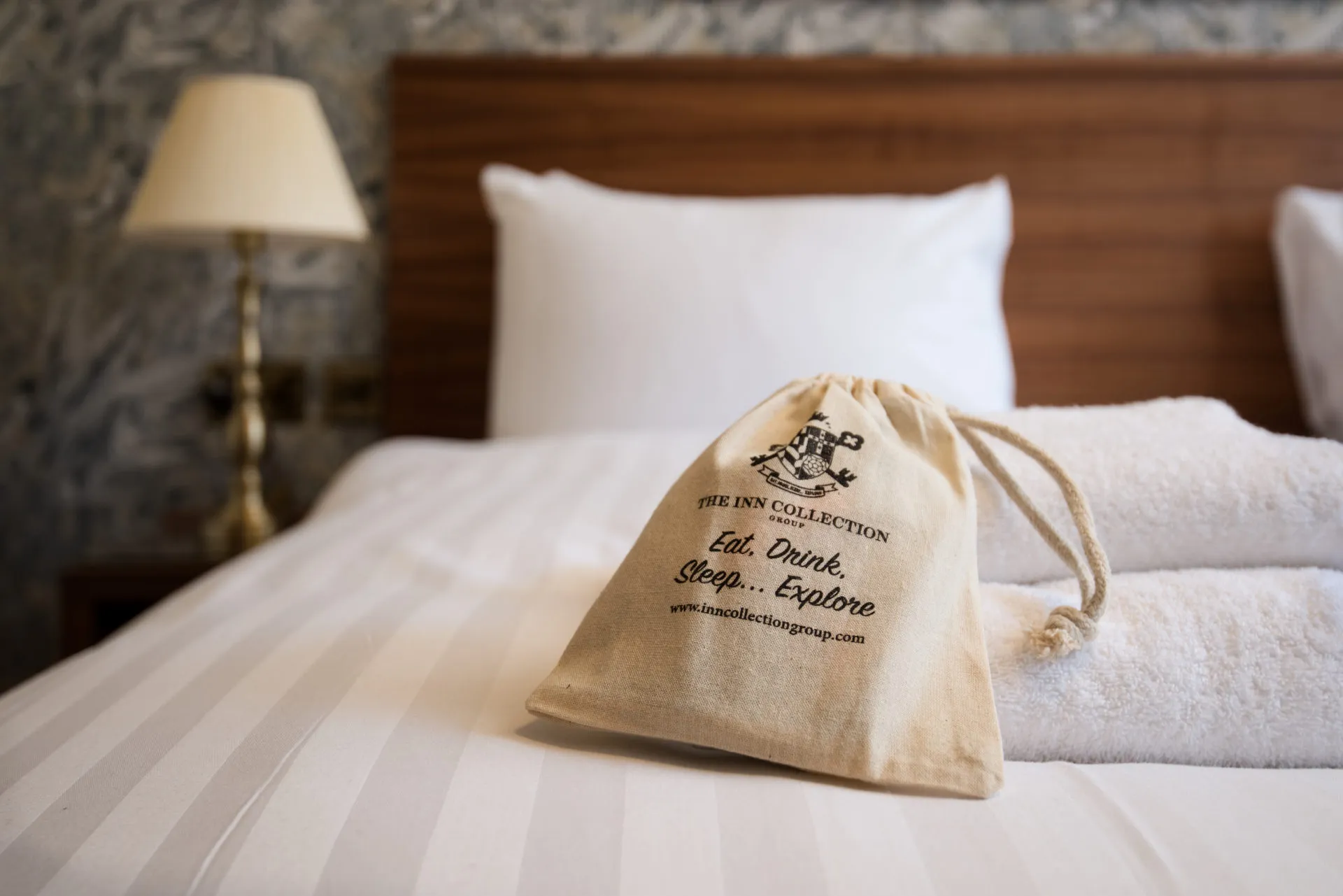 Accommodation Ambleside
Rooms at The Temperance Inn
Wake up in one of our newly refurbished rooms in the heart of the beautiful town of Ambleside, perfectly located for a day of explorations.
The UK is one of the most unique places in the world when it comes to contrasting landscapes; whilst part of the country is dominated by huge cities with high skylines and dense populations, there are areas of true natural beauty and tranquillity to be found just a few hours away. Take the Lake District as an example – this beautiful region is one of the most picturesque places in Europe, with rolling hills and peaks as far as the eye can see and stunning lakes that have a mesmerising stillness, almost like something out of a painting. All of this can be experienced in just a few hours of driving from major cities such as Manchester, Liverpool, and Leeds! As you can probably already tell, we absolutely adore the Lake District and think it makes an ideal holiday destination for anyone that's looking to escape their busy city life and swap the hustle and bustle for some fresh air and outdoors time.
What more could you want after being out and about in the spectacular surroundings of the Lake District, than to snuggle down in a blissfully comfy bed?
Stay in Ambleside in one of The Temperance Inn's newly refurbished bedrooms.
Look out over the pretty village of Ambleside and the surrounding fells, while superior rooms have dramatic views over Loughrigg.
Looking for family friendly accommodation in the Lake District? Our family rooms have high quality bunk beds with connecting room choices. Perfect if you're travelling as a larger family or in your social bubble.
Choose from king-size doubles or twin rooms. Family suites and designated dog friendly rooms are available.
Please note: A non-smoking policy operates in all of our bedrooms, bar and dining area. Designated outdoor smoking areas are available.
A complimentary full Cumbrian breakfast is included in room rates (unless specified when booking).
Guest check in is from 3pm until 11pm and check out is from 7.30am until 10.30am.
Click here to view our booking terms and conditions.
While we are committed to being as accessible as possible for our guests, the nature of our building means that we do not have a customer lift and rooms are accessed by stairs only.For fully accessible bedrooms in the Lake District browse our sister inn The Coniston Inn.
Parking is available in Ambleside's public car parks which are located nearby.
If you're looking for welcoming rooms and cosy pubs in Ambleside, the Lake District, choose The Temperance Inn. Book your stay with us now.
Please note, images showcase room types as accurately as possible, however rooms do slightly vary. Contact our central reservations team on  0191 580 3610 for more information. 
In your room:
Freeview television with radio channels
Free WiFi
Tea and coffee making facilities
Iron and ironing board
Hairdryer
Safe
To help make things even easier for people looking to head off on a relaxing break to the lakes, we've set up a collection of fabulous inns across the region, including The Temperance Inn in the popular town of Ambleside, which sits at the northern tip of Windermere, England's largest lake. In Ambleside, you're sure to find everything you need to make your trip a memorable one, but there's more on that below so keep on reading to learn how to plan the perfect trip to the lakes!
If you'd like to book a room here at The Temperance Inn, you can do so right here on our website using our handy booking feature, which will give you information regarding available rooms for your dates and accessibility features for those that require extra assistance.
Please note, free parking is not available at The Temperance Inn,  Rydal Road public car park is just a 4 minute walk away.
What makes the perfect Lake District holiday?
For us, a trip to the Lake District should be something that puts your mind at ease and allows you to simply relax and enjoy the company of your friends and family, which is why we think that our inns are the ideal accommodation for such a trip. Whilst other hotels, particularly chain hotels, can feel cold and corporate, our classic inn layout gives a comforting, homely atmosphere that's perfectly set up for relaxing whilst still remaining sociable. At The Temperance Inn, you'll have access to a room, pub, and restaurant all in one spot, giving you everything you need to enjoy your holiday right on your doorstep. The inn is also in a great location in the town of Ambleside, which is a brilliant base for any hiking enthusiasts looking to try out some of the popular local trails that take you up and around the nearby fells.
Another obvious feature of the Lake District that you'll be able to enjoy during your break is, of course, the lakes themselves, which offer a number of exciting opportunities to explore the region in an entirely different way. If you'd like to head out onto the water, there are plenty of boat cruises that operate on Windermere, or you can even rent your own small boat to give you total freedom when navigating across the water! Alternatively, Windermere is home to a variety of different watersport activities such as kayaking, canoeing, paddleboarding, and more, so if you're interested in getting involved with that, be sure to chat with our hotel team who'll be able to guide you towards the best activity operators in the region.
Last, but certainly not least, is the local produce that's on offer in the Lake District – each town holds its own unique market day each week, where local farmers, craftspeople, cheesemongers, and more are invited to showcase their products to the local public and holidaymakers alike. One thing you'll instantly notice is that the quality and freshness of the products on offer are simply unmatched in the supermarkets, so be sure to grab some of the locally produced cheese, gin, or ale before you head back home.
What to expect at The Temperance Inn
When you're staying at The Temperance Inn, you'll get the feeling that you're being cared for from the moment that you step through our doors; we're not a big, corporate chain, we're just a group of people that are passionate about fun times with friends, excellent pub food, and exceptional beers, all of which we strive to provide all year round. You'll have a choice between a variety of different room types to choose from, allowing you to tailor your stay to the size of your party with ease, but if you're travelling in a larger group, just give us a call and we'll try to accommodate your booking as best we can. Our restaurant operates each day, serving up classic pub food and modern takes on some classic dishes too, perfect for refilling the tank after a long day of exploring and adventures in the lakes! To make the hotel as accessible and welcoming as possible, we're also operating a dog-friendly policy in our rooms and certain areas of the bar too, meaning you'll be more than welcome to bring your well-behaved four-legged friends along for your trip. Ambleside is well known for being one of the most dog-friendly towns in the Lake District, so you'll be sure to find it relatively easy to take your dog out on all of your day trips without having to worry about finding a dog sitter or kennel service.