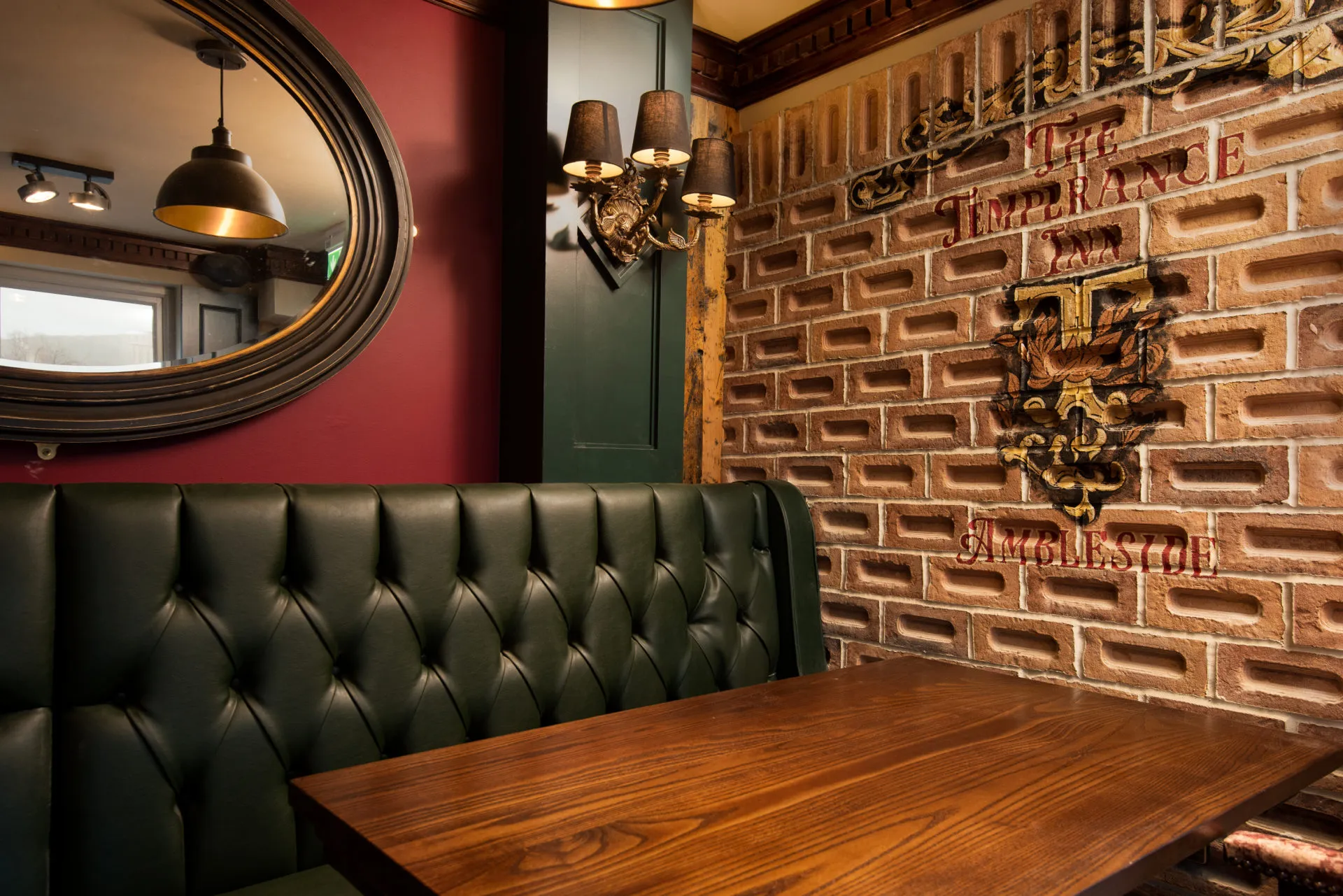 Food at The Temperance Inn
Good food is the main attraction at The Temperance Inn in Ambleside. Look forward to scrumptious dishes served daily from 7.30am until 9.00pm.
Our Menus
INNcoming: Our new winter menus will be launching Monday 23rd October
What could be better than filling your boots with tasty, home-cooked food packed with fresh local produce – we can't think of anything better.
At The Temperance Inn at Ambleside, we do things slightly differently. Our menu offers exciting street food dishes, available all day, every day and cooked freshly for you on ordering.
From fine breakfast to fuel you up ready for a day scaling the peaks, to brunches and lunches with family or colleagues; linger over delicious evening meals – but be sure you leave room for one of our irresistible homemade desserts.
Looking for child friendly places to eat in the Lake District? The Temperance Inn's children's menu is full of tasty favourites and is sure to get everyone leaving the table happy.
Seasonal Menu
Full of dishes bursting with taste and flavour and hearty enough to satisfy rumbling stomachs after a day climbing the fells, look forward to nostalgic favourites as well as our talented chef's moreish creations.
> View seasonal menu
Breakfast Menu
Whether you're wanting a delicious breakfast to kick start your day, or just a bit peckish, our Breakfast menu is perfect for you.
> View menu
Allergy Advice
Allergen advice is available for all our main menu meals, click the link below to find out more. Ask our team when you visit about our daily special's allergens.
> View menu
What can you find on The Temperance Inn's menus?
Here at The Temperance Inn, we think the best type of food to end a day of hiking and exploring is good old fashioned pub food – it's simple, it's tasty, and it's really filling, which is exactly what you need to refill your engine, ready for the evening. With that in mind, we've curated three unique menus for the restaurant at The Temperance Inn: our seasonal menu, our children's menu, and our quirky take away menu, which all offer fantastic food options that are tailored to everyone's individual tastes. If you want to learn more about our menus, our use of local produce and seasonal ingredients, or you're looking to find our speciality dishes, be sure to read on below!
Seasonal Menu
The main menu on offer at The Temperance Inn, our restaurant in Ambleside, is the seasonal menu, which takes a range of factors into account to ensure that we're able to provide fresh, high-quality meals sourced from local farmers and suppliers all year round. You'll notice a lot of seasonal vegetables and meats being used across our menu, and we urge you to try these during your stay – the freshness and flavour in these dishes are absolutely superb and incredibly comforting, the perfect combination for any meal. Alongside our pub food classics, our chefs have also put their own spin on a few modern dishes too, giving you more choice each day, ensuring that there's always something on the menu that'll catch your eye. From pies and burgers to pizza, fish, and curry – we're sure there's a meal that'll satisfy even the hungriest of holidaymakers at The Temperance Inn.
Children's Menu
Our children's menu is something we've taken very seriously here at The Temperance Inn – we know it can be a pain to get children to try new food, especially outside of their own homes, so we've worked with a group of parents to create a menu that appeals to kids across the board, incorporating a great balance of flavour and nutrition into these meals, whilst retaining a degree of simplicity that won't overwhelm your little ones. When dining at The Temperance Inn, your children will be able to choose from a variety of tasty dishes!
Food and drink experiences in the Lake District
All this talk of food and drink has got us feeling incredibly hungry and we're sure you are too. So, if you're feeling ready to experience some of the Lake District's best food and drinks, here are a few experiences that you have to check out:
Lakes Distillery
The Lakes Distillery is a popular alcoholic beverage production site in the heart of the lakes – you can find it just to the north of Bassenthwaite Lake, set in an idyllic location just off of the shore. The distillery is always on our top list of places to check out when you're visiting the lakes for a couple of reasons, but mostly because the quality of the drinks that they produce is simply remarkable. Whilst at The Lakes Distillery, you'll be able to take the distillery tour, which gives you a hands-on guide of how your favourite drinks are made and even a few surprise tasters too! Before leaving, be sure to visit the gift shop, where you can pick up a bottle or two of your favourite Lakes Distillery spirits – the perfect gift for family and friends at birthdays and Christmas!
Grasmere Gingerbread
If you're a fan of traditional sweet treats, you're going to love this experience – Grasmere Gingerbread is one of the UK's most exquisite places to shop for confectionery and has been an institution in the Lake District since 1985. Since forming in the village of Grasmere, the gingerbread company, invented by Victorian cook Sarah Nelson has become a chief exporter of the country's finest gingerbread, picking up a number of celebrity fans from across the world. The growing reputation of this quaint gingerbread shop has lead to names such as Renee Zellweger and Tom Cruise craving these crumbly biscuit slabs, but don't worry – there's no exclusive gingerbread club you need to be a part of, and you can simply waltz into the store and pick up a few spicy-sweet treats for you and your friends.