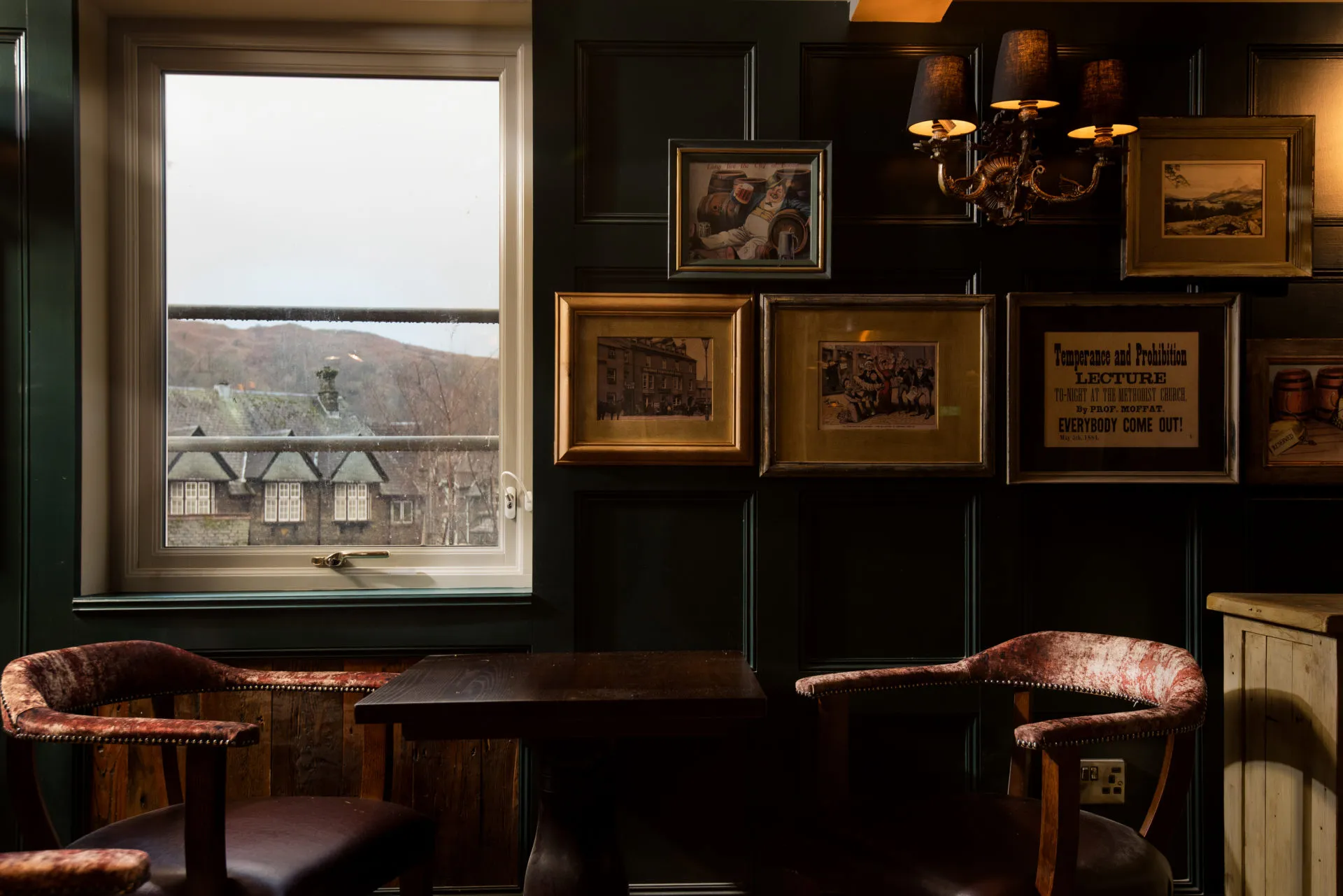 The Temperance Inn Pub
Look forward to a special place to eat, drink, sleep and explore from in the very heart of Ambleside.
Think cosy nooks and crannies, upcycled furniture, gleaming wood floors, and quirky memorabilia in an atmosphere only to be found in your favourite pub.
Walkers, cyclists, families, and dogs are all welcome, whether you're pausing from exploring Ambleside's eclectic shops or kicking off your walking boots to relax by a flickering fire with a pint to hand and a plate of delicious, belly-filling food. The Temperance Inn at Ambleside is a sure-fire winner.
The Lakes Distillery - The One - Fine Blended Whisky
We've brewed a recipe for success
Enjoy a G&T or shake things up with one of our signature cocktails. As well as local real ales, guest hand pulls on rotation, perfectly chilled continental lagers and scrumptious ciders, we've got a wide range of quirky, characterful bottled craft beers too — you'll be truly spoilt for choice.
Our well-stocked cellar will bring you wines from around the globe. Sold by the glass or bottle, there are wines to pair with all dishes and to suit every taste.
Enjoy planning your next Lakeland adventure over a pot of tea or aromatic barista coffee. Or why not try something different with our Ringtons speciality loose leaf teas?
> View menu
A good holiday gets even better when you find a great pub to finish off your days in, and there's nothing that beats a really well-crafted pint of local ale in the Lake District. Here at The Temperance Inn, we take our beer seriously – it's a big passion of ours, and we love to see the smiles on our guest's faces as they sip down a smooth, creamy pint after a day of hiking, exploring, and discovering the beauty of the lakes. Whilst it might seem incredibly simple, achieving high-quality across the board for the drinks we serve is far from straightforward; we've been through numerous tests and accreditation schemes to certify that our beer offerings are of the highest standard, and we're proud to say that we hold several awards and accreditations that show just how good our serving skills and cellar management are. From our lighter lagers to the denser cask ales, every drink is handled with care and precision, ensuring that you're served a perfect pint each time you order at the bar. Of course, our bar isn't all about the beer – we've got a range of local and premium spirits on offer behind the bar, and our expert bartenders have curated a specialty cocktail menu that's sure to tickle your tastebuds in the evenings.
Be sure to check out our full drinks menu for the rundown of our entire drinks list, or have a chat with one of our bartenders to discuss the current guest beers that we have on our pumps during your stay – these change regularly, so you'll be able to taste a fresh new beer each time you stay at The Temperance Inn!
What makes The Temperance Inn feel so special?
We think our inns have a totally unique feel in the current accommodation game – far too often we see beautiful buildings with so much potential turned into lifeless hotels with no atmosphere or feeling about them, which really spoils the overall experience of staying in such a picturesque place such as the Lake District. Rather than removing the history of our buildings, we embrace it – The Temperance Inn, formally known as The Churchill Inn, is an old temperance establishment from the 1800s that we have redeveloped and renamed to give a fresher feel whilst still retaining a reference to its important past. However unlike the temperance establishments of the past, The Temperance Inn is now serving alcohol and you can find a number of local beers, popular ales, and tasty spirits behind the bar – perfect for sitting back and relaxing as the sun fades and the evening draws closer.
Another part of our unique atmosphere is our traditional inn-style structure – we've retained all aspects that you'd expect from a traditional inn, keeping everything under one roof for your convenience. At The Temperance Inn, you'll find a pub, a restaurant, and even a selection of rooms to rest your head in, helping you to feel refreshed and revitalised for the following day. In our restaurant, you can expect to find heartwarming pub food that'll refill the tank after a long day of activity, as well as a few modern dishes to help you experiment if you're feeling particularly adventurous – whatever it is that you're craving, we're sure there's something on our menu that'll satisfy your stomach. From burgers and steaks to our fresh pies and even a katsu curry, we've got a wide range of food on offer that's all prepared fresh to order each time, ensuring our high standards are carried through in all areas of our service to our guests.
You can view our full menu here, where you can see a full list of all of the dishes available at The Temperance Inn, including our children's menu for any kids that may be along for the trip.
Bringing your dog to the Lake District
If you're a dog owner, chances are you're already a frequent visitor to the Lake District, thanks to the incredibly welcoming nature that the region has towards dogs and their owners. Unlike many places where you would be unable to bring your dog into a hotel or bar, the Lake District is completely different; many of the bars and restaurants have dog-friendly spaces, complete with cleaning facilities for those muddy days and mucky paws. Here at The Temperance Inn, we're completely committed to our dog-friendly policy; if you want to bring your dog along on your trip, you can choose one of our dog-friendly rooms, which are deep-cleaned after each use to ensure that hygiene and cleanliness standards are maintained at all times. In addition to our dog-friendly rooms, our bar and restaurant are also open to your four-legged friends too – just be aware that your dog needs to be well-behaved in these areas so as not to disrupt our other guests. If you're planning on bringing your dog on your Lake District trip, let us know in advance, and we'll ensure that we've taken the necessary steps to ensure that everything is in place to run as smoothly as possible. Alternatively, you can book one of our rooms right here on our website using our simple bookings page!