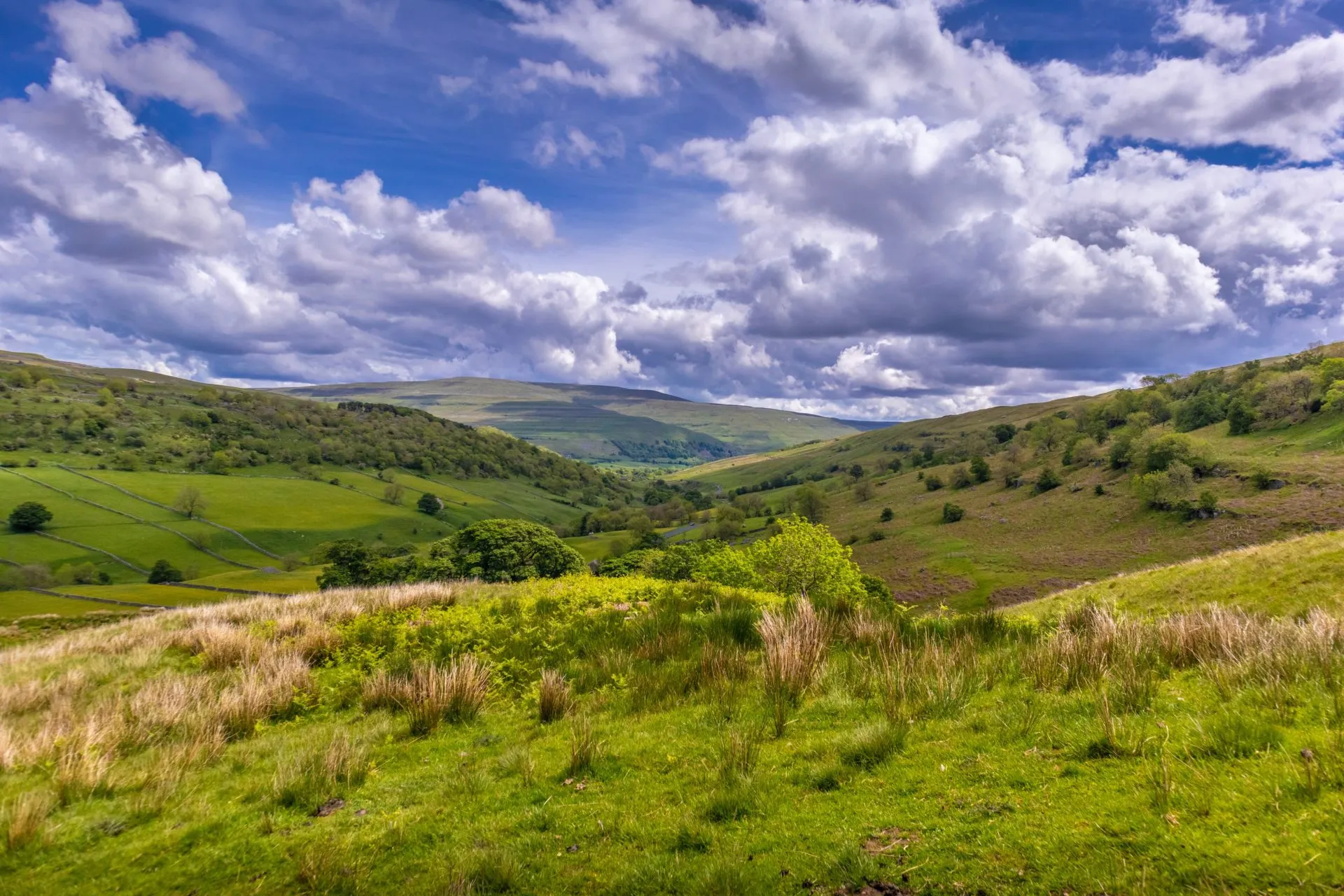 13 Things to Do in North Yorkshire
Looking for things to do in North Yorkshire? We've got you covered.
From exploring the ancient ruins and walled gardens near the Yorkshire Moors to enjoying a family day taking part in forest activities and investigating the lakes and trails of York, there is no shortage of choices for family fun.
Or, perhaps your idea of the perfect day out involves discovering the history surrounding some of the most historic castles and taking in the gorgeous views. One thing's for certain, you won't find yourself bored in North Yorkshire and the wider surrounding areas.
The best things to do in North Yorkshire
Yorkshire is bursting with vibrant sites and activities that'll keep you entertained. If you're looking to fill up your day and stay with The Inn Collection Group, then these 13 things to do in North Yorkshire come highly recommended.
So, let's begin!
1. See the seaside in Scarborough
Scarborough beach has long been a top tourist attraction and it's easy to see why. The main beach, South Bay, is one of the more populated and well-known locations with all the usual entertainment features you'd expect from one of the UK's finest attractions.
Aside from the usual sand and sea fun that's on offer at the beach, there are also cafes, ice-cream shops, theatres and donkey rides for families to enjoy during their North Yorkshire adventure.
A promenade runs along the South Bay beach and links to the North Bay on the other side where you'll find peak surfing conditions. Both beaches have a full lifeguard service so you can relax and create many family memories without having to worry.
Note that dogs aren't allowed on the beach between the 1st May and the 30th of September, but there are many North East Yorkshire beaches that are dog friendly, so don't leave your beloved pooch behind!
2. Check out the vampires in Whitby
Nearby Whitby is the setting for Bram Stoker's Dracula, boasting a jaw-dropping abbey and stunning coastal views. Whitby regularly has Goth Weekends, where people flock to the seaside town in all their finery to celebrate individuality.
If you are a literary or horror fanatic, you can also take a look at the Dracula Experience along the harbour. After, take less than five paces down the road and hop on a boat for a tour of the North Yorkshire coastlines from the sea itself. The pirate ship is our particular favourite for its whimsy and quirks!
Where to stay?
Whilst in Whitby, why not stay or take refreshment at The Stables, a 17th-century farmhouse bordering the North Yorkshire Moors and coast?
With such a practical and idyllic location, you can enjoy long countryside walks and relaxing beach days, all from one comfy inn! Even better, The Stables is easily accessible from both Whitby and Robin Hood's Bay – and even Scarborough – so it is the perfect base for exploring the North Yorkshire coast.
3. Take a day trip to Flamingo Land
One of the highly anticipated fun family days out is Flamingo Land. Featuring an enormous range of 140 species of mammals, farm animals, birds, reptiles, amphibians and fish, Flamingo Land offers an award-winning zoo that's sure to captivate the young and older alike and become one of the most memorable trips of the century.
Aside from the zoo itself, the attraction also features a theme park with a range of thrill rides, family rides, kids rides and other fun attractions. If you're looking to experience the ultimate thrill, jump on the new 2022 'Sik' rollercoaster and encounter five different types of inversion including a 25m loop, a corkscrew, five heart-line rolls and more.
If you're anything like us and would much rather sit down with a cold drink and watch a live show, the online programme details dates and times of particular animal shows, live-action TV theatre-style shows and a Peter Rabbit meet and greet that happens daily.
There are plenty of other zoological attractions in and around Doncaster and the Peak District in South Yorkshire. Pop down to Doncaster to explore the Yorkshire Wildlife Park – a park that has the aim of rescuing animals typically found in zoos and rehoming them into purpose-built areas that mirror their natural habitat.
The park offers a look at endangered species, an immersive dinosaur restaurant, and a whole host of shops for the gift and souvenir buyer of the family to enjoy.
If you're trying to cater to younger children specifically, Boston Park Farm is a similar and equally exciting day out. When visiting the farm, you'll have the chance to get up close and personal with a wide range of farm animals, pet them and even feed them. Also, between July and October, you can try to find your way out of the Maize Maze – a certain laugh for people of all ages.
4. Explore Guisborough
In the borough of Redcar and Cleveland, in the Tees Valley, you will find the magnificent ruins of one of England's first Augustinian priories. The main showstopper of Guisborough Priory is the remains of its east end, which dates back to the 1300s.
Nearby, you will also find the Guisborough Forest and Walkway, which is at the northernmost point of the North Yorkshire Moors National Park. With a wide variety of flora and fauna to gaze upon, whether you like a brisk stroll or a bike ride, there is sure to be something for everyone, no matter your age.
In addition to this, you can also take an adventure around the orienteering course and sculpture trail, or simply bask in the views over the Tees Valley whilst your kids have fun in the play area.
5. Fountains Abbey is a brilliant sight to experience
With no need to pre-book to visit Fountains Abbey and Studley Royal Water Garden, you can explore the 800 acres whenever you feel like it.
The perfect choice for family days, Fountains Abbey gives you the opportunity to take a look at what happened to the Abbey and Studley Royal over three years and during the coronavirus lockdown. Although the lockdown had many bad implications, there were also several good ones as you'll see when you visit.
Throughout the summer of 2022, you'll be able to choose your own adventure when you collect a spotter sheet from admissions. From there, you will have to use your senses to find out more about nature to become a true nature detective. You might want to look out for bees and small insects coming out of hibernation, and you may be lucky enough to spot some new baby deer!
Follow the winding river path down to Studley Royal and you'll be met with a water garden designed by visionaries back in the 18th century. You can easily spend the day among statues and pretty little streams and then eat and shop at the restaurant at the end of the day.
6. Go for a day out in Skipton
Skipton has a rich history that is sure to make for interesting and fun family days out in North Yorkshire. In particular, the market town provides plenty of opportunities to learn about its connection to the War of the Roses and the Spanish Armada at Skipton Castle with plenty of regular re-enactments happening during the year.
Another good place to enjoy an inexpensive day out is the Craven Museum and Gallery where you can enter for free and educate yourself about all things art and archaeology.
Aside from historical attractions, there are tons of outdoor adventures to be had in the Skipton area. Bolton Abbey boasts 30,000 acres with a range of activities from nature trails to beaches and rivers with outstanding views. There's even a Bolton Abbey Treasure Hunt Trail for the little ones to enjoy!
Another recommendation is to visit the fairy-tale Skipton Castle. It's hard to miss this castle. Its ginormous gatehouse looms over the high street when you first enter the town and is known for being one of the best-preserved medieval castles in the country, so if it's crumbling ruins you're after, you'd be best off visiting one of the other castles in this article.
Even if you're not someone who is particularly taken up with history, you'll still find it's worth your time venturing inside the castle to have a look around. Self-guided tours are easy ways to spend a couple of hours and you'll probably end up learning a few good facts. Like, for example, that Lady Anne Clifford planted a yew tree in the castle's courtyard in 1659 and it's still there today!
7. Go back in time at Helmsley Castle
In the market town of Helmsley rises Helmsley Castle. Once a medieval fortress, Helmsley Castle has also been adapted into a Tudor mansion, Civil War stronghold, and Victorian ruin over the past 900 years. It was first constructed out of wood, with a great view of the River Rye to observe all the comings and goings of the market town. Don't forget to also take a stroll around the castle's magnificent walled gardens.
Nearby, you will also find the magnificent Rievaulx Abbey – a Cistercian abbey founded in 1132. Out of the way of the hustle and bustle of Helmsley, this was the perfect place to observe strict orders of prayer and silence. After being captured by Henry VII during the dissolution of the monasteries countrywide, Rievaulx Abbey has stood in ruins. Despite this, the ruins of the abbey are breathtakingly beautiful, and its sheer scale is a once-in-a-lifetime experience.
Whilst in and around Helmsley, you might also like to take a dip in Yorkshire's only outdoor open-air heated pool.
Where to stay?
If you are looking to visit Helmsley Castle, Rievaulx Abbey, and the open-air pool, The Black Swan is nearby for you to grab some food or lay your head after a long day of exploring.
8. Visit Gaping Gill
One of the most famous caves in Dales – and what is considered to be one of the longest and most complex caving systems in the UK – Gaping Gill is essential for summer family days. To reach the cave, you have to navigate past Ingleborough Cave in Clapham and up the slopes of Ingleborough first.
The main chamber itself measures an impressive 129m long, 31m high, and 25m wide. The Fell Beck waterfall hits the floor of the cavern after falling approximately 100 metres and then drains through to Ingleborough Cave.
If this sounds like the kind of adventure you're looking for when in North Yorkshire, you'll be pleased to know that members of the public are able to descend to the main chamber twice a year when the Bradford and Craven pothole clubs set up a winch over the main shaft entrance, so keep your eyes and ears peeled for specific dates.
Hear first-hand accounts from people who have explored the waterfall and Gaping Gill themselves and decide for yourself if this is something you want to take part in.
9. Hiking in the Yorkshire Dales
Depending on where you specifically hike, you can experience a vast landscape of rolling hills, waterfalls, massive limestone cliffs and a variety of Victorian architecture when hiking in the Yorkshire Dales.
The Dales boast 841 square miles of countryside and are home to almost every kind of hike you can imagine. For those who want a shorter walk, the Malham Cove walk is recommended, or for those who are after a proper workout, the Yorkshire Three Peaks offer a real challenge that you can opt to complete in 24 hours.
One of the top hikes is a loop from Janet's Foss waterfall to Malham or vice versa. A distance of approximately 7 miles and climbing to heights of up to 825 feet, this walk is a tad challenging but nothing you can't handle.
A more intermediate-style walk with mostly accessible paths that we'd recommend is the East Gill Force, which is a loop from Tan Hill to Cotterdale where you can explore some of the area's forests. There are hundreds more options for hikes and walks, so you can customise and create your own to match your specific requirements or any special attractions you'd like to pass.
10. Try your hand at llama trekking
Something you've probably not thought about doing before is llama trekking. There are several different companies that offer llama trekking in North Yorkshire and many take place across the Yorkshire Dales so you can take your time to admire the scenery whilst out trekking too.
This rather unusual outdoor experience is suitable for almost all abilities and age groups although some restrictions apply regarding what ages can trek with a llama themselves. For a cheap and fun trip that the whole family can enjoy, we urge you to give llama trekking a go. It certainly makes exploring the Dales a lot more exciting and is something you can bring up in conversation for many years to come.
Llamas have a reputation for being especially gentle and kind, making them perfect walking companions. Perhaps your dog needs a rest, or you fancy something a little more exotic? You'll be sure to regret it if you don't, so go on, give llama trekking a try.
11. Afternoon tea in Harrogate
If there's one thing that Harrogate is known for, it's its glorious range of afternoon tea locations.
St George Hotel in Harrogate is set on the famous Parliament Hill and is surrounded by some of the best Yorkshire beauties, including Betty's tea rooms. Although Betty's began in Harrogate 100 years ago, they promise that although much has changed since, their treats are just as delicious and their welcome is just as warm. That alone is enough to make us want to visit!
They offer several different versions of their traditional afternoon tea, which can be tailored according to preference or dietary needs, as well as a bookable afternoon tea and a regular menu and shop that is packed with cakes, biscuits and other specialities you won't want to miss out on.
Where to stay?
If planning a trip to Harrogate, then a night or two at the St George Hotel is a must. Situated on the famous Parliament Hill and conveniently close to Betty's, the team at St George Hotel offer exceptional pub grub and a promise to ensure your experience is one that'll have you wishing you could stay longer.
12. Relive the past at the JORVIK Viking Centre
The JORVIK Viking Centre received the Attraction of the Year award for 2022, making it one of the most interesting and anticipated attractions in York to date. Not only is it a must-see for visitors to York, but it's one of the most popular attractions in the UK in general.
Fascinating discoveries found between 1976 and 1981 enabled the Viking Centre to be built on the exact site where houses, workshops and backyards of the Viking-age city of Jorvik were nearly 1000 years ago.
During your visit, you'll be able to travel around a reconstructed version of the city that is based on actual archaeological evidence that was found during the Coppergate excavations prior to the site being reconstructed. Even down to the plants that are grown and the breeds of animals that are in the backgrounds of the battle-scarred ruins, this is a truly authentic Viking experience that even those not interested in history will find it hard not to love.
Recent technological advances have allowed touch screen displays to become a feature of the beloved site, which will allow any visitor to become an expert on all things archaeology and conservation. With all of this in mind, now more than ever is the perfect time to visit JORVIK Viking Centre and discover just how much of an impact the Vikings had on York.
13. Book a tour of a Yorkshire castle
If you're already in York and are interested in history, make sure you don't miss out on the beauty that is Castle Howard. The wonderful Yorkshire residence has been the home of the Howard family for more than 300 years and generations of the Howard family have welcomed visitors to the castle.
Or maybe the North Yorkshire Allerton Castle is more your cup of tea. Located in Allerton park near Knaresborough, this gothic castle was built way back in the 1840s and is packed full of history. It's a preserved relic of the early modern aristocracy and has been used as a film and TV location for several different purposes, too.
The estate is open to the public from Easter until the end of October for guided tours but it is available all year if you wish to hire it for a special event.
The Inn Collection Group brings new Yorkshire venue into its stable
Exploring North Yorkshire? Choose The Inn Collection Group 
If you're looking for somewhere to stay in style whilst visiting North Yorkshire, The Inn Collection Group is sure to have the place for you. The Inn Collection Group features a range of picturesque inns across the north, complete with delicious seasonal and traditional menus to suit both families and individuals.
The Black Swan
The Black Swan in Helmsley is one of the most popular inns – the perfect base for eating, drinking, sleeping and ultimately exploring from. The inn itself is a real character featuring an Elizabethan building on one end, a Tudor one on the other and a Georgian house in the middle. It is situated close to Helmsley Castle and Rievaulx Abbey.
We also know that Yorkshire is the ideal place to explore with your beloved pup, so we are proud to announce that The Black Swan is a dog-friendly inn, featuring pet-friendly rooms and specific areas within the bar and gardens for them.
The King's Head Inn
The King's Head Inn is nestled in the village of Newton under Roseberry, Cleveland, making it an excellent location for explorations that span both North Yorkshire and the North East.
The inn is surrounded by countryside – in particular, the iconic Roseberry Topping – but also benefits from being a short trip to the North Yorkshire coast. It is also a short drive away from Whitby, Robin Hood's Bay, and Scarborough, as well as boasting some spectacular walks through the North Yorkshire Moors.
Dean Court
Dean Court is located right next to York Minster, which is certainly an unmissable experience! This gives you easy access to everything that York has to offer, including all the attractions mentioned above. Plus, who wouldn't want to wake up to a view of Yorkshire's most spectacular Minster?
The Northallerton Inn
If you are looking to explore Northallerton, The Northallerton Inn is the ultimate destination. Set right in the heart of the spectacular market town, this breathtaking Georgian inn and traditional country pub is a worthy new addition to The Inn Collection Group.
St George Hotel
If Harrogate is on your list of adventures, then look no further than St George Hotel, situated close to Betty's, the Royal Hall, Turkish Baths, and even the Harrogate Convention Centre.
The Stables
Whitby is one of the most popular tourist destinations in North Yorkshire – if you're looking to plan your trip in advance, be sure to check out the rooms at The Stables! You'll find coastal and countryside beauty just a stone's throw away, and you'll be within a short distance of all the major attractions in North Yorkshire!
So, if you are planning a trip to explore North Yorkshire or the wider Yorkshire area, book your stay with The Inn Collection Group today. There's too much to do in just one day, after all!