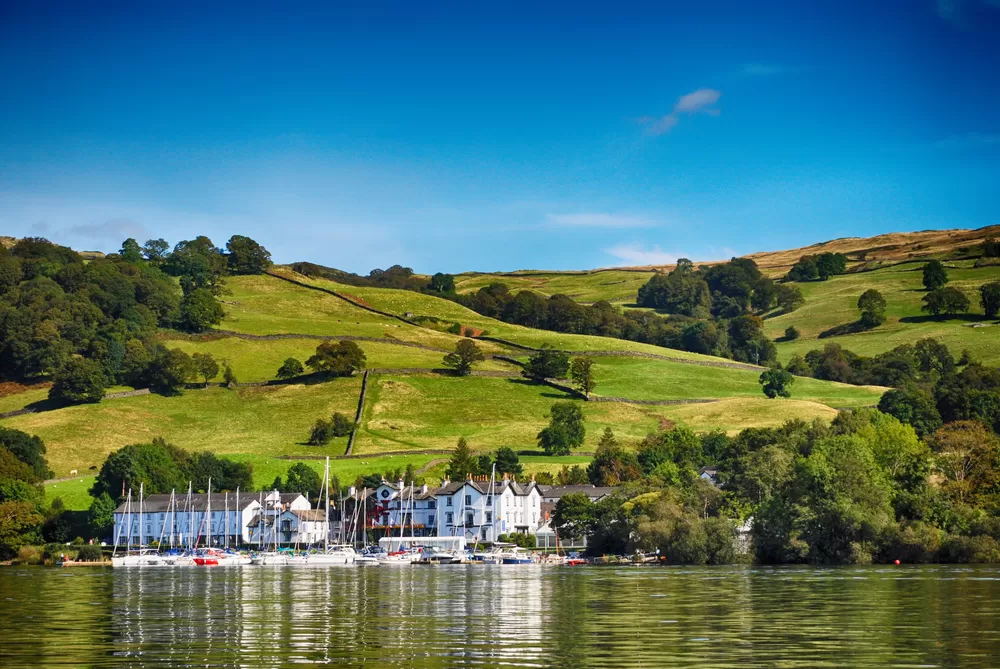 Things to Do in Windermere
There are lots of things to do in Windermere, from summit-scaling hikes and relaxing sailing across the water to historical landmarks and quaint villages – no matter what you enjoy, you're sure to find it in the lakes.
If you're still planning your trip and want to make sure that you don't miss out on any of the top attractions and best things to do in Windermere, be sure to carry on reading – you'll find all of the best activities and sights in the surrounding area detailed below, as well as our top pick when it comes to places to stay in Windermere!
A,View,Of,Lake,Windermere
Where is Windermere?
Windermere is located in the southeastern area of the Lake District, a collection of natural lakes found in Cumbria, making it one of the easiest lakes to access if you're coming from North West England.
Windermere is officially the largest lake in England.
With a length of 10.5 miles and a width of 1 mile, it's a huge body of water that spans a vast landscape, surrounded by rolling hills, sharp peaks, and glistening sunsets that give you the perfect opportunity to take some stunning photographs.
Due to its size, the lake sees a couple of major towns on its shores, including Bowness-on-Windermere and Ambleside.
For tourists looking to stay in the thick of things, Ambleside is the top attraction - it's home to bustling bars, a range of restaurants, and lots of shops, making it ideal for those who love to stay busy whilst they're away.
However, Bowness-on-Windermere offers a more rural escape that'll help you to switch off and embrace your surroundings with ease - if you're feeling stressed or worked up, a couple of days in Windermere is sure to leave you feeling refreshed, reset, and ready to go again.
But what are the best things to do when you're staying in Bowness?
There are lots of options to suit a variety of different types of travellers, but here are our favourite things to do with your time when you're staying in Windermere!
Explore The World of Beatrix Potter
If there's one thing that the Lake District is synonymous with, other than the beautiful lakes, it's Beatrix Potter.
Most of us will be very familiar with Beatrix Potter's creations from our childhoods – her stories are some of the most popular children's books of all time and are still loved across the country to this day.
And with them, Potter's legacy lives on.
Today, you can delve deeper into the history of Beatrix Potter at her historic home, Hill Top, which can be found in Little Langdale. The 17th-century cottage fell cottage is now operated by the National Trust and can be accessed for a small fee – £15.40 for adults, £7.70 for children, or £38.50 for families at the time of writing.
Hill Top is preserved just as it would have been whilst Potter was living there – you can find many references to her tales in every room and throughout the beautiful gardens, giving you a deeper connection to the stories as you learn more about their origins and creation.
If you'd like to visit Hill Top House & Garden, be sure to book your tickets in advance.
But the Beatrix Potter-based activities don't stop there – you can now visit The World of Beatrix Potter, which is an interactive exhibit that guides you through Potter's legendary stories and her impact on the local area, particularly in terms of funding and preservation.
Wander around the home of William Wordsworth
Sticking with the theme of literature, the next landmark on our list is the gorgeous former home of iconic Lake District-based writer William Wordsworth, Rydal Mount and Gardens.
William Wordsworth's historic family home is situated in the quaint town of Rydal, just outside of Ambleside and Grasmere – it's the ideal day trip if you're looking to move away from the busier towns of Bowness or Ambleside for a couple of hours!
The estate has brilliant views over Windermere and Rydal Water, as well as the surrounding fells, making it one of the most picturesque historic houses in the area.
Of course, the 18th Century house is also steeped in fantastic history, acting as the birthplace of some of the most fantastic romantic literature ever produced in the UK.
Wordsworth lived in this house with his family for 37 years before his eventual passing in 1850 at the age of 80 and the house remains in the possession of the Wordsworth family, now serving as an attraction and landmark in the local area.
Many visitors note that the house has been expertly preserved and maintained, stating that it still retains a homely, "lived-in" atmosphere.
If you'd like to check out the famous gardens, amazing views, and elegant stately home at Rydal mount, you can book tickets online today!
Whilst you're visiting Rydal, be sure to make the short trip to Grasmere, another one of the beautiful villages found in this stunning part of the Lake District – the town is famous for the local Grasmere gingerbread, which is produced and sold in a small shop surrounded by gardens and greenery. The produce is spectacular and is one of our top itinerary suggestions for any Lake District trip!
Reach the summit of the surrounding peaks
Walking and hiking in the Lake District is a completely free activity that everyone can get involved with – whether you're a novice hiker looking for flat, circular walking routes like a walled garden or a stroll along the western shore of the lake, or a more experienced explorer aiming to scale the highest peaks, such as Scafell Pike and Brant Fell, the lakes provide one of the largest collections of walks to suit anyone and everyone.
The Lake District National Park has it all, so don't be afraid to test your skills climbing some of the more challenging fells. Every peak has a number of different walking routes of varying degrees of difficulty, so we're sure that there will be a suitable path for you and your companions, even those of the canine persuasion!
Visit the Victorian Wray Castle
Visiting a castle is a staple activity for any UK holiday and a trip to Windermere is no different – whilst you're staying in Windermere and exploring the local area, you're right on the doorstep of Wray Castle, so you'll be able to tick another timeless piece of architecture off of your bucket list.
Wray Castle is a gothic revival castle that's nestled on the shore of Lake Windermere. The castle was originally built for Dr James Dawson, a retired surgeon from Liverpool, but the building is now owned by the National Trust.
Interestingly, the grand house was built using the inheritance of Dawson's wife, who took one look at the castle and refused to live there!
These days, the castle is a great place to explore for the whole family, with experiences to be had in the gorgeous gardens and within the building itself.
Try your hand at some water sports
Last, but certainly not least, we've got water sports!
With so much natural water to utilise, it seems a waste to travel all the way to the Lake District and decide not to head out onto the water in some capacity – water sports are incredibly easy to pick up and people of all ages and ability levels will be able to take part!
There are water sports launches in each of the main towns surrounding the lake, so you'll definitely be able to find the perfect spot for canoeing, kayaking, rowing, or sailing if you take a walk along the water's edge.
A word of advice: make sure you bring waterproof clothing and a change of clothes or you'll have to spend the rest of your day feeling damp!
Cisy places o pull up a seat at The Ambleside Inn
Places to stay in Windermere
If you're looking for a place to stay in Bowness-on-Windermere that has you feeling warm, cosy, and relaxed from the moment you arrive until the second that you leave, The Ambleside Inn has everything that you're looking for.
When you're staying with us at The Ambleside Inn, you'll have access to a comfortable room with sweeping views of the surrounding landscape as well as our traditional pub that's just undergone a spectacular refurbishment, which is the perfect place to sip a couple of pints of local ale in the summer sun.
To top things off, The Ambleside Inn is also home to one of our top restaurants, which serves the finest pub grub in the area.
The Ambleside Inn entrance
You can find availability for your selected dates right here on our website today!
Northumberland deserves acclaim for the sheer variety of its attractions. Just consider how bookworms can browse Europe's largest second-hand bookstore Barter Books, while more athletic types can partake in a range of Northumberland sporting activities.
However, wherever you go in this rural corner of England, you can trust that we will be running an inn, pub or restaurant not too far away — making it easier for you to rest and replenish during your Northumberland stay.
If you have any questions regarding Windermere or would like to book your stay at The Inn Collection Group today, do get in touch. We'd love to hear from you!