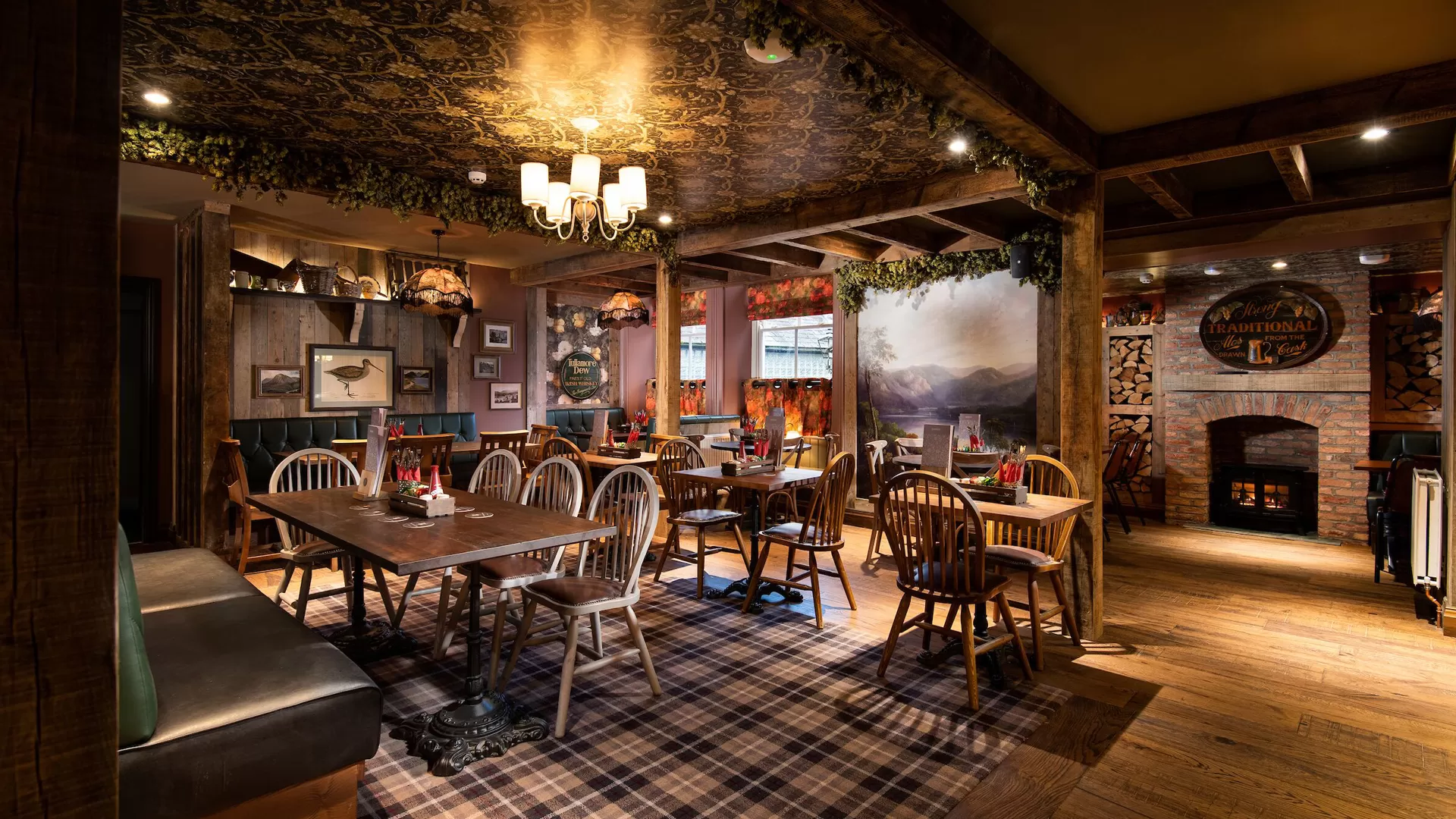 Food at The Ambleside Inn
The Ambleside Inn serves delicious, home-cooked Cumbrian and Great British pub food every day from 7.30am until 9.00pm.
Our Menus
Whether fuelling up for a day's exploring with a hearty breakfast, stopping by for smaller plates with colleagues or friends, or lingering over lunches or evening meals, enjoy a menu packed with quality seasonal and local ingredients and freshly cooked to order.
Tuck into The Ambleside Inn's Sunday carvery from 12 noon until 5pm, with heaped helpings of hand-carved beef, pork or turkey with crunchy roast potatoes, billowing Yorkshire puddings, lashings of rich gravy and all the trimmings. For little ones, The Ambleside Inn's children's menu won't disappoint. With a wide selection of tasty dishes, we'll be a firm favourite for all the family.
Please note: due to current protocols and capacity limits we are currently running a reduced menu in order to ensure our usual high standard of offering.
Domestic breaks have never been more popular, which has resulted in a number of fantastic new locations offering great rooms, tasty food, and refreshing drinks across the UK to give potential holidaymakers the ideal place to call home for the weekend, or even longer if they're taking an extended break away from their busy lives back in the suburbs. Here at The Inn Collection Group, we're all about the atmosphere and creating the best experience for our guests – we do this by maintaining as much authenticity, local culture, and natural beauty as possible in all of our locations. One such location is The Ambleside Inn, a popular pub in Ambleside offering rooms and a restaurant as well as our signature real ales and bottled beers. When you're staying with us at The Ambleside Inn, the first thing you'll notice is the homely feeling that you get when you step through the doors; this is not by mistake, but by design! Our teams are always looking to make your stay as warm and welcoming as possible, so don't be surprised to see smiling faces on everyone you see around the hotel!
Allergy Advice
Allergen advice is available for all our main menu meals, click below or contact us for more information. Ask our team when you visit about allergens for our daily specials.
click here
Booking a stay at The Ambleside Inn has never been easier thanks to our online booking system, which allows you to select the type of room that you'd like – including one of our dog-friendly rooms – then book instantly here online to ensure that you avoid disappointment and secure our rooms at the best rate.
If you'd like to learn more about weekend breaks in Ambleside or what to expect from our classic pub food menu, make sure you read on below!
Where to eat in Ambleside, The Lake District
If you're looking for places to eat and drink in Ambleside, then The Ambleside Inn simply has to be on your list – this traditional inn and restaurant packs a hearty punch and is sure to provide everything you could possibly need at the end of a long day in the lakes. No matter whether you're looking for a quick bite to eat to finish your evening or a three-course meal to really indulge in you're sure to find what you're looking for at The Ambleside Inn. All of our inns' restaurants are proud to present a menu that's packed with everything from traditional pub grub to modern takes on classic dishes, as well as a comprehensive children's menu that's been designed by parents, so you can be sure that your entire family will find something that tickles their tastebuds when reading our menus.
To book a table at The Ambleside Inn, simply click the button at the top of this page and follow the booking instructions or alternatively, you can simply walk in on your chosen day and we'll do everything we can to accommodate your party!
Exploring the Lake District from Ambleside
When you're looking to visit the Lake District, there are lots of different locations to choose from depending on what exactly it is that you're searching for – some places are great bases for hiking and exploring, whereas others are closer to the water and provide better social opportunities such as bars and restaurants. In Ambleside, you'll get a great mix of everything you could be looking for from a holiday destination; it's a cute, rustic town that feels exactly as the Lake District should, yet there are still lots of activities and landmarks to keep you entertained too!
Ambleside is one of the most popular holiday destinations in The Lakes and it isn't difficult to see why – the town is surrounded by some of the most beautiful scenery in the entire district and is just a short walk away from Windermere, meaning you'll be able to explore the UK's largest lake with ease from your base at The Ambleside Inn. From Ambleside, you'll also have access to some fantastic hiking routes too, which is one of the most popular activities to partake in whilst spending time surrounded by peaks.
If big walks aren't your thing, you may be more inclined to visit Hill Top, the famous house of legendary writer Beatrix Potter which is open to visitors to experience during a trip to the Lake District. The house is situated in an idyllic setting surrounded by nature, countryside, and serenity, and it's easy to see why Potter loved this place so much. Hill Top is the inspiration for many of Beatrix Potter's famous children's stories and gives you a fantastic insight into the life of a truly legendary personality.
Finally, you can't head to the Lake District without taking a boat trip across Windermere – it's the best way to explore the water and also gives you some of the most breathtaking views of the surrounding scenery too! If you're staying in Ambleside, we'd suggest heading down to Waterhead Pier to organise a boat tour on Windermere; this is the closest access point to the water from Ambleside and there are regular ferries, steamers, and more available through every season. If you're feeling a little more adventurous, you can even hire your own little speedboat and explore the water without the tour guides, but be sure to do your research first so you know which landmarks to take a look at on your way around the lake!