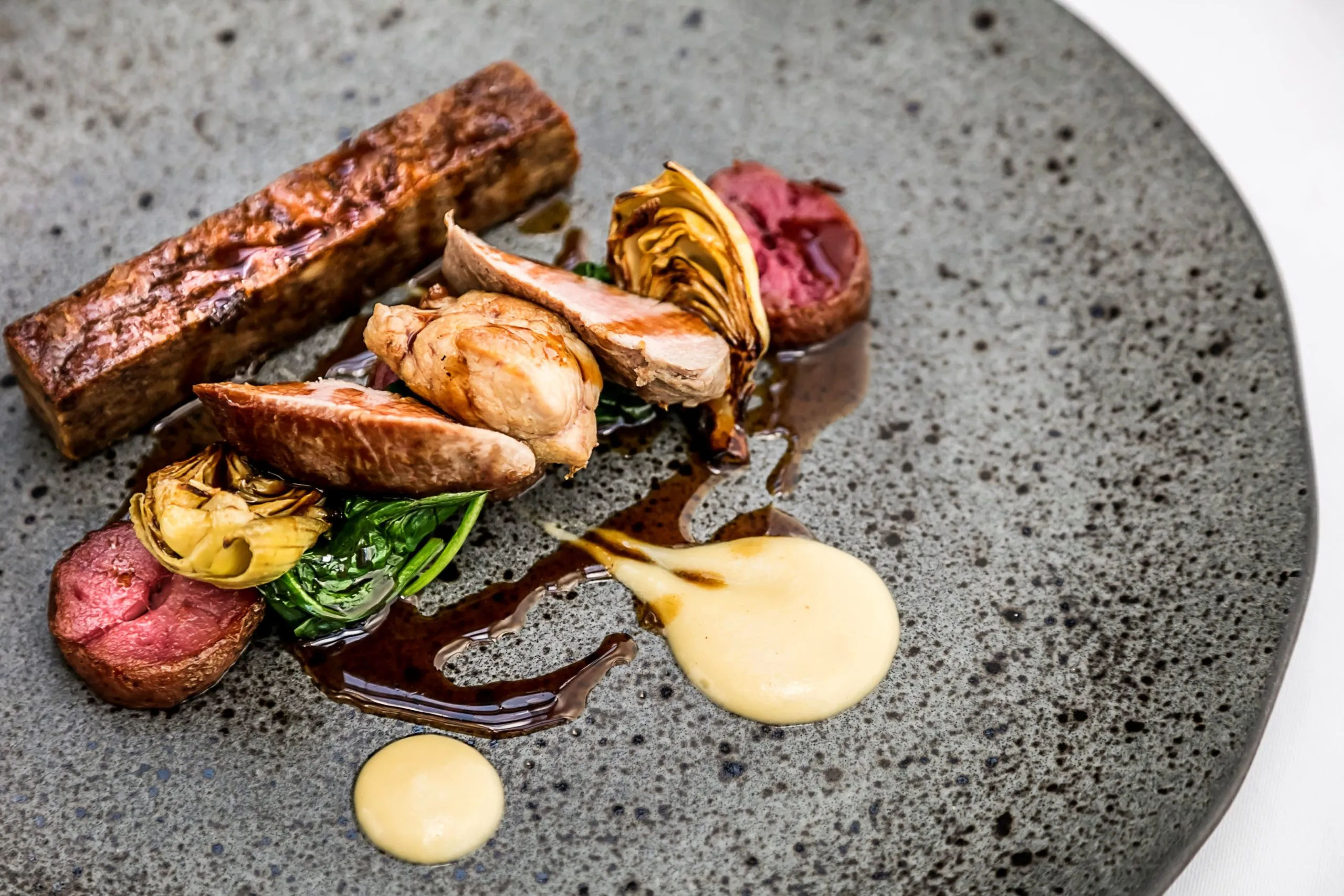 Food at the Wordworth Hotel
Our delicious homemade food is freshly cooked to order and served all day, every day from 7.30am until 9.00pm.
Our Menus
Enjoy relaxed dining at William's Bar at the Wordsworth Hotel, which caters for all pallets in the heart of the village of Grasmere.
Open all day, every day and featuring a fantastic range of local produce prepared to perfection, William's Bar is the place to dine when staying in Grasmere. Start your day the right way with a hearty, Cumbrian breakfast, pop by for a delicious lunch, or end your day indulging in our main meals after a day of explorations.
William's Bar
For relaxing dining here at the Wordsworth Hotel, head to William's Bar. Open all day every day for guests and walk ins, all our dishes are handmade and freshly cooked to order.
> View menu
Salt Cod with Heritage Tomatoes
Allergy Advice
Allergen advice is available for all our main menu meals, simply ask a member of our team when you visit.
Food and drink experiences in the Lake District
All this talk of food and drink has got us feeling incredibly hungry and we're sure you are too. So, if you're feeling ready to experience some of the Lake District's best food and drinks, here are a few experiences that you have to check out:
Lakes Distillery
The Lakes Distillery is a popular alcoholic beverage production site in the heart of the lakes – you can find it just to the north of Bassenthwaite Lake, set in an idyllic location just off of the shore. The distillery is always on our top list of places to check out when you're visiting the lakes for a couple of reasons, but mostly because the quality of the drinks that they produce is simply remarkable. Whilst at The Lakes Distillery, you'll be able to take the distillery tour, which gives you a hands-on guide of how your favourite drinks are made and even a few surprise tasters too! Before leaving, be sure to visit the gift shop, where you can pick up a bottle or two of your favourite Lakes Distillery spirits – the perfect gift for family and friends at birthdays and Christmas!
Grasmere Gingerbread
If you're a fan of traditional sweet treats, you're going to love this experience – Grasmere Gingerbread is one of the UK's most exquisite places to shop for confectionery and has been an institution in the Lake District since 1985. Since forming in the village of Grasmere, the gingerbread company, invented by Victorian cook Sarah Nelson has become a chief exporter of the country's finest gingerbread, picking up a number of celebrity fans from across the world. The growing reputation of this quaint gingerbread shop has lead to names such as Renee Zellweger and Tom Cruise craving these crumbly biscuit slabs, but don't worry – there's no exclusive gingerbread club you need to be a part of, and you can simply waltz into the store and pick up a few spicy-sweet treats for you and your friends.
Dog friendly room at The Ambleside Inn
Get all the family involved - Dogs included! 
We know how much dogs enjoy visits to the Lake District just as much as we do, which is why the Wordsworth Hotel, like the rest of The Inn Collection Group, have a number of dog-friendly rooms available. At just £10 extra a night,  you can request a dog-friendly room for the duration of your stay, so you can bring them with you to enjoy your trip.
Find Out More