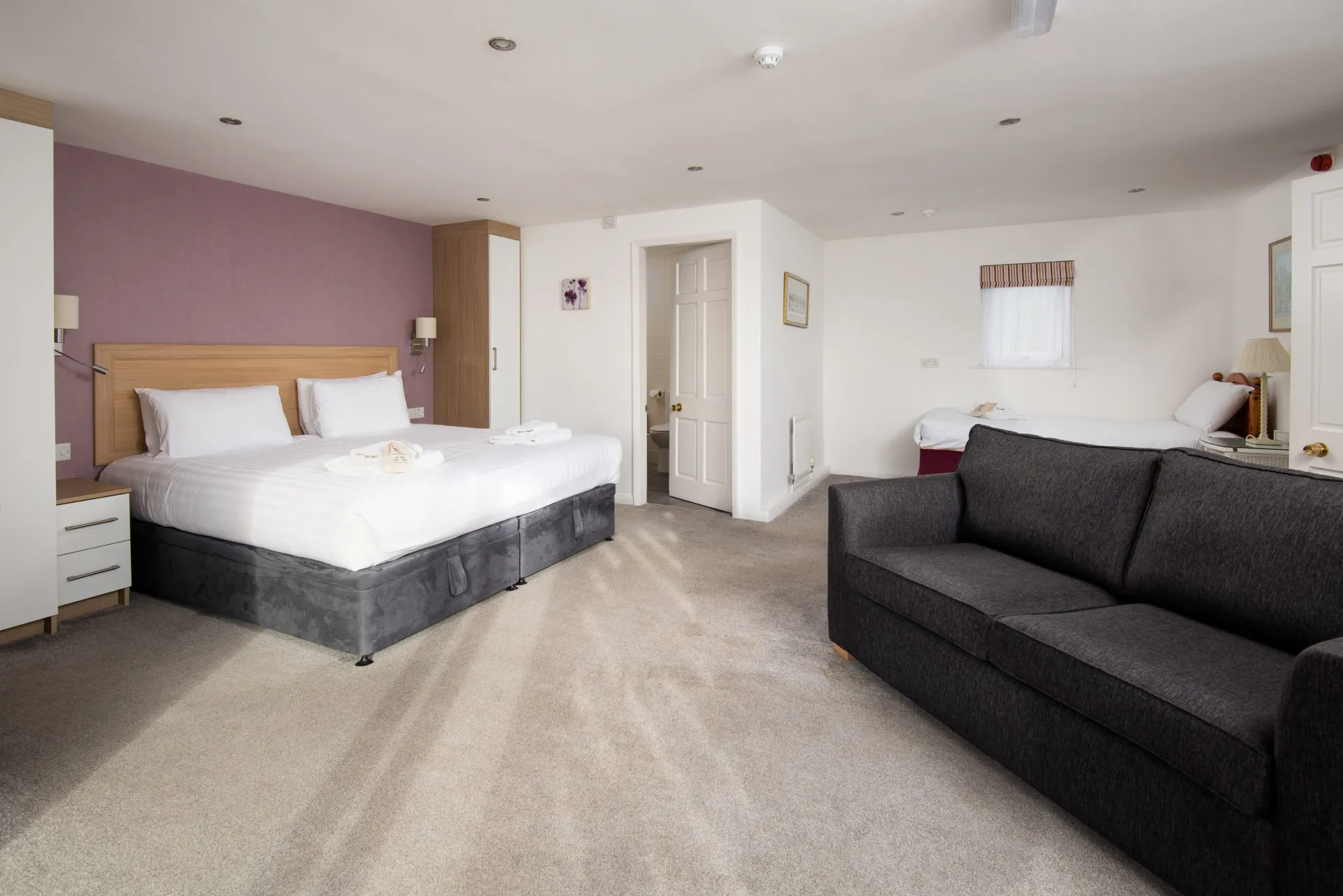 Accommodation in Ambleside
Rooms at The Wateredge Inn
For Ambleside accommodation with a view, look no further, The Wateredge Inn is surrounded by incredible Windermere views and beautiful walking routes. Our accommodation in Ambleside is the perfect place to spend a Lakes break away.
After a day among some of the UK's best scenery, the views don't stop after you return home to The Wateredge Inn. Rest up after a day's walking in comfortable, ensuite rooms with lake and fell views. Check into a superior lake room and look out over the ever-changing vista of Windermere.
Windermere Rooms, located opposite The Wateredge Inn just across the road, offers further accommodation to our guests whilst still allowing them to enjoy all the amenities at The Wateredge Inn.
Please note: A non-smoking policy operates in all of our bedrooms, bar and dining area. Designated outdoor smoking areas are available.
Guest check in is from 3pm until 11pm and check out is from 7.30am until 10.30am. There is limited parking available on-site – vehicles are left at the discretion of guest.
Click here to view our booking terms and conditions.
While we are committed to being as accessible as possible for our guests, the nature of our building means that we do not have a customer lift and rooms are accessed by stairs only. For fully accessible bedrooms in the Lake District browse our sister inn The Coniston Inn.
All rooms have a plastic tray for muddy boots, while we will always do our best to help dry soggy clothes and store equipment.
For parties looking for excellent value bed and breakfast accommodation in the Lake District for corporate or tourism groups, The Wateredge Inn will be the perfect venue. Please contact us to discuss your group travel requirements.
Please note, images showcase room types as accurately as possible, however rooms do slightly vary. Contact our central reservations team on  0191 580 3610 for more information. 
Choose from king size double, twin and single room options, with accessible, family suites and designated dog friendly rooms also available.
In your room:
Freeview television with radio channels
Free WiFi
Tea and coffee making facilities
Hairdryer
An iron and ironing board are available at request. A complimentary full Cumbrian breakfast is included in room rates (unless specified when booking).
Dog-friendly rooms are available, subject to a pet supplement of £10 per dog, per night.
Domestic getaways have never been more popular, but with so many destinations available to visit in the UK, how do you choose the location that's best for you? Well if you're anything like us – a fan of nature, outdoor activities, and quaint rural towns – then you're sure to love the town of Ambleside in the Lake District! Ambleside is a picturesque place situated just at the northern point of Windermere, which is the UK's largest lake! Whilst you're in Ambleside, there are plenty of things to do and see, which you'll learn about a little later, and lots of places to stay too. If you're on the lookout for a place that's warm, comforting, and incredibly convenient, then The Wateredge Inn is sure to tick all of your boxes. This fantastic inn is found at the banks of Windermere and is the ideal base from which to explore the lake, venture into the town, or simply relax and unwind with a drink as the waves pass you by – whatever it is that you're looking to find in a weekend break, you're sure to find it at The Wateredge Inn.
Your guide to Ambleside
If you're a regular visitor to the Lake District, then you're probably very familiar with Ambleside – it's one of the most popular tourist destinations in the region and is home to some of the Lake District's biggest and best attractions. For those who need a helping hand with planning the perfect Lake District getaway, here is our quickfire guide to Ambleside!
Take some time on the water
If you visit the Lake District without heading out onto the water then you've left without truly experiencing the Lake District – in our opinion, there's no better way to get a feel for the region than heading out onto the water on a steamer, a cruise boat, or a smaller private boat! Whilst you're on the water, you'll get to see your surroundings in a truly unique light – with the towering hills looming over you and the vast water seeming to go on for miles, it really does feel like an experience that's once in a lifetime. Of course, you can visit the Lake District whenever you like if you live in the UK; it's in a very accessible location and can be reached in just a couple of hours from almost anywhere in the north of England! If you want to book a boat trip, be sure to head down to one of the local piers or docks – there are regular trips that run every day during the peak season, so you're sure to be able to find something that grabs your attention.
Explore the estate the inspired Beatrix Potter's stories
Beatrix Potter is one of Britain's most beloved authors and for much of her life, she resided right here in the Lake District, just outside of Ambleside at Hill Top, her fantastic remote estate. The cottage at Hill Top is now operated by the National Trust, who preserve and maintain the grounds just as Potter left them; full of imagination and childish wonder. Hill Top is said to be the inspiration for iconic children's stories such as Peter Rabbit, and it's easy to see why this place was such a fantastic place to write and allow your creative imagination to run wild – it's a simply breathtaking space. You can take a tour of the cottage and even grab a few Beatrix Potter-inspired gifts at the shop too; some of the proceeds are used to keep the grounds in good shape, so it's all for a worthy cause!
Book a room at The Wateredge Inn
Finding the right accommodation in the Lake District is no easy task – there are so many different options in terms of the type of rooms and restrictions to face that it can feel like a real chore. Here at The Wateredge Inn, we've tried to make it as easy as possible to find a room that suits you on your preferred dates. By using our simple and straightforward online booking system, you'll be able to secure your room in a matter of minutes, saving you from the disappointment of missing out on your favourite room. If you're planning on bringing your dog with you, which we highly recommend if you're heading to the open green spaces of the Lake District, all you have to do is select our dog-friendly room add on – from there, we'll make all of the necessary arrangements to ensure that you and your four-legged friends have the best experience possible.