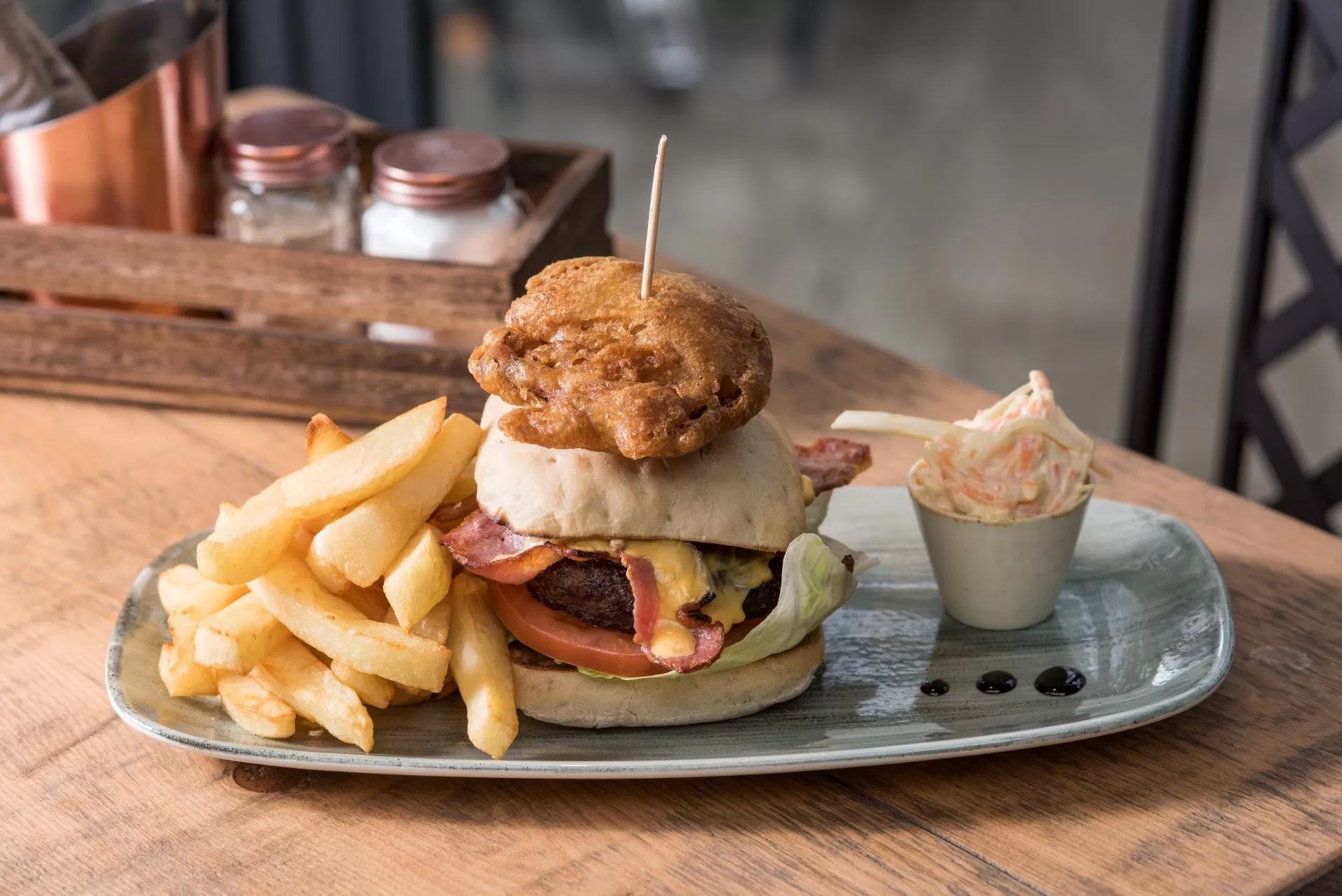 Food at The Wateredge Inn
Delicious Cumbrian and Great British pub food and local specialities at The Wateredge Inn daily, from 7.30am until 9.00pm.
Our Menus
INNcoming: Our new winter menus will be launching Wednesday 25th October!
Once you've savoured a flavour of the Lake District's incredible scenery step into The Wateredge Inn at Ambleside for delicious, wholesome pub fare served all day, every day from a stunning lakeside setting.
From hearty breakfasts to power you through the day to lakeside lunchtime stop offs, and evening meals that make the most of local produce and dishes, as well as classic British favourites, The Wateredge Inn offers relaxed pub dining in Ambleside from morning to night.
Heading out for the day? Let The Wateredge Inn pack up a delicious picnic for you to take with you, whether you're walking, cycling, on the water or simply exploring.
Seasonal Menu
From Great British pub classics to dishes with a culinary twist, our main menus are full of seasonal favourites and flavours, all handmade and freshly cooked to order.
> View menu
Breakfast Menu
Nothing sets you up for the day like a delicious, homecooked breakfast. Whether you fancy a full English, eggs benedict or something lighter, we have something for everyone!
> View breakfast menu
Allergy Advice
Allergen advice is available for all our main menu meals, click the link below to find out more. Ask our team when you visit about our daily special's allergens.
> View Allergens
Here at The Inn Collection Group, we've got a passion for great beer, proper food, and comfortable rooms, which is why we've looked to combine all three of these things at each one of our locations across the north of England. In our eyes, there is no better way to relax and unwind than a convenient inn where you'll be able to eat, drink, and sleep without having to travel to and from lots of different places; everything is in one handy location, helping you to minimise travel and maximise enjoyment. The Wateredge Inn is one of our most popular weekend getaway destinations and it's pretty easy to see why; sitting just on the banks of Windermere, the UK's largest lake, you're able to soak in the impressive natural scenery and ambience, creating the perfect atmosphere for relaxing, unwinding, and forgetting about your busy life back in the city, if only for a weekend.
As with all of our inns, we take great care to ensure that we're providing you with the best experience possible and our team is always on hand to assist you with any additional requirements or requests that you may have. If you need to speak to us about anything before you dine or stay with us at The Wateredge Inn, please don't hesitate to get in touch with us! You can chat with us by email or by phone, where one of our friendly team will be able to listen to your questions and provide you with the best solution that we can offer.
Allergy Advice
Allergen advice is available for all our main menu meal, click the link below to find out more. Ask our team when you visit about allergens for our daily specials.
click here
The best pub food in the Lake District
Modern restaurants are often trying too hard to impress, resulting in dishes being served that are a little too experimental, and totally out of place in the surroundings that they're presented in; nobody wants to head to the pub for sushi, it just it's the right setting. Here at The Wateredge Inn, we've curated a menu that we think ticks all of the boxes when it comes to hearty pub food – we've got pies, burgers, and of course, plenty of fish, ensuring you've only ever got the freshest local produce on your place. We also use a lot of seasonal vegetables in our dishes, and our seasonal menus change regularly to reflect that. You can find our menus right here on this page, but to quickly recap, here are the three menus that we have to offer:
Seasonal menu: Our seasonal menu makes use of the freshest meat and vegetables from our local farmers and butchers, giving you a true taste of the countryside from field to plate. This is our main menu and features a comprehensive list of dishes to suit every diner's tastebuds.
Children's menu: When you're on holiday, it can often be difficult to find dishes that your children will enjoy, but with our children's menu, we're looking to change that for the better. Our chefs have worked alongside parents to create a range of fun, tasty, and enjoyable meals for children based on their eating preferences and the nutrients they need; when you're dining at The Wateredge Inn, everybody finds something that they love!
Walk-ins are welcomed at The Wateredge Inn, so don't worry about booking a table!
Things to do on your visit to the Lakes
The Lake District is packed full of things to do and if you're only here for a weekend break, it's impossible to get through everything that you might want to do. If you're still in the process of planning your trip to the Lakes, here are a few of our suggestions for things to do:
Take your dog for a countryside walk
If you've brought your dog along for the ride on your Lake District holiday, then you have to take them on a long countryside walk; after being restricted to suburban trots for so long, it's great to be able to allow your dog to stretch their legs and explore the natural scenery of the Lake District. Ambleside, and most of the Lake District in general, is an incredibly dog-friendly place, so you're sure to be able to find plenty of pubs, restaurants, and hotels that have special dog-friendly areas designated for dog walkers. Here at The Wateredge Inn, we have a brilliant dog-friendly policy – just let us know that you have your dog with you and we'll try to find you a space in the bar and restaurant!
Visit Rydal Mount and explore Grasmere
Rydal Mount is the home of legendary poet William Wordsworth, and is one of the most picturesque places in the Lakes. Located just a few bus stops away from Ambleside in the quaint village of Grasmere, Rydal Mount is a beautiful old house and is well worth a look around – it's easy to see why this place was such an inspiring place! Whilst you're in Grasmere, you've got to head into the village and check out the local shops and try some of the infamous gingerbread; we promise you won't regret it!