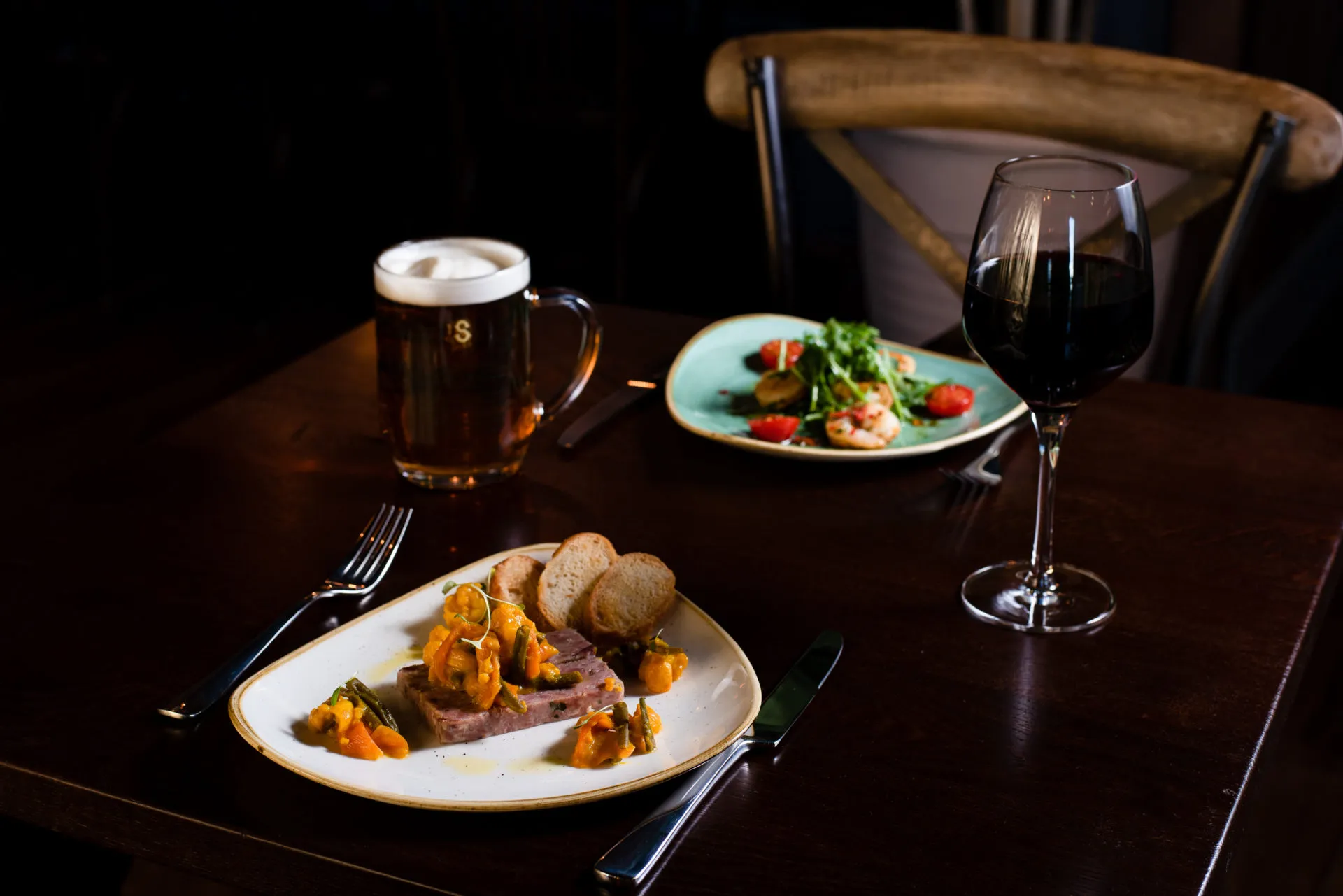 Food at The Seaburn Inn
Look forward to delicious Great British pub food and local specialities at The Seaburn Inn daily, from 7.30am until 9.00pm.
Our Menus
INNcoming: Our new winter menus will be launching Wednesday 25th October.
Work up an appetite in the fresh sea air before sitting down to eat at The Seaburn Inn where delicious and hearty pub classics are the name of the day – freshly prepared and cooked for you on ordering.
Tuck into traditional fish and chips by the seaside or opt for other traditional favourites in The Seaburn Inn's menu that celebrates the best of British pub food alongside handpicked, regional dishes bursting with flavour.
Start your day the best way with a winning breakfast at The Seaburn Inn in Sunderland where a tasty full English can be enjoyed whether you're staying overnight or calling in to enjoy breakfast or brunch with a view.
Pop by for lunch with family or colleagues and dine out for great evening meals at Sunderland's newest place to eat.  Remember to save space for dessert and feast on one of our sublime homemade pudding choices.
A great place in Sunderland for all the family to eat out together, The Seaburn Inn's tasty Children's Menu is packed full of great-value family favourites.
To learn more about the dining options at The Seaburn Inn, you can read on below!
Seasonal Menu
From Great British pub classics to dishes with a culinary twist, our main menus are full of seasonal favourites and flavours, all handmade and freshly cooked to order.
> View seasonal menu
Breakfast Menu
Whether you're wanting a delicious breakfast to kick start your day, or just a bit peckish, our Breakfast menu is perfect.
> View menu
Allergy Advice
Allergen advice is available for all our main menu meals, click the link below to find out more. Ask our team when you visit about our daily special's allergens.
> View menu
Allergy Advice
Allergen advice is available for all our main menu meals, click the link below to find out more. Ask our team when you visit about allergens for our daily specials.
Click here
A good pub and room experience isn't complete without a hearty plate of pub food to fill you up at the end of the day, which is exactly what you'll have available to you when you're staying here at The Seaburn Inn. Serving up pub classic and modern dining options alike, our restaurant is designed to keep even the fussiest eaters full and satisfied during their stay. If you have any dietary requirements, just make those known to a member of our team, and we'll do everything we can to give you a meal that's suitable for your needs, yet still incredibly tasty.
At The Seaburn Inn, you get the full package that you'd be looking for in a domestic weekend away: spacious, comfortable rooms, a fantastic pub just downstairs, and a fabulous restaurant serving the best pub grub in the area, meaning you've got everything you need for a fantastic excursion to the north of England!
Dining options at The Seaburn Inn
There's nothing quite like a trip to the seaside, no matter your age or background; it's an iconic tradition that every UK family has indulged in from time to time, and it is the perfect way to unwind, relax, and forget about your troubles, even just for a weekend. With these seaside trips, there are a few things that you can expect – sunshine, sand, and, most importantly, a good helping of fish and chips! The dish is a seaside classic, so it simply had to be a staple item on our sea-front menu – though, of course, it's not the only thing that you'll find on our menu, with plenty of other items available to fill your belly after a long day of exploring the coastline, breathing in the fresh sea air, and letting loose. It is a holiday, after all!
If you're in the mood for something a little more local, The Seaburn Inn has lots of seasonal and regional dishes on the menu, giving you a taste of some Tyne and Wear classics as well as the traditional pies, burgers, and steaks that you'd expect to find at your favourite pub restaurant.
We all know that children can be a little bit awkward when it comes to eating – they're still trying to find what foods they love and the foods they aren't big fans of, which is why we've tried to ensure that they've got plenty of options to try out during your stay here at The Seaburn Inn. Our children's menu has been specially designed by parents themselves, giving us that extra insight that helps us to know our menu doesn't just sound good, it tastes good too! From fish and chips to a roast dinner, your kids are sure to find a tasty, nutritional meal to fill them up after a day at the beach.
The best rooms in the Tyne and Wear region
No matter what the purpose of your trip to the north-east is, having a good quality room to stay in is vital – you'll need plenty of sleep if you want to be energised for the activities of the next day, so a comfy bed, a nice shower, and the best facilities are something you'll want to keep an eye out for. At The Seaburn Inn, this is exactly what you'll get. Our recent renovation has helped us to modernise our rooms, which now come in a range of different sizes to suit individual travellers, couples, families, and those with accessibility requirements.
Each of our rooms features a number of attractive amenities, including an incredibly comfortable king, twin, or bunk beds, free WiFi, a flat-screen TV, and, of course, tea and coffee-making facilities to help you start and end the day the right way. In addition to this, guests in our rooms will have access to a complimentary sleep kit, which includes a number of items to help you drift off into a deep, relaxing sleep quickly and comfortably.
For a relaxing stay in the north-east, be sure to check out the range of inns hosted by the team here at The Inn Collection Group. With locations spanning across many of the UK's most popular and picturesque regions, such as Northumberland, the Lake District, and North Yorkshire, you're sure to find a lovely pub, restaurant, and room combination that you'll be desperate to return to as soon as you can. The Inn Collection Group is a group of real, authentic northern locations that look to give each visitor a homely, comforting feel, with convenience at every turn. That's why we're always looking for ways to improve our service and provide the best possible experience to each guest that passes through our doors. From our tailored accessible rooms, dog-friendly policy, and even our on-site parking at multiple locations, we ensure that everything is in place to make your weekend away simply divine.
The Seaburn Inn is just one of a large group of northern pubs, rooms, and restaurants operated by The Inn Collection Group – to learn more about our other locations, you can head over to our dedicated region pages, where you'll be able to view rooms in all of the following places: