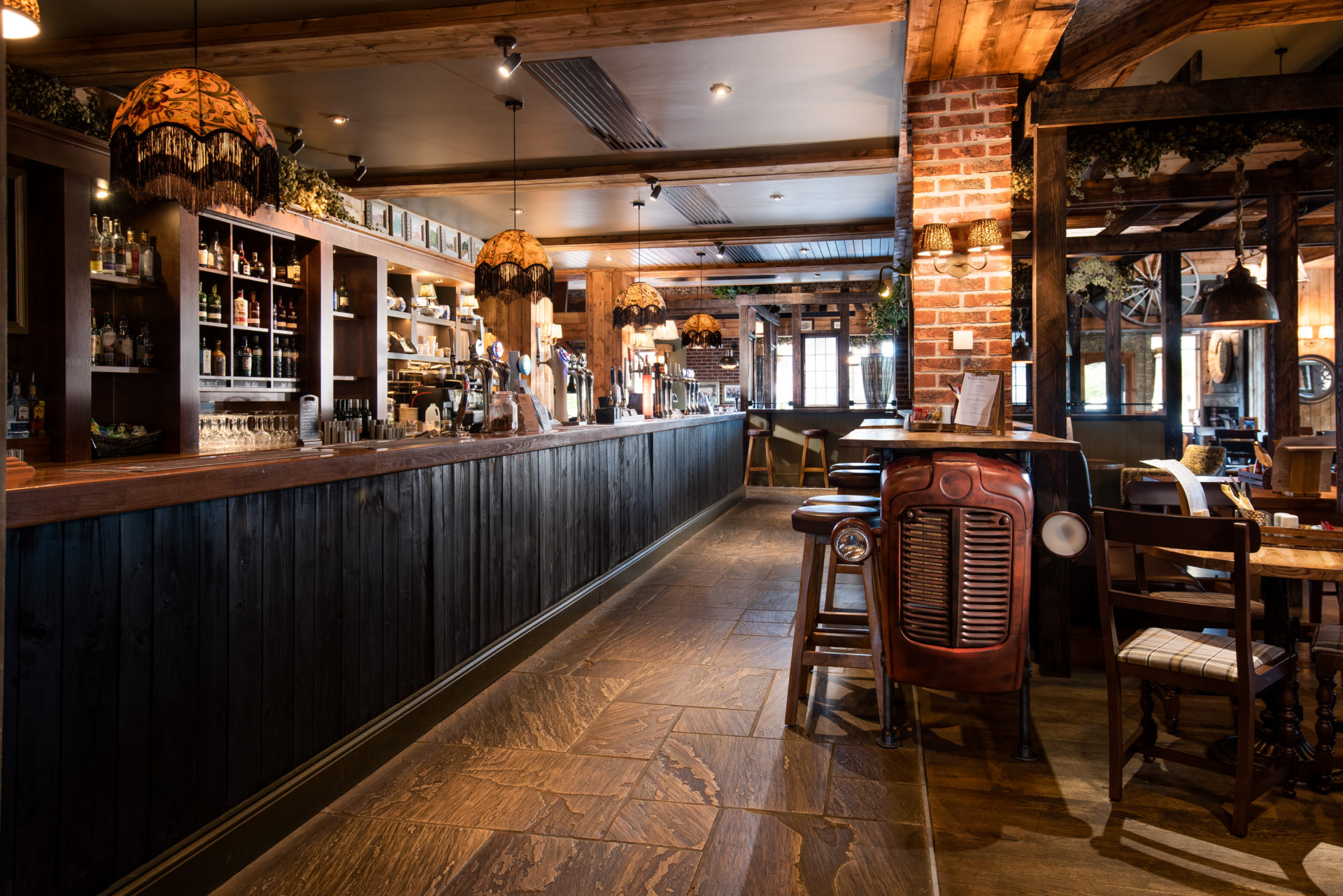 Food at The Hog's Head Inn
The Hog's Head Inn serves delicious food all day, every day from 7.30am through to 9.00pm. Enjoy a wide selection of freshly made, home-cooked dishes and classic pub favourites.
Our Menus
Enjoy a full range of tasty meals from light bites to hearty main course dishes, while on Sundays The Hog's Head Inn is the place to go in Alnwick for its delicious carvery. Sit down to generous portions of hand-carved British beef, pork and poultry or moreish, meat-free  alternative. Look out for the chef's daily specials board using local and seasonal ingredients such as Northumberland Estates game and shellfish.
Seasonal Menu
Discover our seasonal menu below — we've brought together great flavours and tastes to make outstandingly good pub food that all the family can enjoy.
> View seasonal menu (PDF)
Sunday Roast
Our celebrated Sunday Roast is known as the place to come for the best roast in town. Served from 12 noon until 5.00pm, enjoy hand-carved cuts of meat with all the trimmings and lashings of gravy.
View menu (PDF)
Allergy Advice
Allergen advice is available for all our main menu meals, click the link below or contact us for more information. Ask our team when you visit about allergens for our daily specials.
click here
Breakfast menu
Kick start your day the best way possible by joining us for breakfast. Browse our delicious menu today.
Click here
Tuck into our delicious menu today
You haven't had pub food until you taste the delights created by our chefs at The Hog's Head Inn. Using ingredients from local vendors, fishmongers and farmers, our menus feature all the pub classics, such as fish and chips, as well as some modern dishes. Whether you are looking to try something new or feast on a beloved classic, there is something for everyone.
Can't wait until your visit before checking out the menu? Here is a little bit about what you can expect during your time with us.
Seasonal Dishes
Creating seasonal dishes allows us to be as sustainable as possible. Using ingredients in season means our guests are served dishes with immense flavour made from fresh produce. It also means we can pour a little bit of Alnwick into each dish, made beautifully by our talented chefs and kitchen staff.
Our three-course menu includes a variety of starters, mains and traditional British desserts like our Sticky Toffee Pudding, making the perfect evening meal after a day exploring Alnwick Castle.
Interested in vegetarian or vegan dishes? We're always stocked up on the freshest greens, making sure there is something for everyone.
Why not top the meal off with a delicious locally sourced beer or fine wine? If you're not sure which one to pair with your meal, our qualified staff are on hand to steer you in the right direction.
Check out our Seasonal menu
Children's Menu
For any family holiday, finding the right nook for your little ones to enjoy some grub can be tricky - especially if you're looking for the healthier kind and are worried they'll turn their noses up! That's why, at the Inn Collection Group, we have consulted with parents and, taking their advice on board, have created a tailored children's menu featuring all the favourites.
A happy guest makes for a happy host and, knowing the little ones will be well-fed, we're never happier than when seeing our guests choosing to come back and dine with us throughout their stay.
Check out our Children's menu
Fun for all the family, including dogs 
There is nothing worse than going on holiday and having to leave a member of the family behind, which is why we are proud to say The Hog's Head Inn is a dog-friendly establishment. With just £10 extra a night, you can request a dog-friendly room and bring them down to the restaurant while you enjoy the wide selection of excellent food on offer.
Feast at The Hog's Head Inn today!
With a town as rich in history as our traditional dishes, our scrumptious homemade food gives you the home comforts we all miss during our trips away.
With charming characteristic rooms to boot, we do everything we can to ensure you have a trip of a lifetime.
So, what do you have to lose? Plan your trip to Alnwick today.