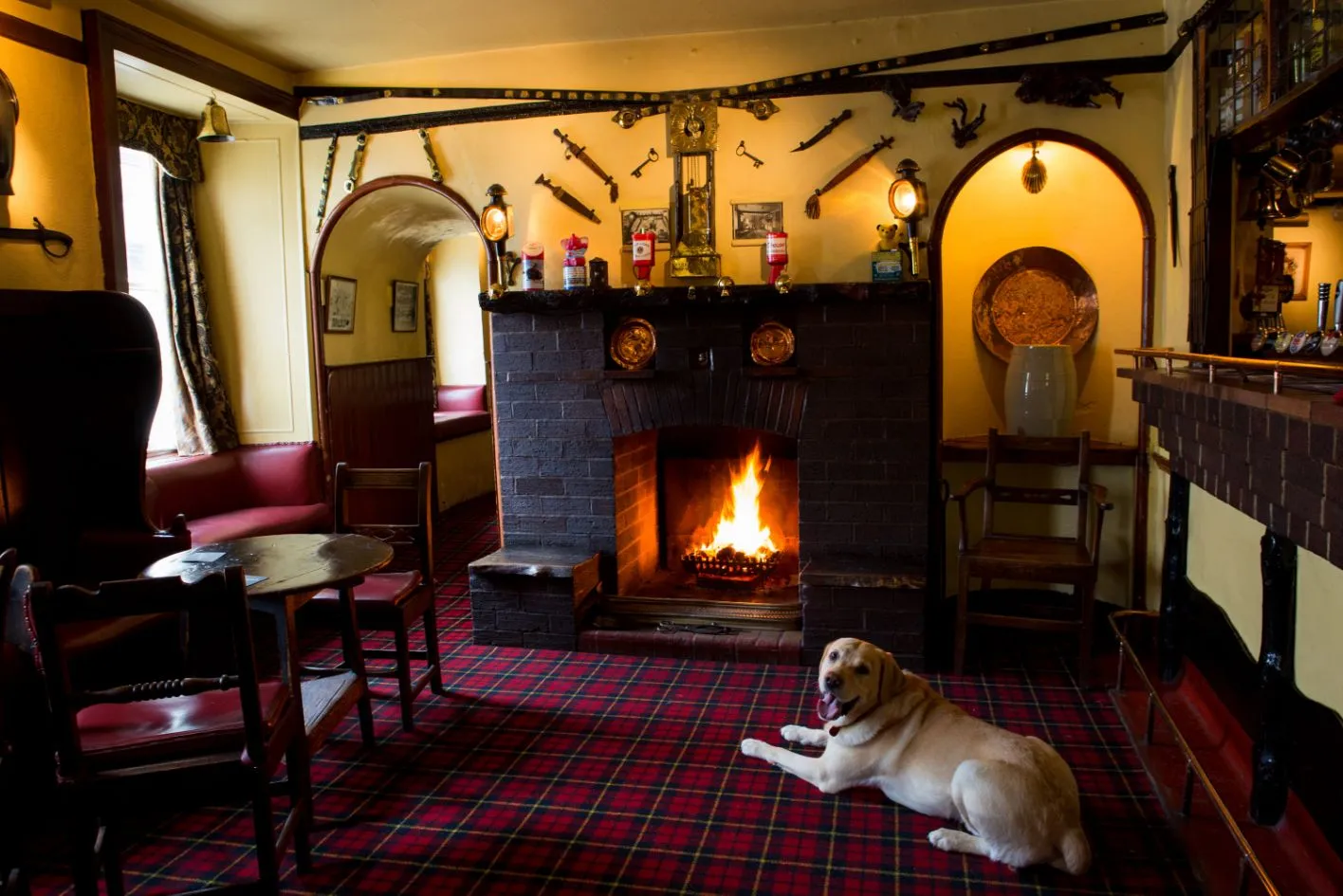 The Bull's Head Inn Pub
Settle down on a quirky armchair by our real log fire or gather around the table and enjoy a drink or few in our cosy pub.
Settle in and relax as you gather around a table and enjoy a drink or two, whilst taking in our fantastic surroundings.
Join us at an award-winning bar that has been a social hub at the heart of the Beaumaris community for more than 18 generations.
Low beams, open fires and a wide range of hand drawn cask ales and seasonal cocktails provide the perfect location to relax and unwind.
We've brewed a recipe for success
We have great wines aplenty from around the globe. Sold by the glass or bottle, we've wines to pair with every dish, taste and budget.
Fancy a brew? Try our fabulously different Ringtons speciality loose-leaf teas or a freshly ground coffee from our Barista selection.
> View menu
If there's one thing that the UK is great at, it's pubs. Heading to the pub to unwind with your mates or your loved ones is a tradition as old as time and it's lasted this long for good reason: it's great fun and a fantastic way to make a few memories too! Here at The Inn Collection Group, we've got a passion for pubs that's simply unrivalled – we think they're a place made for socialising, relaxing, and simply enjoying your time, which is why we've tried to maintain that classic 'pub' atmosphere at all of our locations across the country. Weekend breaks with The Inn Collection Group aren't like those with big hotel chains or contemporary B&Bs; instead, we focus on creating an atmosphere that feels comfortable, homely, and distinctly local, which maintains the rich heritage of our locations and gives our guests a real feel for the regions that they visit.
restaurant-pub-drinks-food
Delicious food + a nice cool drink = the perfect combination
Every pub needs some delicious food you can sink your teeth into. The Bull's Head Inn is no different. Based in the seaside town of Beaumaris, you can expect delights such as fish and chips to accompany a nice cold drink after a long day on the beach.
Worried about dietary needs? Have no fear. Our expert staff are on hand to answer any questions you have. From vegan wines to gluten-free drinks, and soft drinks to a comforting cup of tea, there is a wide drinks selection to choose from at The Bull's Head Inn.
Special offers – 20% off on food and drink!
Is there anyone who doesn't love a bargain? Why not take advantage of the many special offers at The Inn Collection where you can enjoy the selection of beers we have available, regardless of your budget.
The Bull's Head Inn offers 20% off all food and drinks to the beloved members of the NHS. If you are a member of the emergency services and are a Blue Light Card holder, simply show your card when you are ready to pay and receive 20% off food and drink during your stay at The Bull's Head Inn. With our wide variety of seasonal dishes, from our delicious menu and selection of local ales, you will be spoilt for choice on what to eat and drink during your trip.
Throughout the year, we update our special offers so keep up to date and view our latest ones here.
Dog friendly room at The Ambleside Inn
Dogs allowed - No one gets left behind
North Wales is the perfect place to go exploring with your dog. The Bull's Head Inn is within easy reach of the coast and mountains and dog-friendly beaches, walks and trails. You're welcome to bring your dog to The Bull's Head Inn as an overnight guest in select rooms, or to join you as you enjoy a drink or meal.
Find out more